The culmination of the 2013-14 NHL regular season has many fans ready for the playoffs, but there are many other franchises and fanbases without a horse in the race that have already turned their focus to free agency.
With top stars in the league like forward Thomas Vanek, goalie Ryan Miller and defenseman Andrew MacDonald eligible to become unrestricted free agents during the offseason, the landscape of the NHL could change drastically as these players land long-term deals.
Here are the projected landing spots for the top three unrestricted free agents for 2014.
Thomas Vanek, Forward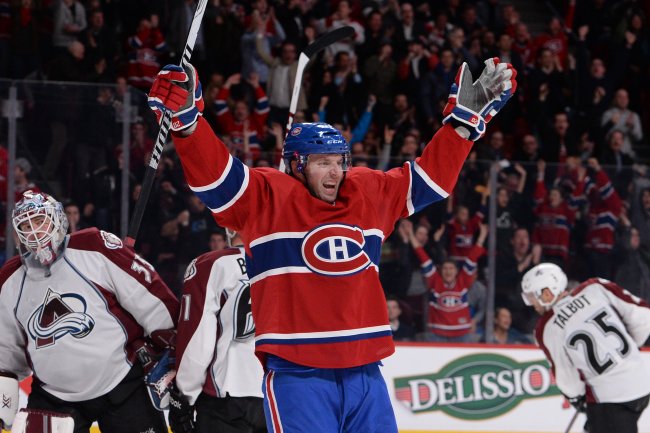 Francois Lacasse/Getty Images
The Buffalo Sabres realized how expensive it would be to re-sign a star forward like Thomas Vanek to a long-term deal, and the franchise dealt him to the New York Islanders. While New York tried to lock up Vanek, he rejected the offer and was dealt to the Montreal Canadiens before the deadline.
While there is a legitimate chance that Vanek re-signs with Montreal, his previous desire to test the open market and cash in for the biggest possible contract will result in the impending free agent examining all of his options.
There were several teams rumored to be interested in acquiring Vanek before the deadline—SportsBusiness Journal writer Chris Botta reported that Pittsburgh and Los Angeles were intrigued—and if he hits the open market, every team with a major need for an offensive-minded forward will make a pitch.
Column suggests Canadiens must try to keep Thomas Vanek. In other news, many people like ice cream http://t.co/fo0IHX3VNn

— Alexander Panetta (@Alex_Panetta) April 1, 2014
Despite the tumultuous season that saw him lace up with three different franchises, he has still managed to score 15 points in 18 games with Montreal and racked up an impressive 59 points in 64 games.
There is always a chance that a team could come out of left field with a blockbuster deal that Vanek will not be able to turn down, but the success of the Canadiens and the culture of the organization should be enough to convince him to sign a long-term deal with the franchise.
Projected Landing Spot: Montreal Canadiens
Ryan Miller, Goalie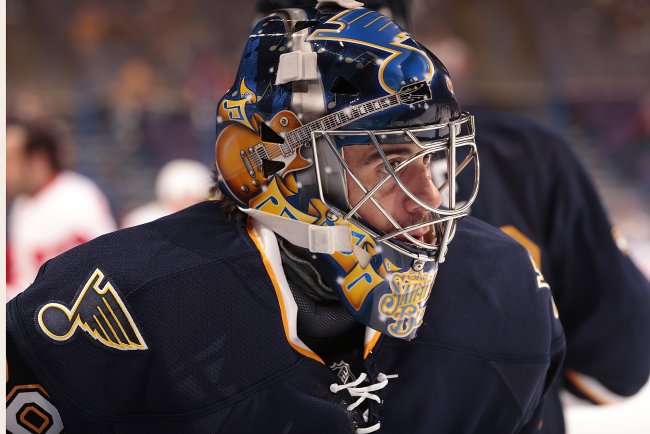 Mark Buckner/Getty Images
Veteran goaltender Ryan Miller is one of the best in the NHL, but a midseason trade from the worst team in the league (Buffalo Sabres) to arguably the best team in the league (St. Louis Blues) has made for a wild second half of the season.
Miller struggled in Buffalo with no help in front of him. Despite his hot start with the Blues following the trade (7-0-1 in his first eight starts), Miller cooled off considerably during the final five games of the regular season (0-5), albeit with little offensive help (the Blues were outscored 18-3 in that span). With a change in conferences, Miller has needed time to get accustomed to the fast-paced Western Conference and players he rarely faced in Buffalo.
Ryan Miller averaged 35.3 shots per game against w/ #Sabres and had .923 save%. He averages 24.3 for #StlBlues and is at just .903 for them.

— Mike Harrington (@BNHarrington) April 11, 2014
Since joining the Blues, Miller has a .903 save percentage and a 2.47 goals-against average. Now that he's had time to adjust and find a rhythm, though, Miller won't want to leave the Blues.
Head coach Ken Hitchcock employs a defensive mindset that is built around protecting the goaltender, and Miller will only continue to get better as he continues to understand the subtle differences between conferences.
Projected Landing Spot: St. Louis Blues
Andrew MacDonald, Defense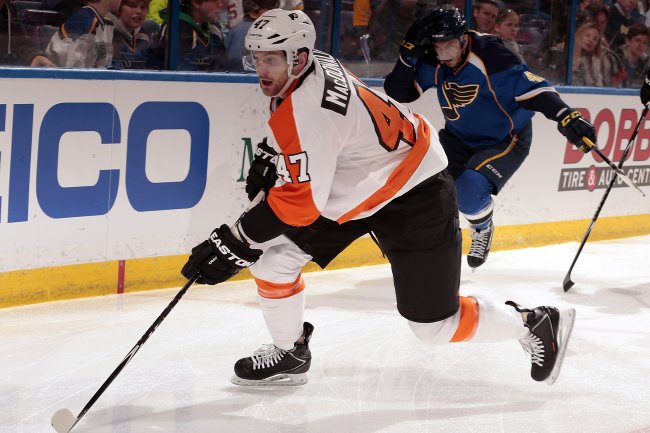 Mark Buckner/Getty Images
Another player traded by the New York Islanders before the deadline was defender Andrew MacDonald, who was acquired by the Philadelphia Flyers and has thrived in his role as one of the team's top defensemen.
Which player would you sign first?
With the ability to shut down the top players in the NHL in his own end and jump into the action in the offensive zone, MacDonald has proven to be a smart acquisition for Philadelphia. Add in his ability to play on the power play or shorthanded, and the impending free agent will be a major target this offseason.
The Flyers are strapped fiscally, according to Cap Geek, so it's likely that MacDonald signs elsewhere.
There are teams—specifically, the Detroit Red Wings, Boston Bruins and Los Angeles Kings, as TheFourthPeriod.com reported—that were reportedly interested in trading for MacDonald that could still use his two-way ability next season, and the 27-year-old defender should reach a huge free-agent deal due to his skill and his age.
Projected Landing Spot: Los Angeles Kings or Detroit Red Wings
All stats and information via NHL.com.