June 19, 2009
Tonight, the Yankees take on the Marlins and superstar Hanley Ramirez. HRam is one of the few elite players in the majors these days. He's only 25 so it's not surprising that his favorite player growing up, Derek Jeter, is still in the league. I just find it hilarious that an elite major league player basically acted the same way I would when he met Jeter.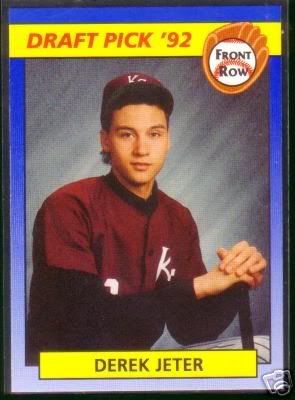 Hanley wears #2 for Derek Jeter — but he's not the only one. The Rockies' Troy Tulowitzki and BJ Upton of Tampa Bay both wear #2 in Jeter's honor as well. Is there anybody else out there that wears #2 for Jeter?
Hanley Ramirez
Via New York Times:
Ramírez is the starting shortstop and leadoff hitter for the National League. He wears No. 2 to honor his favorite player, Derek Jeter of the Yankees, who will start at shortstop for the American League. It is the first All-Star Game for Ramírez, probably the first of many.

Two years ago, when Ramírez was a rookie, he introduced himself to Jeter on the bases during a game. Ramírez told Jeter he rooted for him as a boy in the Dominican Republic.
BJ Upton
Via USA Today:
Favorite major leaguer: Derek Jeter of the Yankees. "He's a smooth player."
Why I wear No. 2: "It's Derek Jeter's number."
Via New York Times:
Upton, who threw Jeter out at the plate from center field on Tuesday, was 12 years old when Jeter helped the Yankees win the 1996 World Series. He said he was past the point of hero worship, but he still admired Jeter.

"Just the way he plays, man," Upton said. "He's the king of New York."
Troy Tulowitzki
Via New York Daily News:
"More than anything, it was kind of a joke for the guys because they gave me such a hard time about liking him, that I had a man-crush on him," Tulowitzki said. "I didn't care what they said - I'm going to like him either way. … As soon as I saw him play, he was my favorite, what he brings to the game every day."

"It's hard to root against Jeter because I'm a shortstop, we're similar size," Tulowitzki said. "I like what he brings to the game, his winning passion. What better guy to look up to? That was a good play, but I go after Giambi there. You've got to slide."

During the Rockies-Yanks series in June, Tulowitzki sought out Jeter during batting practice and introduced himself. "I told him I was a big fan and I appreciate what he does for the game and how much I look up to him," Tulowitzki said. "At the time, he probably might've been, 'Oh, it's just another one of those guys saying I'm their favorite player.' But I think he thinks a little bit different now."
Like the new article format? Send us feedback!