At the end of it all, a familiar name sat atop the leaderboard at Augusta National as Bubba Watson pulled off his second win at the Masters Tournament in three years with a great final round on Sunday.
The intriguing battle unfolded between Watson and phenom Jordan Spieth on the legendary course, but at the end of the day Watson was just too strong for the 20-year-old golfer.
Bubba Watson (-8) wins the 2014 Masters Tournament to collect his 2nd green jacket in 3 years! pic.twitter.com/ECtan5tdrz

— Bleacher Report (@BleacherReport) April 13, 2014
Watson spoke about the final round and eventual win at Augusta National, via the Los Angeles Times:
I don't remember the last few holes, I just remember hanging on and thinking 'make pars, make pars.' The first one for me, it's almost like I lucked into it. After giving it away last year, I wanted it back. I told Adam we could just swap it back and forth every year. This one was a lot of hard work and dedication.
Despite the fact that Spieth was able to make a historic run at the now two-time Masters winner, Watson's quest to the top was more than he could handle. The Dallas, Texas native shot a 72 on the final day, good enough to finish tied with Jonas Blixt for runner-up to Watson.
Here's a look at the final leaderboard from the Masters and a breakdown of the outcome from Augusta National.
Masters Breakdown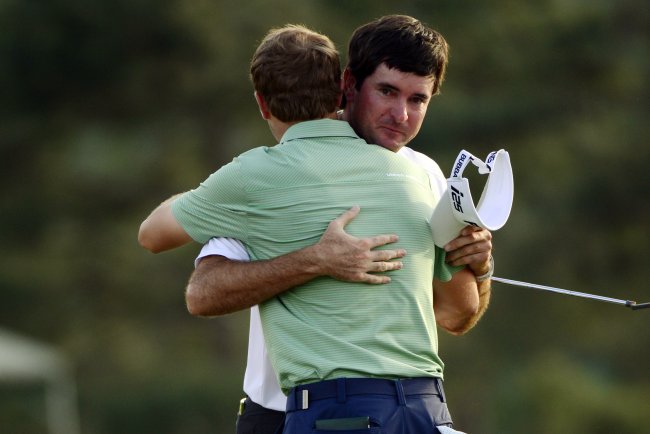 USA TODAY Sports
Regardless of the outcome, the winner of the Masters will forever be remembered as accomplishing a huge milestone in the sport. Watson has now achieved that high twice in his career.
The feat is already special, but the time frame in which Watson has done it makes the feat a historic one. With a second green jacket in his first six Masters, Watson joined only one man who was able to accomplish that milestone, as The Atlanta Journal-Constitution notes:
#Bubba #Watson joins Arnold #Palmer as 2 golfers to claim two green jackets playing in first six #Masters http://t.co/zS0SxSm8Gp

— ajc sports editor (@ajcsportseditor) April 13, 2014
The win also puts Watson in another special category, as ESPN Stats & Info points out:
Bubba Watson joins Phil Mickelson as the only lefty golfers with multiple major championships

— ESPN Stats & Info (@ESPNStatsInfo) April 13, 2014
Then there was a special moment that Watson shared with his son that stole the show, as evidenced by this Vine from Andy Dawson:
Watson's resurgence at the Masters on Sunday may have overshadowed what Spieth was able to do in his first major tournament in Augusta, but his rise could be much more than just a moral victory.
An even round on the final day of the tournament was still good enough for a second-place finish and could be a telling sign of what's to come from the young player.
Spieth might not have come out on top, but he spoke about the chance to play alongside Watson in the final pairing as he won the green jacket:
Dream come true competing at Augusta! Deserving champion in @bubbawatson incredibly played. Stinging badly but it's just fuel going forward!

— Jordan Spieth (@JordanSpieth) April 13, 2014
The 20-year-old also commented on his likely bright future following his first Masters, per Evan Hilbert of CBS Sports:
It was so much fun even if I didn't show it on the back nine. I took at all in. ... Hats off, obviously, to Bubba. When he's driving the ball well he's tough to beat. ... I'm hungry. That was fun but at the same time it hurts right now. I didn't come out on top but I can take a lot of positives away.
In a tournament where there was no Tiger Woods due to injury, Phil Mickelson missed the cut and Rory McIlroy narrowly made it to the weekend, Spieth and fellow Masters rookie Jonas Blixt put on a show as they finished tied for second.
The youngsters also came away with a pretty good payday, as Darren Rovell of ESPN notes:
Top 5 Masters payouts: Bubba $1.62M, Blixt & Spieth $792K each, Jimenez $432K, Fowler & Kuchar $342K each.

— darren rovell (@darrenrovell) April 13, 2014
Some things change and some stay the same. Even with the youth movement making its mark, Watson was the brightest star once again at Augusta National.