Chicago Bears Season Break Down, Pt 2/4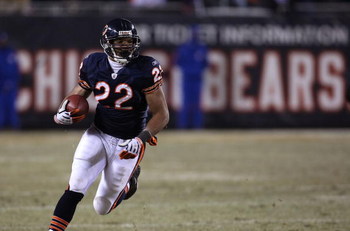 After my last article, which was more successful then I thought it would be, I am continuing the Bears season break down with part 2 of 4.
Today we'll be taking a look at the weeks 4-7 (Week 5 Bye) of the Bears schedule providing insight, analysis and predictions for the games. This part of the schedule features game against the Detroit Lions, Atlanta Falcons, and the Cincinnati Bengals.
The week 5 bye looks like it should give the bears a nice rest before the what should be good game against the Falcons. But enough of the intro, lets get to the good stuff.
Week 4: Chicago Bears vs. Detroit Lions, 10/4, 2009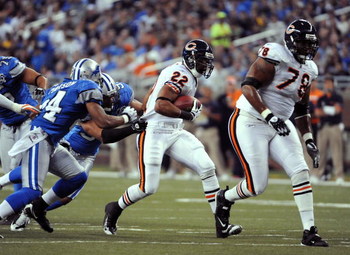 Oh, oh, the lowly Detroit Lions come strolling into play. Or so we think. The Detroit Lions definitely got better this off season, from the upgrade at QB to the upgrades at OL. Not only that, but they have arguably the best WR in the NFL in Calvin Johnson.
I don't think this game is gonna be as easy as Bears fan might think/hope it to be. The Bears hate losing to the Lions but I'm not sure they're gonna come in as amped as they should be.
I think this game is gonna be pretty close for both ball clubs. I think the Lions are hungry, they WANT to win, not only that but they NEED to win. They need something for the city to believe in. But they're just not there yet. The Bears are just overall better.
I have a feeling Cutler will have a big game probably going over 300 yards for the 1st time in this game with as many as 3 TD's. And with a performance like that he's sure to give Matt Forte room to run. Who figures to go over 100 yards yet again with a score. But don't think that just because the Bears stats will be big, that Lions will not be either. I still think that Bears secondary will have some trouble this year and that the combination of either Culpepper and Johnson or Stafford and Johnson will provide some excitement. I have a feeling they will, either combo, hook for 2 TD's with Kevin Smith getting his yards as well.
Overall I see this game going the Bears way with a final of something in the ball park 28-17.
This brings their season record to 3-1, better than the 2-2 start from last year.
Week 5: BYE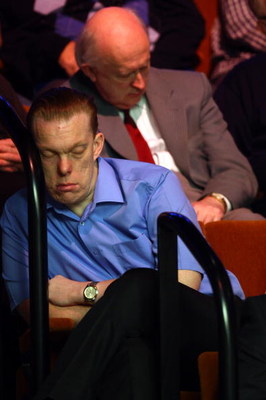 The Bears get a nice week to rest and prepare for what is sure to be a tough matchup against the Falcons.
Week 6: Chicago Bears vs. Atlanta Falcons, 10/18, 2009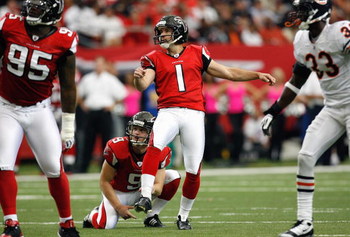 Heart breaker. That's the only way to describe last years matchup against the Falcons that is taking place on the same week this year. After being down in the waning minutes of the game the Bears stormed down the field with Kyle Orton hitting Rashied Davis on a 17 yard score with just 11 seconds left. It was over, it had to be, but it wasn't. A poorly executed squib kick by the Bears left the Falcons needing one big play to get in field goal position. And get that big play they did, Matt Ryan connected with Michael Jenkins for a 26 yard completion. All that was left was for Jason Elam to boot in the game winner. And he did, with no time left, leaving the Bears in despair.
But that was last year.
The Bears are NOT gonna let a repeat performance occur. They are gonna come out running and gunning. But then again so will the Falcons with a improved Matt Ryan and Michael "The Burner" Turner. This game is going to be a shootout. Quite possibly like the Bears Vikings 1st matchup last year (the Bears won 48-41).
This game is gonna be BIG for both offenses with both possibly eclipsing the 400 total yard mark. Both Cutler and Ryan will be dueling it out and will both probably have 2 TD's. The Running Backs, 2 of the games top 5, will go head to head as well. Once again, the game should come down to the last possesion.
But this time I see the Bears having it and getting the win 35-31.
This now brings their record to a great start of 4-1.
Week 7: Chicago Bears vs. Cincinnati Bengals, 10/25, 2009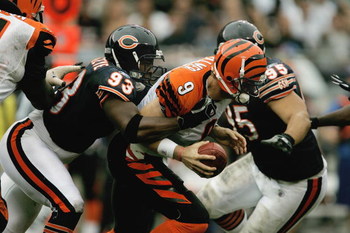 The Picture above speaks for itself. I think the Bears D will assert its prowess in this game. These two teams last met in the 2005 with the Bengals winning 24-7, in a game that was never close. But this a new and improved Bears team than the one that went 11-5 that year.
This game figures to go the Bears way as the Bengals pretty much have no defense. Cutler, Forte, Olsen and the rest of the Bears offense should give the Bengals D a fit. Both figure to possibly hit season high in yards and give the Bears a decisive win over a team that did the same to them 4 years ago.
I figure this should play out to something in the range of 21-7 or 28-14.
This brings the Bears to a GREAT start of 5-1.
Well that wraps up part 2 of 4 of the Chicago Bears 2009 season break down.
For more visit www.utlsports.com
Keep Reading

Chicago Bears: Like this team?