Just a few days remain in the NBA regular season, which means the beginning of the offseason for half of the league. After an entire year of collecting ping pong balls, it's finally time for the teams at the top of the draft to begin analyzing the talent coming from college and overseas.
While many of the teams will be drooling over the possibility of landing a player like Andrew Wiggins, Joel Embiid, Jabari Parker or Julius Randle out of the sensational freshman class, talent is scattered throughout the entire draft late into the first round.
Much of the attention for this year's class has been focused on the freshmen, but several more experienced players made an impression this season with their great play down the stretch.
Here's a look at a few of those players who will make even more waves during the offseason to shoot up draft boards.
T.J. Warren, Small Forward, N.C. State
Being the ACC Player of the Year should be good enough to attract some attention. But when a player is in the same conference as the likes of Jabari Parker he tends to get overshadowed.
All T.J. Warren did during his career at N.C. State was shine during his freshman campaign on a team filled with juniors and seniors then carry the team nearly single-handedly to its third straight NCAA tournament.
After leading the ACC in scoring with 24.9 points per game, Warren proved he can score at an elite level. Seth Davis of Sports Illustrated notes his potential, but also the one weakness for the former Wolfpack player:
NC State announces TJ Warren will enter the NBA draft. Has potential at next level but needs to improve his long range shooting.

— Seth Davis (@SethDavisHoops) April 8, 2014
Shot Analytics provides a look at Warren's shot chart for his final season with the Wolfpack:
New Shot Analytics: ACC Player of the Year TJ Warren is an old-school scorer. http://t.co/gSyqx175sy pic.twitter.com/3Sh531SNY9

— Shot Analytics (@ShotAnalytics) March 12, 2014
What Warren does well is use his size inside and score from anywhere on the floor, but he will need to improve on his jump shot to stick in the NBA. But thanks to his progression during a sensational sophomore season, Warren has a shot to be a lottery pick during the 2014 NBA draft.
Jarnell Stokes, Power Forward, Tennessee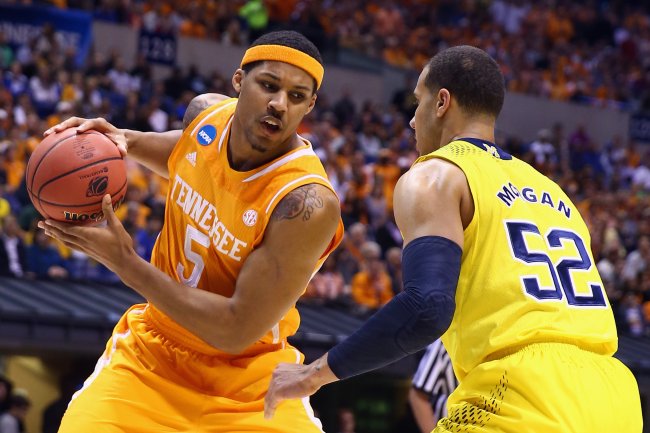 Andy Lyons/Getty Images
Here's what we know about Jarnell Stokes coming out of Tennessee: He's a great all-around player who can score and rebound effectively.
How well? Stokes averaged 15.1 points and 10.6 rebounds per game while finishing with 22 double-doubles to tie the school single-season record set by Bernard King in 1976-77.
The 6'8", 260-pound big man did his best work during the NCAA tournament, registering an average of 18.0 points and 12.8 rebounds in four games for the Volunteers. Stokes spoke about the success he had at the end of the season and how that might translate into the draft, per the Associated Press:
"I feel like some teams are giving me a shot at the first round," Stokes said. "It just all depends on where I work out at and how I work out. I feel like I control my own destiny."
Currently slotted as the No. 53 player taken off the board in Draft Express' mock draft, expect to see Stokes rise in the second round, with his presence inside the paint shining through during workouts.
Cleanthony Early, Power Forward, Wichita State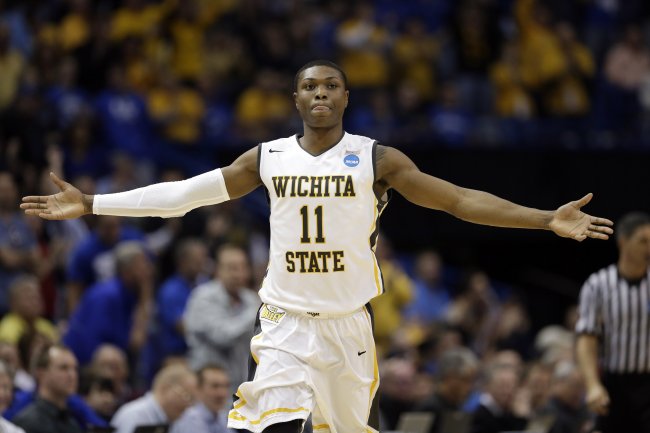 Charlie Riedel
Gregg Marshall gets a lot of credit for building the Wichita State program into what it is now, but that progression into one of the best teams in 2013-14 wouldn't have been possible without Cleanthony Early.
Over the course of his two years playing with the Shockers, Early shined for Marshall and helped get the team to two consecutive NCAA tournaments, a Final Four and a No. 1 seed. Needless to say, he'll be missed in Wichita.
As for the next team that he suits up for, Jerry Meyer of 247Sports believes it should be a lottery pick:
Still thinking Cleanthony Early and Adreian Payne should be lottery picks.

— Jerry Meyer (@jerrymeyer247) April 10, 2014
After averaging 16.4 points and 5.9 rebounds for the Shockers during the regular season, Early was sensational yet again in the tournament with 27 points and seven rebounds per game.
Early is currently slotted as a late first-round pick and the No. 3 senior in the 2014 class by Draft Express. If he were to rise like Meyer believes he should, being slotted as a lottery pick would be the final step in the turnaround for the former Sullivan County Community College player.
Follow R. Cory Smith on Twitter.