Righting a wrong that has clouded over him for two years, Manny Pacquiao avenged his controversial 2012 loss to Timothy Bradley, earning a victory by unanimous decision on Saturday night to win the WBO welterweight title.
Pac-Man again outboxed "Desert Storm," but this time the judges supported that sentiment. Pacquiao earned the edge on all three scorecards to stamp Bradley with his first career defeat.
Champion again! Manny Pacquiao beats Timothy Bradley in unanimous decision, winning WBO Welterweight Title. pic.twitter.com/oZ67vyvaK3

— SportsCenter (@SportsCenter) April 13, 2014
As a society, we're not the best at appreciating a moment and absorbing all of its meaning and value. Instead, we just want to turn the page and figure out what's next.
Well, what is next for Pacquiao, who is now back on the winning track after suffering a two-loss skid in 2012?
A few men are on the short list to lace up the gloves against Pac-Man. A couple are familiar faces, and of course one opponent has been linked to Pacquiao for years, despite nothing ever happening between them.
Timothy Bradley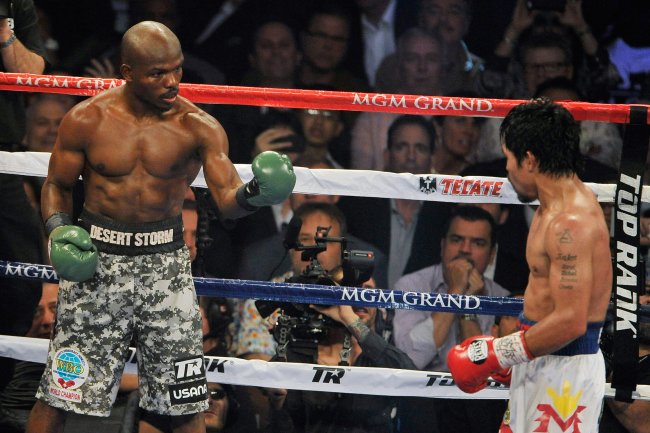 David Becker/Getty Images
Before completely closing the book on Pacquiao and Bradley, we must consider that they have technically split their two fights. Is a rubber match in the cards?
Pacquiao earned a convincing victory in the rematch, landing 35 percent of his punches to Bradley's 22, per CompuBox.
Final PunchStats #PacquiaoBradley2 : @MannyPacquiao - 198/563 (35%) @Timbradleyjr - 141/627 (22%)

— CompuBox (@CompuBox) April 13, 2014
Actually, Pacquiao delivered a more dominant effort during his loss in 2012. According to CompuBox, he landed 253 of 751 punches (34 percent) and still somehow fell short on the scorecards. Either way, a rematch may not seem necessary when we remember that Pacquiao truly was the better man both times.
But HBO can sell the storyline that the two boxers have a score to settle at one win apiece. The network can play up 2012's controversy to build up the rivalry.
Also, they put on a terrific, evenly matched display for six rounds until Pac-Man began to pull away. Perhaps the added experience would allow Bradley to adapt accordingly to avoid a similar drop-off late in the bout.
Juan Manuel Marquez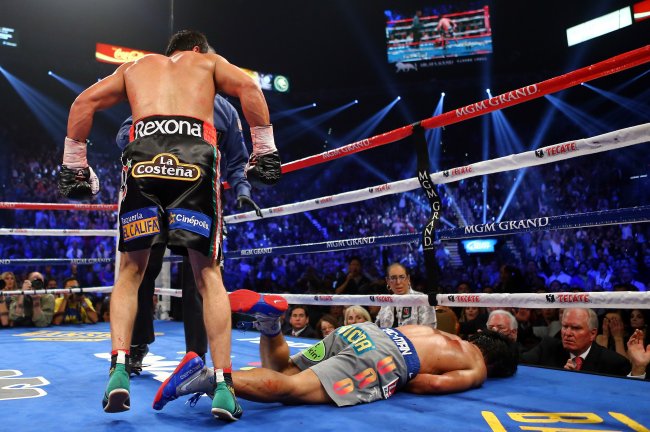 Al Bello/Getty Images
Another rematch is most likely on the way for Pac-Man, as he might get a chance at revenge against Juan Manuel Marquez in a fifth meeting between the two future Hall of Famers.
Marquez, who knocked out Pacquiao in the sixth round on December 8, 2012, is set to face Mike Alvarado on May 17. As Sports Illustrated's Chris Mannix noted after Pacquiao's latest victory, the winner of that matchup is on a collision course with the new welterweight champion:
And get ready: If Juan Manuel Marquez beats Mike Alvarado next month, it's Pacquiao-Marquez 5 in the fall.

— Chris Mannix (@ChrisMannixSI) April 13, 2014
That means Alvarado also deserves some recognition as a possible opponent, but Marquez is favored to beat the Denver brawler, who has lost two of his last three bouts.
Who would you like to see fight Manny Pacquiao next?
The 40-year-old Mexican is also coming off a defeat after losing a split decision to Bradley in October. Yet the savvy veteran is 55-7-1 over his 21-year-career, with two of those losses and the one draw coming against Pacquiao.
It feels like recycling an old formula for success—but only because that's exactly what it is. The two men, who both move like fighters a decade younger, have delivered before in the ring and in the financial reports.
Top boxing promotions seem content to stick with a proven commodity, and Marquez will earn his shot at Pacquiao if he beats Alvarado.
We can't kill off the dream fight that never dies just yet.
Had Pacquiao lost to Bradley, any hopes of seeing him fight Floyd Mayweather would have been tossed out the window. Now that he has regained his mojo with two consecutive victories, the thought at least remains alive.
According to Yahoo Sports' Martin Rogers, promoter Bob Arum is still trying to make the fantasy booking a reality, encouraging everyone to tune out Mayweather's upcoming fight with Marcos Maidana, who will enter as an extreme underdog:
"The only people that can make Floyd Mayweather fight Manny is the public, if they boycott the nonsense on May 3," yelled Arum at the press conference following Pacquiao's unanimous decision victory in his rematch against Timothy Bradley. He was referring directly to Mayweather's next fight, against Marcos Maidana in three weeks' time, for which Maidana is a heavy +750 underdog.

"That's what the public should do. [If the media] want that fight, tell the public not to buy pay-per-view and not to buy tickets. There is no other [strategy]. We are prepared tomorrow to sit down at a table with his people … to work out the conditions for the fight."
Arum believes that Mayweather and Golden Boy Promotions will feel pressured to provide the marquee fight if the star cannot draw sizable ratings in a matchup that is one-sided in name recognition. Unfortunately, he hurt his standing by adding, "But you want to close your eyes to thuggery in this sport" during his rant.
For now, the bad blood between the two sides is unlikely to spill into the ring. Until something materializes past the what-if stage, don't get your hopes up.