Even after once again outclassing Timothy Bradley in Las Vegas' MGM Grand Garden Arena, Manny Pacquiao must have felt a tad nervous while waiting for the judges to declare a winner.
This time, however, they made the right call, awarding "Pac-Man" a victory by unanimous decision over "Desert Storm" to reclaim the WBO welterweight title. As tweeted by ESPN's Dan Rafael, the three judges assembled scorecards of 116-112, 116-112 and 118-110.
Pacquiao wins, 118-110, 116-112 x. He reclaims his title. Arena erupts. Manny kneels in prayer. #boxing #PacBradley

— Dan Rafael (@danrafaelespn) April 13, 2014
Pacquiao could not deliver the knockout he teased leading up to the rematch, but he left little question about the final outcome with another dominant performance. According to CompuBox, he finished with 57 more connected punches in 64 fewer attempts.
Final PunchStats #PacquiaoBradley2 : @MannyPacquiao - 198/563 (35%) @Timbradleyjr - 141/627 (22%)

— CompuBox (@CompuBox) April 13, 2014
Despite the uncontested finish, Bradley put up a strong fight to begin the bout before lagging behind and ultimately adapting a swing-for-the-fences approach. All in all, these two fighters put on a good show for the full 12 rounds.
Round-by-Round Assessment
Round 1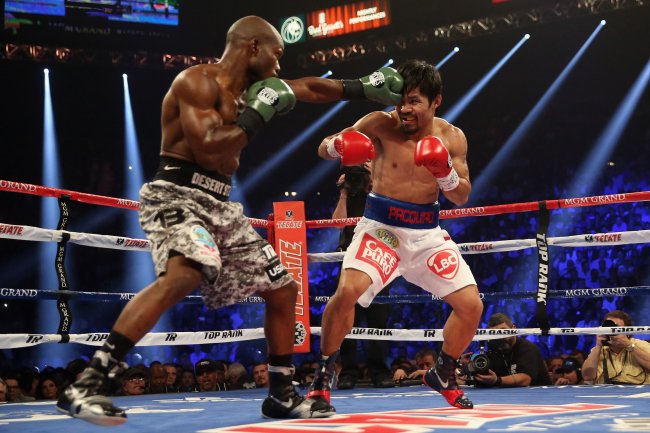 Jeff Gross/Getty Images
The opening bell struck at 12:24 a.m. ET, beginning the festivities for those who were still awake to watch. The partisan Vegas crowd quickly made its allegiance clear with a "Manny, Manny, Manny" chant.
To their disappointment, Bradley enjoyed a good start, although both men used the opening round to feel each other out. A strong finish, exclaimed by a one-two strike, made Bradley the winner in RingTV.com's Douglass Fischer's book.
Round 1 goes to Bradley. I thought he took it in the final seconds. #boxing #PacBradley

— Douglass Fischer (@dougiefischer) April 13, 2014
Bradley's momentum, however, would not last much longer.
Round 2
Pacquiao came out firing, looking to take the wind out of Bradley's sails. Some brutal combinations whipped the crowd into a frenzy, but Bradley regained his composure before the round reached its end. Pac-Man earned a slight advantage during the electric round that Jim Lampley described as a "fire fight" on HBO.
"We've got a fire fight in round number two." - Jim Lampley #PacBradley 2

— HBOboxing (@HBOboxing) April 13, 2014
Round 3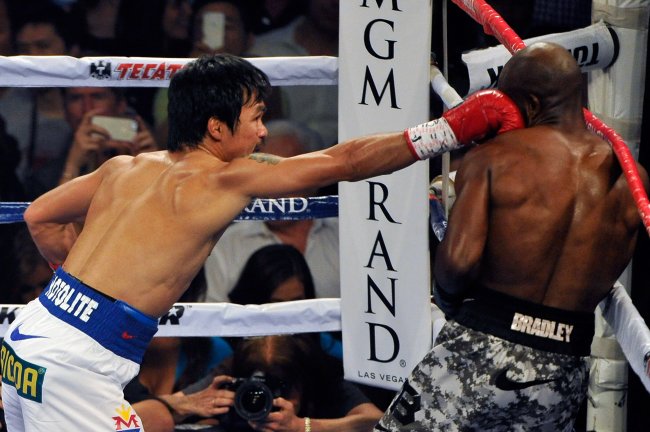 David Becker/Getty Images
The pace continued to escalate, with both men going toe-to-toe and looking to inflict serious damage. Yahoo Sports' Kevin Iole expressed concern for Desert Storm engaging Pac-Man with such an aggressive style that would later hurt the incoming champion.
Why oh why oh why is Bradley throwing so wide and willing to engage in a slughfest?

— Kevin Iole (@KevinI) April 13, 2014
It was another back-and-forth round that could have been scored either way.
Round 4
One-third through the fight, these boxers looked evenly matched in a thriller. Bradley rattled Pacquiao with some body shots to take Round 4. HBO's Max Kellerman said Bradley finally got to his older adversary.
"He did something earlier in this round that he hasn't does thus far with Pacquiao and I think that is, shake him up." - @Max_Kellerman

— HBOboxing (@HBOboxing) April 13, 2014
Round 5
Bradley kept his foot on the pedal with an unrelenting attack. He landed some strong right hands to get the better of a shaken Pacquiao in the fifth round.
Round 6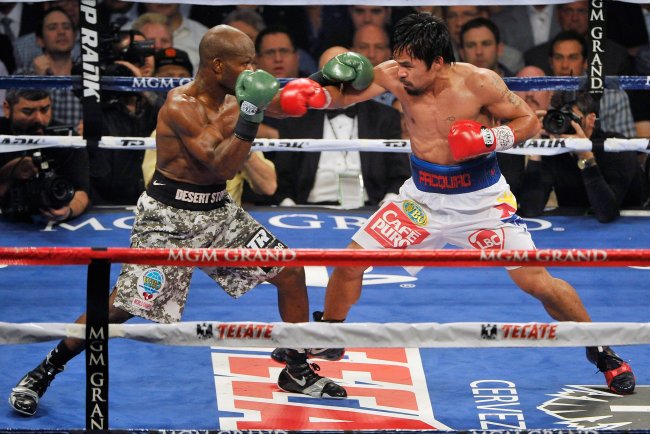 David Becker/Getty Images
Midway through, and it's still anyone's fight for the taking. Pacquiao started to take a more defensive approach, and Bradley continued to hammer away. Some combination strikes to end the round allowed Pacquiao to earn an edge in Rafael's eyes.
Pacquiao closes rd 6 with huge flurry to take the round. 58-56 Pacquiao. #boxing #PacBradley

— Dan Rafael (@danrafaelespn) April 13, 2014
Round 7
This is when Pacquiao began to take control. He unleashed an onslaught of punches, but Bradley refused to back down. Two strong sets of combination punches highlighted an impressive round that signified trouble for Desert Storm.
Round 8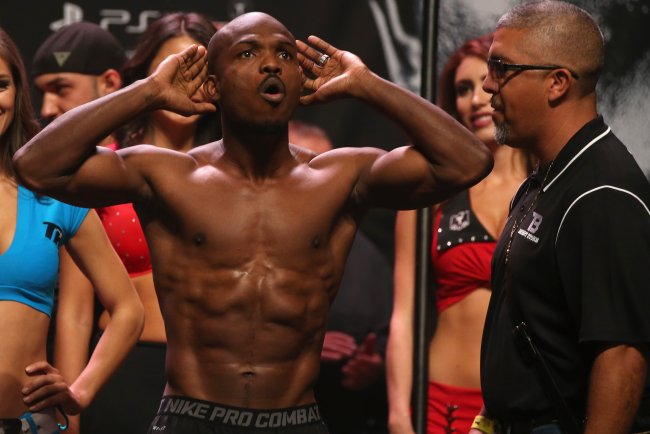 Jeff Gross/Getty Images
Bradley altered his approach, settling for counters instead of taking the initiative to attack. The change in strategy did not yield improved results, and his taunting appeared to wear some critics thin.
Showtime boxing analyst Al Bernstein expressed his harsh displeasure with Bradley's showmanship tactics.
Bradley is winning the posturing battle, losing the boxing match

— Al Bernstein (@AlBernstein) April 13, 2014
Round 9
A fatigued Bradley swung for the fences to no avail, which left him vulnerable to more punishment from Pac-Man. Score another round in Pacquiao's favor, which created a large enough hole for Bradley to have to go for broke with three rounds left.
Round 10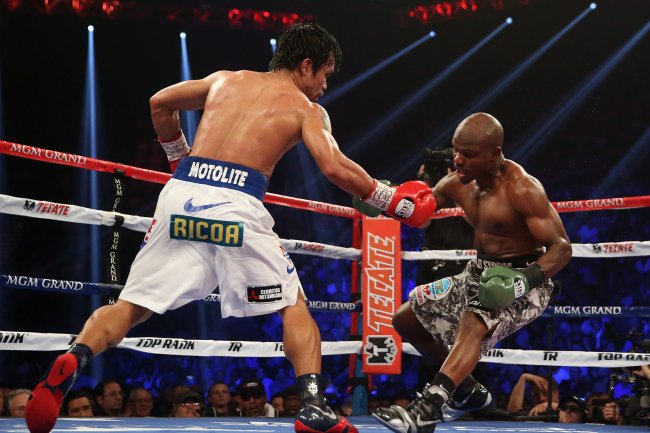 Jeff Gross/Getty Images
At this point, Bradley had little steam left, while Pacquiao gradually plucked away some more with his left hand. Another combination from Pacquiao concluded Round 10. At this point, only the judges could save Bradley's unblemished record.
Nice combo by Pac near the end. 10-9 Manny. I have it 7-3, 97-93 for Pacquiao. Bradley needs some dramatics.

— Kevin Iole (@KevinI) April 13, 2014
Round 11
Bradley looked to be severely bothered by an injured right hand. As Sports Illustrated's Chris Mannix noted, he stayed away from it throughout the round.
Bradley has to be having a problem with that right hand. Didn't use it at all in the 11th.

— Chris Mannix (@ChrisMannixSI) April 13, 2014
Yet Round 11 represented his best effort of the last sixth rounds, as he took more of an outside approach while battling through discomfort. But at this point, only a knockout could save him from suffering his first career loss, and one round remained to pull a rabbit out of his hat.
Round 12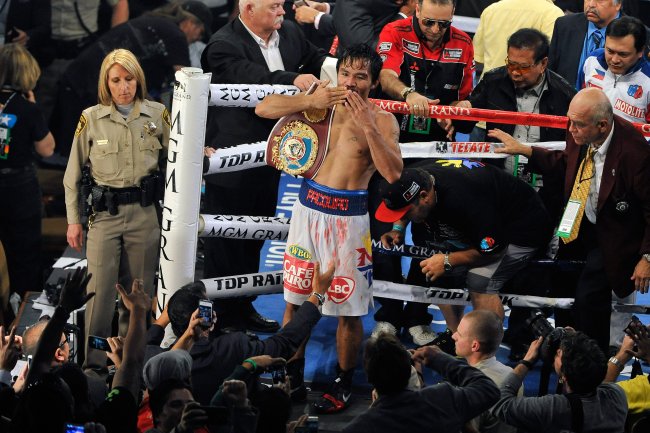 David Becker/Getty Images
Bradley needed a miracle during the final minutes, but it never came. Both men went out swinging to close out an intense, violent rematch.
Pacquiao won another round and thus secured a convincing victory via unanimous decision to take back the welterweight title.
Parting Thoughts
So much for Pacquiao being done. The 35-year-old has now bounced back from two straight losses, the longest slide of his career, to notch a pair of victories.
He could get another chance at revenge at Juan Manuel Marquez if he defeats Mike Alvarado in May. The winner is slated to go head-to-head with Pac-Man.
Although Bradley lost the belt that he probably never should have won, he has since shown tremendous guts while morphing into a premier competitor. Afterward, he tipped his cap to Pacquiao.
"I have no excuses," Bradley said in the post-fight press conference, via USA Today's Bob Velin. "Pacquiao was the better man."
Don't be surprised if Pacquiao and Bradley meet again somewhere down the road to settle their stalemate. Before that, Bradley could again face Marquez or Ruslan Provodnikov, with Alvarado and Brandon Rios also existing as possible candidates.