Manny Pacquiao got his redemption on Saturday night, defeating Timothy Bradley by unanimous decision to reclaim his welterweight title.
Despite earning the victory, it was a different Pacquiao—a cautious Pacquiao—on display.
No longer is Pacquiao the crowd-pleasing knockout artist. After all, at 35 years of age, his torrid pace of old can't be expected of him anymore—he's simply past his prime.

That's all right.
Pacquiao has adopted a new strategy that afforded him the win against Bradley and will serve him very well in his future bouts.
Manny Pacquiao thoroughly out-boxed Timothy Bradley on Saturday night, but is far from the finisher he used to be: http://t.co/JxvIacC5ub

— Yahoo Sports (@YahooSports) April 13, 2014
Utilizing his speed, shiftiness and timing, Pacquiao opted for more of a cautious route rather than his lights-out approach of old.
During a post-fight press conference with Dan Rafael of ESPN.com, Pacquiao explained his few strategy:
"He gave me a good fight. He's not that easy. I listened to my corner about keeping my hands up and timing. He threw a lot of punches. He threw wide, wide, wide hooks. I got hit one time and said it's not good to be careless."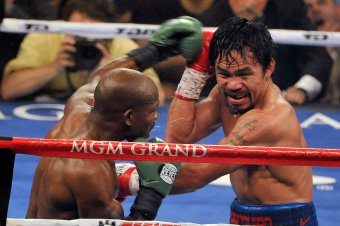 David Becker/Getty Images
This is the way Pacquiao should have been fighting for a while now.
It's not to say this was a flawless victory for Pacquiao. After all, his longtime trainer Freddie Roach spoke about his fighter's performance during the press conference as well:
"Manny was a little sloppy tonight but I was happy with his performance. It looked like Bradley was going for a one-punch home run."
'Sloppy' Pacquiao still draws praise from Roach http://t.co/CylphBFuMm

— ABS-CBN News (@ABSCBNNews) April 13, 2014
The sloppiness Roach is referring to is an early-round big hit Pacquiao absorbed from Bradley. These are the things that Pacquiao must avoid going further. He's not young anymore and won't be able to take extensive punishment from stronger opponents.
Although, with Pacquiao taking fewer shots, he gained momentum as the fight went on, according to the fighter's comment during his press conference:
"I picked up more steam in the second half when I made adjustments. Bradley is much better than in the first fight we had. He hurt me on the chin."
We already know Pacquiao has great endurance. Despite his advanced age, he came into the fight in great shape. Avoiding serious punishment allowed him to utilize this to his advantage, as he outlasted Bradley through the 12-round bout.
Even though Pacquiao is cautious, he's still able to keep up aggressiveness.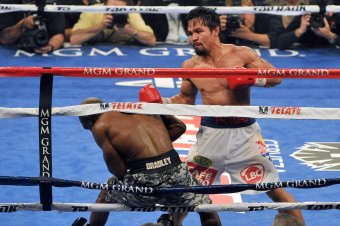 David Becker/Getty Images
He picked his shots against Bradley, effectively keeping his opponent off balance through most of the fight. Pacquiao didn't throw nearly as many punches as Bradley, but he was far more effective landing clean shots.
Pacquiao's found the perfect blend of offense and defense late in his career.
There's a strong possibility that Pacquiao's next fight could be another rematch—this time against the dangerous couterpunching Juan Manuel Marquez.
Marquez is set to square off against Mike Alvarado on May 17 in a title elimination bout to determine Pacquiao's mandatory challenger.
Pacquiao on a fifth fight with Marquez: "I have no problem with that."

— SPIN.ph (@spinph) April 13, 2014
Should Marquez prevail, Pacquiao may have to face off against the same man that laid him face-down in the ring the last time they fought.
Pacquiao's cautious strategy will be needed more than ever if he does take on Marquez once more.