Manny Pacquiao got his revenge on Saturday night at the MGM Grand in Las Vegas.
He outboxed Timothy Bradley to regain his WBO welterweight title with a composed and sharp performance. Here are the official scores from ESPN.com's Dan Rafael:
Pacquiao wins, 118-110, 116-112 x. He reclaims his title. Arena erupts. Manny kneels in prayer. #boxing #PacBradley

— Dan Rafael (@danrafaelespn) April 13, 2014
Early in the fight, Bradley had some success. He was very elusive and was scoring with body shots. Bradley's looping counter right hand was also finding its mark as well.
In the fourth round, Bradley stunned Pacquiao with a straight right hand. Welterweight contender Andre Berto thought the early action was a bad sign for Pacquiao:
Looks like it might be a tough night for PAC

— Andre Berto (@AndreBerto) April 13, 2014
HBO's Max Kellerman noted Bradley's increased confidence compared to the first bout:
"He looks like a more confident, relaxed fighter in this first round." - @Max_Kellerman on Bradley #PacBradley 2

— HBOboxing (@HBOboxing) April 13, 2014
Over the next couple of rounds, it was clear he was chasing the knockout.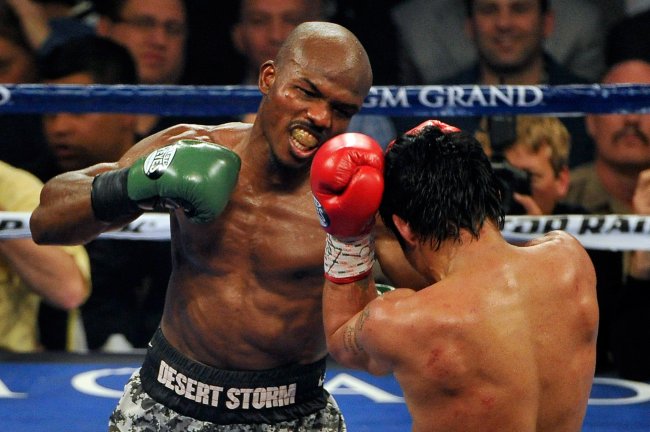 David Becker/Getty Images
That approach effectively cost him the fight. A former Bradley foe, Ruslan Provodnikov was a prophetic pugilist when he tweeted this during the middle rounds:
@Timbradleyjr is trying to fight in the style that I fight, but i dont know if that's his style.. I think it's a mistake.. #PacBradley

— Ruslan Provodnikov (@RuslanProvod) April 13, 2014
It seemed Bradley was expecting Pacquiao to come forward and throw caution to the wind. But he never did. He stayed calm and was content to box from a distance.
Pacquiao would fire combinations from the outside, and Bradley would duck and elude many of them, but he wasn't firing anything back.
From the seventh round on, Bradley stood flatfootedly and launched wild, winging counterpunches at Pacquiao. He looked more like Sakio Bika than the skilled boxer we watched beat Juan Manuel Marquez.
Pacquiao didn't land his flurries nearly as much as the pro-Pacquiao crowd and announce team suggested, but he did deserve to win the fight.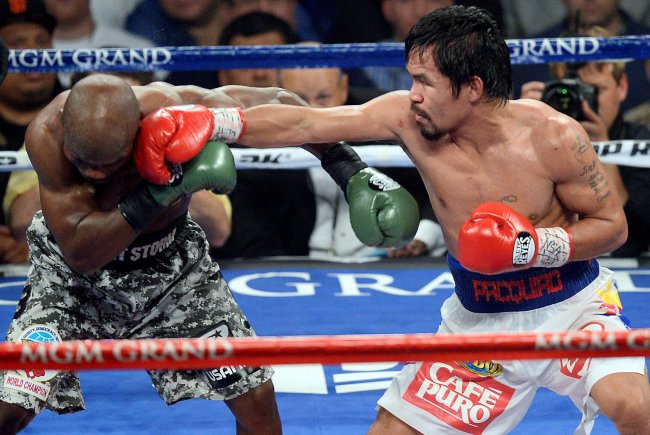 USA TODAY Sports
When the bout was over, Bradley gave credit to Pacquiao for the win, per Isaac Estrada of Real Boxing News:
"Can't say anything about Manny! He's a great fighter, one of the best in the world." Bradley

— Isaac Estrada (@RealBoxingNews) April 13, 2014
He also offered a bit of information that came off as an excuse:
"No excuses, but I suffered a leg injury, I know people won't believe me," Bradley

— Isaac Estrada (@RealBoxingNews) April 13, 2014
No one knows for sure how hurt Bradley was after the fight, but it appeared as though his emotions got the best of him.
He wanted desperately to prove he was the better, tougher fighter. He expended tons of energy with uncharacteristically wild shots and unnecessary upper-body movement.
Because of this, he looked gassed by the seventh round.
Pacquiao deserves credit for not falling into the traps that have led to the low points in his career. When he was buzzed in the fourth round, he could have disregarded his defense as he has in the past.
Instead, he stayed focused on the game plan and earned the victory. After the fight, he was thankful:
"I'm really thankful to God. I came here to fight not my fight, but in Jesus." Pac

— Isaac Estrada (@RealBoxingNews) April 13, 2014
After falling short in the controversial first meeting, Pacquiao has to feel vindicated by scoring a decisive win. Some might suggest a third fight, but most in the boxing community will feel like Sports Illustrated's Chris Mannix:
No need for a rubber match with Bradley, either. This fight wasn't bad but most think Pacquiao won both comfortably. This rivalry is done.

— Chris Mannix (@ChrisMannixSI) April 13, 2014
From here, Pacquiao is likely looking at a fifth bout with Marquez, if the latter can defeat Mike Alvarado on May 17, per Lem Satterfield of The Ring Magazine.
Though it's a movie the boxing community has seen four times before, fight fans will likely keep coming back to see Pacquiao vs. Marquez because of the promise of nonstop action.
Bradley is still an upper-echelon fighter, but he has to feel pretty empty after this loss. He put so much emotion into this fight. To run out of gas and lose while using a head-scratching strategy has to sting.
Bradley is still somewhat of a draw, but his ceiling will be just below the elite fighters in the world.
Follow me. I'm addicted to the sweet science.