Almost two years after dropping a controversial split decision to Timothy Bradley, Manny Pacquiao got a bit of revenge against Desert Storm on Saturday night.
The Fighting Pride of the Philippines took a unanimous-decision victory from the 30-year-old and officially exacted revenge against one of the only two fighters to beat him in the last nine years. The 12-round bout featured plenty of ups and downs as the two pugilists went back and forth for the entire duration of the fight.
Here's a look at the biggest moments from a fight that saw one of boxing's biggest stars get his hand raised again.
Round 2 Firefight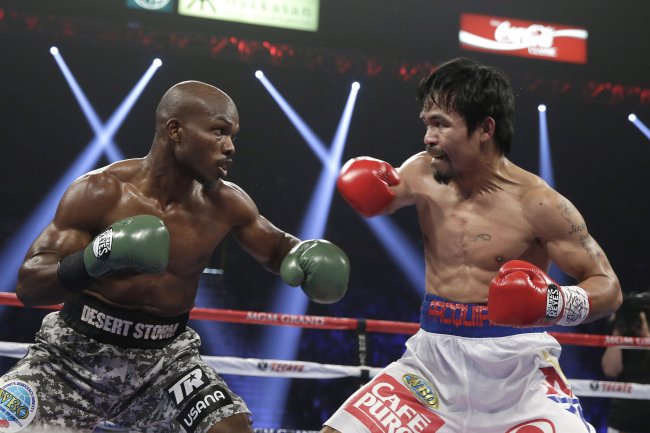 Isaac Brekken
The opening frame began with an extended feeling-out sequence for both fighters. Bradley was able to establish an early lead with slightly crisper boxing.
The pleasantries were short-lived, however. Early in Round 2, Pacquiao landed the first power punch of the night with one of his signature left straights that stunned Bradley momentarily. Not to be outdone by Pacquiao's aggression, Bradley fired back, setting the tone for an action-packed fight.
HBO's Jim Lampley aptly described the round as a firefight:
"We've got a fire fight in round number two." - Jim Lampley #PacBradley 2

— HBOboxing (@HBOboxing) April 13, 2014
Bradley Shows His Power in Round 4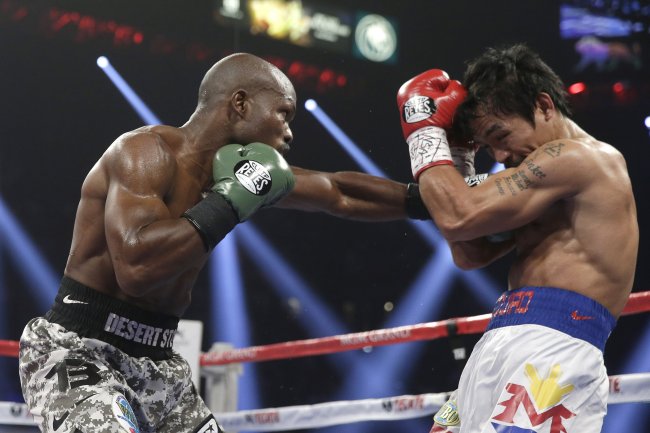 Isaac Brekken
Heading into the fight, a big question for Bradley was whether he really had the power to get to Pacquiao the way that Juan Manual Marquez did to knock out Pac-Man in his latest loss. While Bradley showed that he could box with Pacquiao in the first fight, it was unknown if he could truly rock him.
We got our answer in the fourth round.
Bradley landed two overhand rights in a row that clearly shook Pacquiao and proved that Bradley was just as much a threat to end the fight with his power as his opponent.
"He did something earlier in this round that he hasn't does thus far with Pacquiao and I think that is, shake him up." - @Max_Kellerman

— HBOboxing (@HBOboxing) April 13, 2014
Bradley Starts the Mind Games
As the fight transitioned to the middle rounds, Bradley's quest to knock out Pacquiao took an odd turn. While Bradley had success playing the role of aggressor against his older opponent, Desert Storm took to goading Pacquiao, putting his hands down and leaning against the ropes.
As the Los Angeles Times' Lance Pugmire noted, Bradley's arrogance may have lost him at least one round:
Bradley's cockiness hurts him at end there, close round to Pacquiao. 3-3

— Lance Pugmire (@latimespugmire) April 13, 2014
It would be a trend that baffled viewers and became the dominant storyline of the bout.
Bradley is winning the posturing battle, losing the boxing match

— Al Bernstein (@AlBernstein) April 13, 2014
Pacquiao the Stronger Fighter Down the Stretch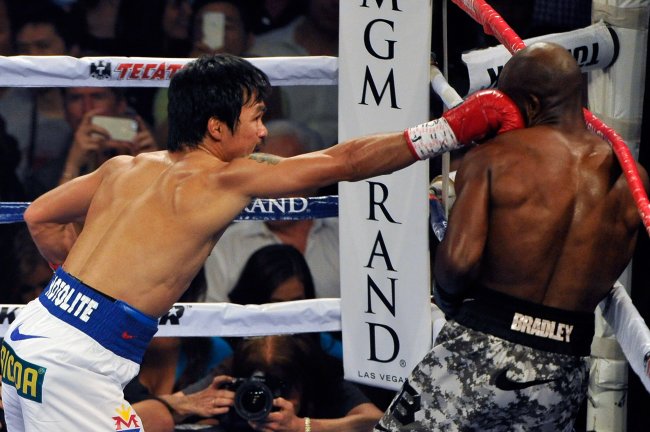 David Becker/Getty Images
Considering the age disparity between the 35-year-old Pacquiao and the 30-year-old Bradley, one would think that the younger Bradley would have the advantage when it came to cardio.
As the fight waged on into the final rounds, that was apparently not the case.
Pacquiao continued to stick and move throughout the final rounds, tagging Bradley when openings came and moving out of the way before Bradley could retaliate. However, his opponent continued to become more and more desperate as it became apparent he would need a late knockout to win.
#PacquiaoBradley2 IDK what Bradley is doing but he is losing these rounds. If he would stop clowning & box he could be winning.

— FightNights.com™ (@boxing) April 13, 2014
Overall, this was an excellent fight that will advance Pacquiao's legacy even further. After the controversial end to the first bout between these two, it's an impressive testament to his legacy that he can still fight with some of the best fighters in the game.
For Bradley, this was a lost opportunity. He was clearly Pacquiao's equal in the early going when he was the aggressor but began fading fast when he tried to lure Pacquiao into a slugfest. With his undefeated record now blemished and a second victory over a big-name opponent officially denied, he'll need to do some serious work to regain the momentum that he brought into this bout.