In an instant classic on the ice in Philadelphia on Saturday night, the unheralded Union Dutchmen took down hockey powerhouse Minnesota Golden Gophers, 7-4, to claim the first NCAA hockey championship in program history.
The #Dutchmen of @UnionHockey are the 2014 NATIONAL CHAMPS. #FrozenFour pic.twitter.com/jQGcN6K6Sh

— ESPNU (@ESPNU) April 13, 2014
2014 @UnionHockey Team Photo for the ages. They win their 1st ever National Championship. pic.twitter.com/PCN5HXcrw9

— ESPNU (@ESPNU) April 13, 2014
Union, which ends the season on a 12-game winning streak, personified teamwork in the thrilling affair, as seven different players found the back of the net against elite Minnesota goalie Adam Wilcox. A four-goal first period, with three more tacked on in the third led to the jarring upset, as Minnesota was simply overwhelmed en route to losing the shots battle, 49-40.
It was the ultimate team effort from Union, but it was also one that speaks to the further parity that continues to reach across the landscape as a whole, as Michael Russo of the Star Tribune and USA Today's Dan Wolken illustrate:
One drafted player, no scholarships. Amazing #union

— Michael Russo (@Russostrib) April 13, 2014
Union wins! Third non-traditional power in last four years to win NCAA hockey tournament. (And the B1G still can't win a national title.)

— Dan Wolken (@DanWolken) April 13, 2014
And yes, the action on the ice not only lived up to the billed excitement of a title match, but was one of the best matches the sport had to offer this calendar year, as TSN's Bob McKenzie offers:
That Union-Minnesota Frozen Four final game was one of the best hockey games I watched this season. Outstanding. #TSN2

— Bob McKenzie (@TSNBobMcKenzie) April 13, 2014
It was apparent early on fans would need to strap in for a wild, offensive-minded affair. Just two minutes, 37 seconds into the contest, Minnesota jumped out to an early lead thanks to a goal by Justin Kloos, who was able to capitalize on a sloppy rebound by Union goalie Colin Stevens, as ESPN 1500's Judd Zulgad helps to illustrate:
Justin Kloos scores to give the Gophers a 1-0 lead. Union goalie Colin Stevens gave up a juicy rebound and didn't realize it.

— Judd Zulgad (@1500ESPNJudd) April 12, 2014
Union needed little time to recover and tie things up. Future Flyers prospect Shayne Gostisbehere, who had done much to help the Dutchmen to this point, flipped a pretty shot in to knot things up at one.
CSN Philly's John Boruk put it best:
Shayne Gostisbehere showing his unbelievable wrist shot with a goal to tie the game at 1-1. He's playing unreal! #FrozenFour

— John Boruk (@JohnBorukCSN) April 12, 2014
Less than a minute later, the Golden Gophers jumped back out ahead thanks to—guess who—a goal from Sam Warning.
Warning's been doing an exorbitant amount of scoring all year, but his goal to give his team the lead was beautiful to say the least. Here's a gander at the near-impossible angle he hit it from, via ESPNU's Derek Volner:
This isn't the easiest angle to score from. However, @GopherHockey's Sam Warning does just that. #FrozenFour pic.twitter.com/PpHxT3BRrJ

— Derek Volner (@DerekVolner) April 13, 2014
What happened next helped to ensure the title game would go down in history as an instant classic.
Simply put, Union went off.
A little more than five minutes later—remember, this is still the first period—Union didn't just tie the game up, it took a lead it would never relinquish.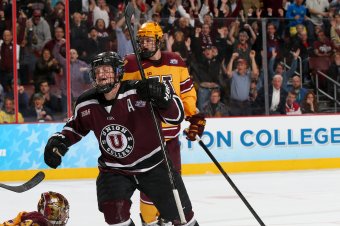 Elsa/Getty Images
First up was Mike Vecchione, who rattled in a goal off a few rebounds.
Fast forward less than a minute. Eli Lichtenwald scores on a Gostisbehere assist.
Fast forward less than a minute. Daniel Ciampini makes it 4-2.
That was three goals in the span of just 1:54, which helped the two sides to combine for 35 total shots and six goals overall, the most in a first period since 1963, per the ESPN broadcast.
Perhaps even more surprising was the performance of Minnesota goalkeeper Wilcox, the Big Ten Player of the Year and Mike Richter Award finalist. He clearly needed more help in front of him, but Tim Leighton of the Pioneer Press provided an alarming observation:
I've seen Adam Wilcox stumble backward into his goal twice in this game. Seems odd. He is typically strong on his skates.

— PiPress Tim Leighton (@Preps_Now) April 13, 2014
Believe it or not, things cooled off in the second period—but only after Minnesota got back on the board to make it 4-3 thanks to a goal off a rebound from Taylor Cammarata.
Minnesota was the aggressor in the period winning the shots battle, 18-14, but both defenses made sound adjustments after the opening salvos fired in the first period. NCAA Ice Hockey helps to illustrate just how evenly matched both sides were through two periods:
Stats after 2 Periods (#MINNvsUNION): Shots 33-34; Saves 30-30; Power Plays 0-3 // 0-4; Blocks 16-17; Faceoff Wins 34-27. #FrozenFour

— NCAA Ice Hockey (@NCAAIceHockey) April 13, 2014
It took just five minutes for Union to extend its lead after the opening buzzer to the third period sounded. Max Novak got a top goal to give his team some breathing room, as Chris Onorato of WNYT helps to describe:
Huge goal by Jersey boy Max Novak on an impressive deflection as he drove to the net. Union leads 5-3 with 14:15 to play in the game.

— Chris Onorato (@chrisonorato) April 13, 2014
Minnesota wasn't dead just yet.
It took more than 10 minutes, but the Golden Gophers got back within one goal as Hudson Fasching found the back of the net to make it 5-4.
Yes, the action on the ice was that good, as Kevin Snow concurs:
This Minnesota/Union game is the best hockey game I've seen in a very long time. #HudsonFasching

— Kevin Snow (@kwsnow) April 13, 2014
Still, there was little time bask in the awesomeness of a title game that lived up the hype.
A little more than two minutes later, it was dagger time, as Kevin Sullivan rang home a pretty goal to seal the deal:
Kevin Sullivan of @UnionHockey scores an insurance goal for the #Dutchmen to make it 6-4! #Dutchmen are 1:22 away from hoisting hardware.

— ESPNU (@ESPNU) April 13, 2014
Oh, but don't think the Dutchmen were done on their path to the first NCAA championship in school history. Less than a minute later, it was finally Mat Bodie's turn to get in on the action as he hit a long-distance shot with the net left unattended to bring the thrilling contest to a close.
"The #Dutchmen are going to do it!" - @Buccigross after Mat Bodie scores an empty netter. #FrozenFour

— ESPNU (@ESPNU) April 13, 2014
The end result means much for both sides. Union failed in the Frozen Four back in 2012 but have finally arrived as a national powerhouse, and the win on Saturday does nothing but help further cement that status as the recruiting trail will only be easier from here on out.
It's a disappointing end for Minnesota, but it's one that the program can rather easily bounce back from as long as younger players step up in the wake of those departed to the NHL.