The Florida State Seminoles completed their spring game at Doak Campbell Stadium, as the Garnet team surged past the Gold team by a final score of 31-14.
That's not a surprising score due to the fact that reigning Heisman Trophy winner Jameis Winston was at the helm of the Garnet squad.
Winston didn't get off to a fast start, but he quickly regained his form, racking up 396 passing yards and two touchdowns by game's end.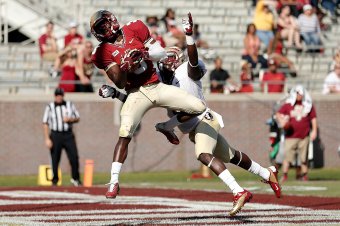 Stacy Revere/Getty Images
"I thought Jameis started out slow early. We didn't have many guys open and that secondary was locking them down," head coach Jimbo Fisher said after the game, per ESPN's Jared Shanker. "We gradually got guys open and he made some throws."
Freddie Stevenson looked good carrying the ball, recording 85 yards and a score on 18 carries. Rashad Greene was targeted early and often, coming away with 11 receptions for 127 yards and one touchdown—clearly, the absence of Kelvin Benjamin was not heavily felt due to Greene's stellar day.
Ro'Derrick Hoskins stole the show on the defensive side of the ball, racking up two sacks and reeling in one interception for a touchdown.
Here's a look at some notable plays, analysis and reactions from Saturdays event.
FSU's Twitter account noted early on that many starters were being held out of action on Saturday:
(1 of 2)Players being held out for today's spring game: Nate Andrews, Colin Blake, Dalvin Cook, Ronald Darby, Ukeme Eligwe, Ryan Green.

— FSU Football (@FSU_Football) April 12, 2014
(2 of 2): Nile Lawrence-Stample, Derrick Mitchell, Nick O'Leary, Mario Pender, Justin Shanks, Karlos Williams.

— FSU Football (@FSU_Football) April 12, 2014
This isn't a bad thing, as plenty of reserve players got chances to shine.
Winston got off to a shaky start, according to a tweet from Dennis Dodd of CBS Sports:
No way to defend a Heisman: Jamies starts 1-5 with a pick, 24 yards.

— Dennis Dodd (@dennisdoddcbs) April 12, 2014
It was Sean MacGuire that began the scoring for the day, tossing a perfect pass to Rashad Gholston for a 27-yard score.
Defensively, Matthew Thomas was all over the field early in the game, per Brandon Mellor of Seminoles.com:
Matthew Thomas is making some plays out there. Excited to see what he does in 2014. #Noles

— Brandon Mellor (@BrandonMellor) April 12, 2014
Freddie Stevenson tied it up with a six-yard touchdown run for the Garnet.
Winston began to heat up late in the first half. He completed a six-yard touchdown pass to Greene and headed into halftime passing for 259 yards, one touchdown and one interception.
Backup Sean McGuire got into the passing action as well. He looked good in the first half, completing 13 of his 19 passing attempts for 162 yards, one touchdown and one interception.
So, what was the deal with the all-out passing attack?
The Seminoles had a bit trouble finding space on the ground, and Brendan Sonnone of the Orlando Sentinel tweeted why:
#FSU's Gold team has 13 rushes for -9 yards. All 4 scholarship backs being out obviously is a problem.

— Brendan Sonnone (@osfsu) April 12, 2014
The third quarter concluded without any additional points being scored, as the Garnet team led the Gold 24-7.
In the final quarter, another quarterback got into the mix. John Franklin III maintained a steady drive, as noted by Corey Clark of the Tallahassee Democrat:
Impressive drive there by John Franklin III. Hits 3 passes for 60 yards, the last 19 on a TD over the middle to Scooter Haggins.

— Corey Clark/TDO.com (@Corey_Clark) April 12, 2014
With Winston done for the day, Mellor tweeted out the starting quarterback's final numbers:
#Noles QB Jameis Winston's spring-game stat line: 27-of-56, 396 yards, 2 TDs, 1 INT, 38 yards rushing. pic.twitter.com/zq0KkL1Jfl

— Brandon Mellor (@BrandonMellor) April 12, 2014
This certainly looks to be a very talented squad heading into the 2014 season. Three quarterbacks combined for four touchdown passes on the day, while a vast amount of speed was seen at the wide receiver position.
The Seminoles look to be a deep, versatile team set to make plenty of noise this year once again.