Lukasz Fabianski was the big hero for Arsenal on Saturday as the veteran goalkeeper stopped two Wigan penalties to keep his team alive in the hunt for the FA Cup, and the Gunners defeated the Latics 4-2 on spot-kicks after playing to a 1-1 draw over 120 minutes.
Santi Cazorla buried the final penalty that sealed the deal for Arsenal as the Gunners became the first team to advance to the FA Cup final.
GOAL! Santi Cazorla scores to make it 4-2 to Arsenal on penalties and send the Gunners into The #FACup Final on 17 May.

— The FA (@FA) April 12, 2014
Per Mertesacker had equalised for Arsenal towards the end of regulation with a close-range header, making up for his foolish tackle that had led to a Jordi Gomez penalty and Wigan's second-half lead.
Arsenal struggled with Wigan's speed out on the wings early, as Callum McManaman seemingly ran circles around wing-back Nacho Monreal, who had a horrible afternoon and was forced to leave the pitch with an undisclosed injury.
But the Gunners grew into the match and started bombarding the goal of Scott Carson, who put together an extraordinary performance to keep the score level throughout the first 120 minutes.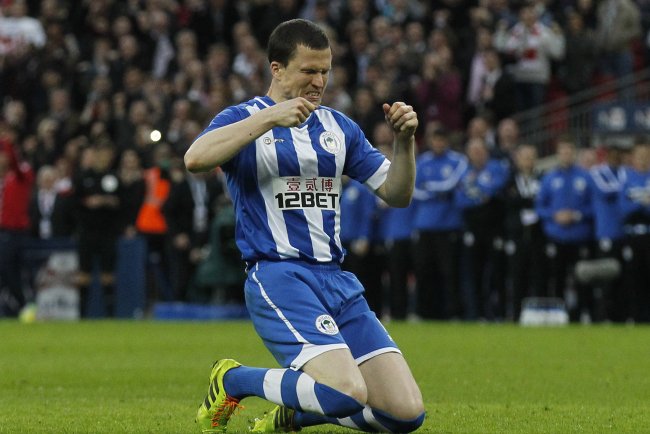 Sang Tan
Extra time saw even more chances for the Gunners, with Alex Oxlade-Chamberlain hitting the woodwork with a thunderous effort and Kim Kallstrom and Olivier Giroud both wasting several good opportunities.
Wigan fought bravely, but the penalties were simply too much, with Fabianski denying the first two kicks he faced.
This win was more than just much-needed for Arsene Wenger, and Goal's Wayne Veysey noted this exchange after Cazorla's winner:
Arsenal press officer & Wenger hug by the tunnel entrance. Relief all round. No spinning needed today.

— Wayne Veysey (@wayneveysey) April 12, 2014
The Telegraph's Jeremy Wilson took things a step further:
Was the career of Arsene Wenger, the great stylist, just rescued by direct tactics, a scruffy goal + a pen shoot-out? It's possible

— Jeremy Wilson (@JWTelegraph) April 12, 2014
The win certainly didn't come easy for Arsenal as Wigan played a great match in defense of their title, and Wenger acknowledged as much, per ITV Football:
"They played very well, Wigan… we had a hell of a job to do." - Wenger speaking to @gabrielclarke05 Interview coming soon

— ITV Football (@itvfootball) April 12, 2014
Uwe Rosler felt the same way:
Rosler: "Our performance was outstanding" http://t.co/eaCugTh5bO

— ITV Football (@itvfootball) April 12, 2014
Yaya Sanogo got his chance to play for the Gunners today, and the youngster looked very eager to showcase his potential. But the stage was perhaps a bit too big for the inexperienced forward, and the end result was a bit of a mixed bag at best.
Speaking with ITV, Wenger commented on the performance of his young striker:
"He has shown great potential. He's a bit too much mentally determined to score at any cost." - Wenger on Sanogo

— ITV Football (@itvfootball) April 12, 2014
As shared by the Arsenal London 24, the Latics' boss elaborated on his team's tactics and told cameras he was happy with the way his team carried out his orders:
#wafc Rosler: "We forced Arsenal to play long in the second half... which is unusual for them. I'm proud." #afc

— Arsenal London24 (@ArsenalLondon24) April 12, 2014
And as the Associated Press' Rob Harris shared, Rosler even managed to crack a joke despite the defeat:
Wigan manager Uwe Rosler: "I'm a German - you know we don't need to practise penalties"

— Rob Harris (@RobHarris) April 12, 2014
Everton's 1-0 win over Sunderland means the Gunners are no longer in fourth place in the Premier League table, but according to Ifreke Inyang, Wenger wasn't even aware the Toffees had won:
Wenger: "I didn't even know the result of the Everton game. I think if we win our games we'll finish in front."

— Ifreke Inyang (@Ifreke) April 12, 2014
But as shared by Arsenal's official Twitter account, the French manager is confident in how the rest of the EPL season will play out:
Wenger: "If we win our remaining games I think we will finish in front of Everton so we need to focus on the Premier League now" #AFCvWAFC

— Arsenal FC (@Arsenal) April 12, 2014
Speaking on this win, Wenger told everyone he had foreseen a difficult game and that winning was a matter of details, as is usually the case in football:
Wenger: "We're feeling relieved because we were under pressure but I expected a difficult game" #AFCvWAFC

— Arsenal FC (@Arsenal) April 12, 2014
Wenger: "The difference between winning and losing is very small and this game has shown it again" #AFCvWAFC

— Arsenal FC (@Arsenal) April 12, 2014
Arsenal will take on the winners of Sunday's semi-final between Hull City and Sheffield United, and no matter the opponent, the Gunners will be favoured to hoist the FA Cup at the conclusion of next month's final.
With Wenger facing so much criticism in recent weeks, this win will perhaps silence the doubters slightly as Arsenal go into the stretch run of the EPL season battling Everton for the league's final Champions League ticket.
And with both the FA Cup and the EPL's fourth-place finish needed to fully silence all critics, the French manager took a very important step forward with this win, courtesy of two great saves from his out-of-favour Polish stopper and a great spot-kick from Cazorla. As Wenger himself said, "The difference...is very small."