At first glance, Corey Brewer doesn't appear have much in common with LeBron James, Carmelo Anthony, Kevin Durant or Terrence Ross.
However, following the Minnesota Timberwolves' 112-110 win over the Houston Rockets on Friday night, Brewer is now one of just five players who have scored at least 50 points in a single game this season.
In the thrilling victory that was capped by a game-winning jumper from rookie Gorgui Dieng, Brewer poured in a career-high 51 points on 19-of-30 shooting from the field, 2-of-6 from three and 11-of-15 from the free-throw line.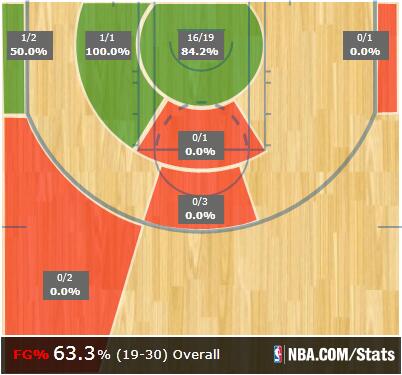 NBA.com/stats
"They didn't know what to do with him. And we didn't, either," Minnesota head coach Rick Adelman said of Brewer following the win, according to the Timberwolves' public relations department.
Rick Adelman's explanation for @CoreyBrewer13's 51pts "I think Pek & the two Kevins have been holding him back." #NBA

— Alan Horton (@WolvesRadio) April 12, 2014
As you may have imagined, the 51-point outburst cleared Brewer's previous career high by a wide margin:
Corey Brewer finishes with 51. Previous career high was 29.

— Chris Palmer (@ChrisPalmerNBA) April 12, 2014
Not only that, but Brewer's improbable scoring display set a number of other personal milestones for the former University of Florida standout:
Corey Brewer w/ new career highs in pts (51 - ties franchise record), FGA (30), FGM (19), FTA (15) and FTM (11). #Brewer51 #Twolves

— Timberwolves PR (@Twolves_PR) April 12, 2014
Perhaps more impressive, though, is that Brewer etched his name into Timberwolves lore by tying the franchise record of 51 points, which was set by Kevin Love after he dropped 51 points on the Oklahoma City Thunder in March 2012, according to Basketball-Reference.
Corey Brewer has tied the Timberwolves single-game record with 51 points. MIN leads HOU 105-103 with 1:30 left. pic.twitter.com/ZV5XsUJ3Q6

— NBA on ESPN (@ESPNNBA) April 12, 2014
Brewer's 51: 19-30 FG, 2-6 3FG, 11-15 FT; Love's 51: 16-27 FG, 7-11 3FG, 12-16 FT

— Chris Palmer (@ChrisPalmerNBA) April 12, 2014
However, The Brooklyn Game's Devin Kharpertian was quick to point out that Brewer still doesn't hold one elusive title, and ESPN Stats & Info had a key statistic at the ready to back that claim up:
Corey Brewer still not the most random 50-point scorer ever. #TonyDelk

— devin kharpertian (@uuords) April 12, 2014
50-point scorers with lower career scoring averages in NBA history: Walt Wesley, Terrence Ross, Tracy Murray, Tony Delk. @EliasSports

— ESPN Stats & Info (@ESPNStatsInfo) April 12, 2014
And here's where things get ridiculous: Not only can Brewer be mentioned in the same sentence as Anthony, Durant and James, but he's also earned a place alongside Michael Jordan, Allen Iverson and Clyde Drexler as well after accruing six steals in the victory:
NBA players with 45 points & 6 steals in a game over the last 25 seasons: Michael Jordan, Clyde Drexler, Allen Iverson and... Corey Brewer.

— ESPN Stats & Info (@ESPNStatsInfo) April 12, 2014
Given that the 51 points Brewer scored account for 1.1 percent of his career total, according to SB Nation's Dexter Fishmore, we'll likely never see him approach the gaudy scoring figure ever again.
That said, it was refreshing to see the Timberwolves rally around Brewer's career night and squeak out a hard-fought victory against the playoff-bound Rockets at the end of what's amounted to a rather disappointing season.