Bubba Watson dominated play at the Masters in Round 2 Friday with a four-under 68 that included a stretch of five birdies in a row, but it was the marquee names that missed the cut that drew the rest of the headlines.
The official cut line was four over.
Ron Green Jr. of Global Golf Post summed up some of the well-known golfers who won't be around at Augusta over the weekend:
The Masters cut claims Phil, Donald, Sergio, Els, Webb Simpson, GMac, Zach and Dustin Johnson. The tournament will continue anyway

— RonGreenJr (@RonGreenJr) April 11, 2014
While there is certainly plenty of talent on that list, the lack of star power becomes even more apparent when the rankings are taken into consideration. Golfweek Forecaddie noted that the absence of three players in particular will be noteworthy for fans and spectators alike:
Looks as if three of the world's top 5 players won't play the weekend at the Masters: Tiger, Phil and Patrick Reed. #Masters2014

— Golfweek Forecaddie (@4caddie) April 11, 2014
Phil Mickelson missed the cut by a single stroke after finishing the first two rounds five over par. He never really appeared comfortable on the course and failed to get into a rhythm on either day. Shane Bacon of Yahoo! Sports captured how the 2014 Masters ultimately went for the lefty:
Pretty much sums it up for Mr. Mickelson. pic.twitter.com/VpEeWgwbtE

— Shane Bacon (@shanebacon) April 11, 2014
Since Mickelson missed the cut, it marked only the second time at a major in the past 17 years that either he or Tiger Woods won't be playing on the weekend. Kelly Tilghman of the Golf Channel and Joe Hutzler of HMTV6 in Hagerstown, Md., put the amount of time since we have seen a Round 3 or 4 at the Masters without at least one of them in context:
How long since both Phil and Tiger didn't play the weekend at Masters? Tanya Harding & OJ Simpson were making headlines (1994)

— Kelly Tilghman (@KellyTilghmanGC) April 11, 2014
No @TigerWoods or Phil at a major for 2nd time in 17 years...time to cling to childhood memories. Age even affects an ageless sport

— Joe Hutzler (@JoeHMTV6) April 11, 2014
The other player on Golfweek Forecaddie's list of three who struggled was Patrick Reed. He shot a seven-over 79 and had a rather unfortunate streak, as Doug Ferguson of the Associated Press pointed out:
The new number for Patrick Reed is 7. That's seven straight holes with a bogey dating to yesterday.

— Doug Ferguson (@dougferguson405) April 11, 2014
Another notable name who missed the cut was Sergio Garcia, but at least he seemed to have a cure after his round was over:
Nothing better than some good food and ice cream after a hard day on the course! 😉

— Sergio Garcia (@TheSergioGarcia) April 11, 2014
Perhaps Ernie Els, who missed the cut after finishing five over, could have used some food as well Thursday after struggling with some water, as Dan Levy of Bleacher Report noted:
Ernie Els just hit a ball submerged in the creek about 10 feet and got soaked. Suddenly I feel better about my game.

— Dan Levy (@DanLevyThinks) April 10, 2014
While he doesn't have the resume of some of the other golfers who missed the cut, amateur Matthew Fitzpatrick had a chance to reach Round 3 if he hit a clutch putt on hole No. 18 Friday, as mentioned by the PGA Tour:
Amateur Matthew Fitzpatrick has a 12 footer for birdie at the 18th. If it drops, he makes the cut. #Masters

— PGA TOUR (@PGATOUR) April 11, 2014
Unfortunately for him, he did not convert on the putt. However, he impressed defending Masters champion Adam Scott in the process according to comments the Australian superstar made, via the Sheffield Telegraph:
I think he played really well.

Obviously it was a nervous start and I stood there and thought, That's what I looked like many times playing the first hole at the Masters.

But he did hole a great putt for double bogey and that's exactly what I said to him. I said, Great putt, get going now. And he calmed down and he birdied the next and he played fine.
While Scott was more than willing to discuss his impressions of Fitzpatrick, one golfer who wasn't in a talkative mood was Dustin Johnson. He finished a disappointing seven over and missed the cut by three strokes and didn't seem to make the best impression on Josh Kendall of The State when it was apparent Johnson was missing the cut:
Dustin Johnson's post round comments can be transcribed in 1 tweet. Zero characters in fact. Declined comment after +7 two days. Headed home

— Josh Kendall (@JoshatTheState) April 11, 2014
Jason Dufner finished even worse than Johnson (10 over), which meant something for Scott, as Justin Ray of ESPN acknowledged:
If Jason Dufner (currently +8) misses the cut tomorrow, Adam Scott will be the only player to make the cut in each of last 9 majors.

— Justin Ray (@JRayESPNGolf) April 10, 2014
While the sheer amount of star power that was cut at the Masters is somewhat alarming for those interested in the tournament, if we look ahead to Rounds 3 and 4, there are still some notable names to watch.
Scott and Watson could very well end up dueling it out for a green jacket, which is especially enticing because they are the past two champions. You would be hard-pressed to conjure up a more exciting way to finish the Masters this year given the remaining field.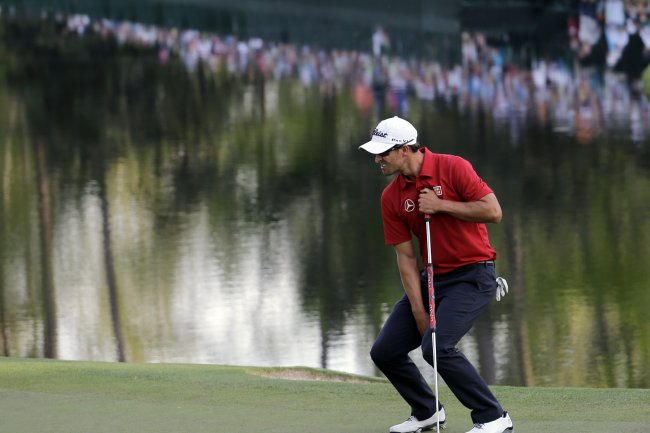 David J. Phillip
Fred Couples, who just so happens to be 54 years old, is also in contention. Ryan Lavner of the Golf Channel seemed impressed by some of the older golfers in the round:
Apparently, experience still matters a little at the #Masters: 6 (!) players over the age of 50 will play the weekend.

— Ryan Lavner (@RyanLavnerGC) April 11, 2014
At least Couples will have some company at Augusta if he looks to hit an early-bird special or two after Rounds 3 and 4.
Follow me on Twitter: