The Masters was Bubba Watson's world Friday, and everyone else was just living in it.
The 2012 champion shot a brilliant four-under-par 68 to take a commanding three-stroke lead over the rest of the field. The fact that Watson put so much space between himself and much of the field Friday spelled trouble for a number of golfers if history is any indication, as Justin Ray of ESPN pointed out:
1-under a number to watch: 76 of 77 Masters winners were within 6 shots of lead or closer through 36 holes.

— Justin Ray (@JRayESPNGolf) April 11, 2014
The most impressive part of Watson's round was the start of his back nine, as the PGA Tour's official Twitter page noted:
Bubba Watson's back 9: 10: Par 11: Par 12: Birdie 13: Birdie 14: Birdie 15: Birdie 16: Birdie He's 8 under and four ahead. #Masters

— PGA TOUR (@PGATOUR) April 11, 2014
Kelly Tilghman of the Golf Channel certainly seemed to enjoy Watson's stretch of five birdies in a row:
Bubba golf has taken over at Augusta National. 5 straight birdies for the 2012 champ and he leads by 4.

— Kelly Tilghman (@KellyTilghmanGC) April 11, 2014
Alex Myers of Golf Digest commented on the fact that Watson was probably taking advantage of the game within the game with his playing partners:
Bubba Watson has a 12-shot lead over each of his playing partners, Sergio & Luke Donald. He must be cleaning up on side bets... #Masters

— Alex Myers (@AlexMyers3) April 11, 2014
If we look ahead to the weekend, it will be difficult for anyone to catch Watson if he continues to play at this torrid pace.
It was more than just the incredible birdie run on the back nine that stood out, though. He has only registered two bogeys through the first two rounds, has hit 28 of 36 greens and is playing with the type of consistency that could bring him another green jacket.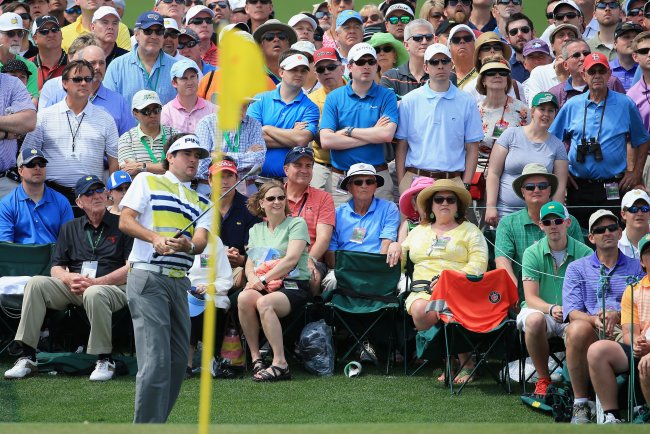 David Cannon/Getty Images
The fact that he has proved that he is capable of delivering under pressure at Augusta in the past will also help his confidence in Rounds 3 and 4.
The golfer who was closest to Watson for much of the day near the top of the leaderboard was John Senden, who is four under par on the tournament after shooting a 68 on Day 2. The PGA Tour noted that Senden has only made one other cut in his career at the Masters, so the fact that he is contending for a title is certainly impressive:
John Senden, solo second, will head into the weekend at -4 after a second-round 68. It will be his second made cut in 5 #Masters starts.

— PGA TOUR (@PGATOUR) April 11, 2014
One player who appeared to be in contention after the first round was Bill Haas. Haas grabbed the lead with a four-under 68 Thursday but struggled all day in Round 2 to the tune of a 78. CBS Sports made sure to point out his troubles earlier in the round:
Bill Haas is 4 over for the day and struggling with the 12th hole. He's 7 back of Bubba.

— Eye on Golf (@EyeOnGolf) April 11, 2014
Fan favorite Phil Mickelson would probably also like to forget his first two rounds. He finished with a one-over 73 Friday, but he is five over on the tournament and missed the cut. Shane Bacon of Yahoo! Sports captured how the day was going for the lefty, while Rex Hoggard of the Golf Channel passed along Mickelson's post-round quote:
Pretty much sums it up for Mr. Mickelson. pic.twitter.com/VpEeWgwbtE

— Shane Bacon (@shanebacon) April 11, 2014
If Phil misses cut he was asked if he'd watch the rest of the Masters. "I probably will. It will be my punishment" he said. #1stTimeSince'97

— Rex Hoggard (@RexHoggardGC) April 11, 2014
Another marquee name who didn't play great golf on Day 2 was Rory McIlroy. He finished with a five-over 77 Friday and is four over par on the tournament. Dan Jenkins of Golf Digest pointed out what McIlroy's biggest issue was on the day in a tongue-in-cheek fashion:
Rory keeps finding parts of the golf course that aren't part of the golf course.

— Dan Jenkins (@danjenkinsgd) April 11, 2014
It appeared as if Adam Scott was going to be joining Mickelson and McIlroy in the big-names-who-struggled department in the early going, as Bob Harig of ESPN.com pointed out:
Meanwhile, Adam Scott has bogeyed 3 of the first 5 to drop back to even. 7 back of Bubba. #Masters

— Bob Harig (@BobHarig) April 11, 2014
However, the defending champion bounced back in impressive fashion and is three under par for the tournament. Scott certainly has to be considered one of the contenders heading into the weekend.
Perhaps the biggest story of the day, though, was Fred Couples.
The 54-year-old thrilled the crowd with a one-under 71 to bring his total to two under par. He is in the top 10 of the leaderboard and just missed a chance to play with Watson in the final group, as Paul Mahoney of The Independent noted:
If Couples birdies 17 and 18, he'll play in the final group tomorrow with Bubba. Tiger might even turn on his TV for that. #TheMasters

— Paul Mahoney (@paulmahoneygolf) April 11, 2014
Couples also impressed Jenkins with his poise under pressure, even if he perhaps made Jenkins feel a bit old in the process:
How relaxed is Fred Couples at Augusta? He strolls down the fairways like he's walking a dog.

— Dan Jenkins (@danjenkinsgd) April 11, 2014
Co-workers on either side of me were 3 and 7 when Freddie's ball first stayed up on the bank at No. 12 in 1992.

— Dan Jenkins (@danjenkinsgd) April 11, 2014
Ten years after he dies, Fred Couples will still be contending in the Masters.

— Dan Jenkins (@danjenkinsgd) April 11, 2014
Golfweek Forecaddie pointed out that Couples turning in formidable performances at the Masters is nothing new:
Fred Couples at 3 under. (See 2013, 2012, 2011, 2010, 2006 ... you get the picture) #Masters2014

— Golfweek Forecaddie (@4caddie) April 11, 2014
With Watson's brilliance, Couples turning back the clock and a number of marquee names struggling, Round 2 was certainly noteworthy at Augusta. Peter Alliss suggested that a certain missing golfer probably wished he was there with so many players having issues:
With all these big names falling by the wayside, Tiger has rang the Augusta committee and told them to save a space for him for the weekend.

— Tweeter Alliss (@TweeterAlliss) April 11, 2014
Now that would certainly be a story.
Follow me on Twitter: