On Thursday, Rory McIlroy ended an otherwise solid day on a sour note, bogeying No. 18. On Friday, a putt for par on the same hole ensured the young star made the cut, albeit by the skin of his teeth.
Outside of that final putt, things couldn't have gone much worse for McIlroy in Round 2. He shot a five-over 77 for the day, leaving him 11 strokes behind leader Bubba Watson. Coming into the day, he seemed a few tweaks away from competing for a green jacket.
Now, finishing the tournament below par would be an achievement.
If you are looking for a bit of optimism, however, Justin Ray of ESPN has you covered:
Last PGA Tour winner who made cut on the number was Rory McIlroy at 2010 Quail Hollow. So he's got that precedent going at least.

— Justin Ray (@JRayESPNGolf) April 11, 2014
But Matt Dickinson of The Times had a more somber appraisal of McIlroy as he survived that final hole:
That putt from McIlroy had everything bar the windmill. Didn't think we'd be biting our nails about him missing the cut

— Matt Dickinson (@DickinsonTimes) April 11, 2014
McIlroy survives but an overnight inquest ahead. Blustery wind can't explain some of those wayward approaches

— Matt Dickinson (@DickinsonTimes) April 11, 2014
From the get-go, McIlroy seemed a bit off, though earlier in the day he was able to recover. He bogeyed No. 2, but he shot a birdie on No. 3. On No. 4, his tee shot was so poor, he nearly struck Adam Scott.
From Golf World:
Rory McIlroy went long and WAY left on the fourth. Almost nailed Adam Scott eyeing up his tee shot on the fifth. In the shrubs now. #Masters

— Golf World (@GolfWorldUS) April 11, 2014
Dan Jenkins of Golf Digest reminisced about another famously poor shot from McIlroy's past at Augusta:
After that tee shot at 4, Rory now has a bookend for that drive into the cottage at 10 a few years back.

— Dan Jenkins (@danjenkinsgd) April 11, 2014
Still, he answered that shocking double bogey with a birdie on No. 5 before reaching par on four straight holes. It appeared he had weathered the storm.
But, oh, what a perfect storm it was. McIlroy fell apart at No. 10, falling prey to a double bogey, before bogeying No. 11 as well. He course-corrected slightly on the next hole with a par, but on No. 13, he somehow managed to hit one of the sprinklers just off the green, caroming his ball wildly into the shrubbery.
That left him with a, shall we say, scenic shot to get back on the green. From Yahoo! Sports:
Rory McIlroy got into a bit of a gardening situation on his way to the 13th green. #Masters pic.twitter.com/wrY1NfuH63

— Yahoo Sports (@YahooSports) April 11, 2014
As you might expect, the folks on Twitter had a bit of fun with McIlroy at that point. Tweeted Jenkins:
Rory keeps finding parts of the golf course that aren't part of the golf course.

— Dan Jenkins (@danjenkinsgd) April 11, 2014
And Jason Gay of the Wall Street Journal added:
Rory McIlroy, Masters landscaper.

— Jason Gay (@jasonWSJ) April 11, 2014
As he did after his dreadful No. 4, however, the comically bad No. 13 seemed to calm him down, and he parred the final five holes to barely survive the cut. And for that, McIlroy deserves some credit. Despite having absolutely no luck on the day, despite the fact that basically anything that could go wrong did go wrong, despite the exasperation painted all over his face, McIlroy kept his composure and survived.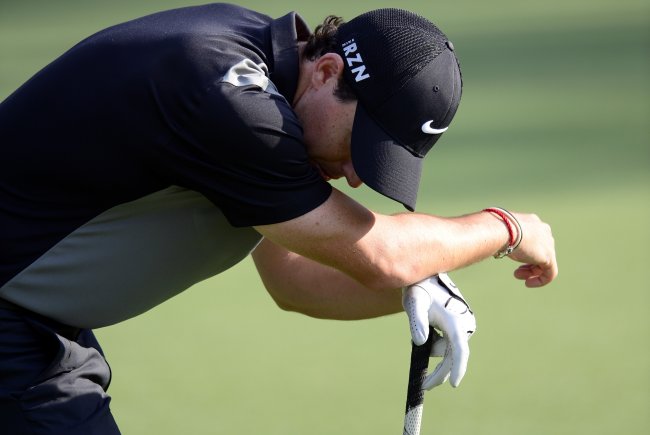 USA TODAY Sports
Heading into the weekend, McIlroy will need to pull on the same resolve that saved him on Friday and look to get back into this tournament. It seems unthinkable that he could come back and catch Watson—who went the first 26 holes of this unforgiving course without a bogey—but McIlroy has the ability to at least get below par and move up the leaderboard a bit.
At this point, McIlroy is playing for pride. And if he has a strong weekend, perhaps he can exorcise some of the demons that continue to circle him every time he steps on the course at Augusta.