If Friday's second round is any indication of what's to come, those in charge of green jacket measurements at Augusta National need to start digging in their 2012 file.
Bubba Watson sits alone in first place after carding a four-under 68 in his second round, combining with his stellar Thursday to give him an aggregate of seven under. He's three strokes ahead of John Senden and four free of a quartet at three under.
If Watson is able to hold onto his lead, he will be the 17th person in Masters history to win multiple green jackets. He'll be just the seventh man among those to capture his green jackets in a three-year span.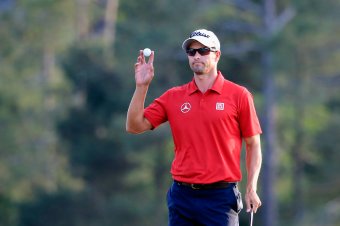 Rob Carr/Getty Images
That said, Watson's three-stroke lead isn't entirely safe. Last year's Masters champion Adam Scott is among the foursome at three under, and it often goes unsaid that 36 holes is just that—half of a golf tournament. Considering the wild fluctuation in scores we saw from some notable faces from Thursday to Friday (hi, Rory!), it's safe to say the final leaderboard will look drastically different from the one we see right now.
In fact, you will see a ton of that movement on Saturday. They should come up for a name for that. Like, I dunno, moving day. Brilliant idea, no? [Does Google search] [Cries]
At any rate, golf is about to happen again. You'll probably want to keep up with it. And, luckily, there's a fun little widget I'm going to embed below via magical internet wizardry that will allow you to keep up. Be sure to do that and read below for specific things you should keep your eyeballs on.
Storylines to Watch
Can Bubba Watson Hold Firm?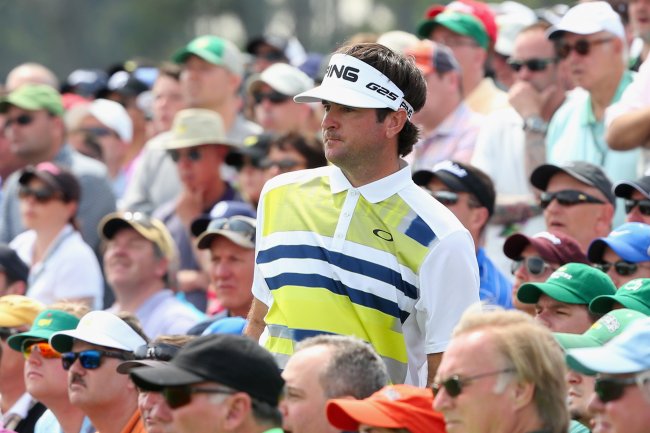 Andrew Redington/Getty Images
These tournaments tend to lull us into weird comfort zones. Watson has such a relatively comfortable lead at this point that it's easy to envision him pulling away 2001 Tiger style and leaving everyone in the dust. His recent win also plays in the back of fans' minds, as does the stretch of golf he played Friday that left everyone's mouth agape.
Through 11 holes, Watson had a wholly unspectacular day. He'd carded a birdie and a bogey to go along with nine pars, enough to keep him in the thick of things but far from final-group material.
Then something clicked. Starting with a stellar birdie on the par-three 12th hole, Watson went under par on five straight holes, vaulting to the top of the leaderboard and even threatening to tie the course record. His streak stopped on the 17th and he carded a bogey a hole later to end his day on a sour note, but Watson is primed for Adam Scott to play the role of tailor on Sunday.
"I'm trying to get that jacket back," Watson told ESPN (h/t Evan Hilbert of CBS Sports). "You want that feeling back."
There is plenty reason to think he can do it. Watson has not gotten any over-the-top luck that could regress to the mean over a 72-hole sample. He's hitting a solid three-quarters of his greens in regulation and driving accurately (and long, of course) but not any more so than his fellow leaders. Watson has actually even been a bit shaky with the putter at times, compiling 58 strokes on the short grass in his first two rounds.
He simply got on a hot streak at the right time and hasn't made any major mistakes.
Still, there's ample evidence to suggest Watson doesn't entirely have this shindig wrapped up. While you'll hear commentators fawn over Watson's supposed brilliance at Augusta, 2012 is actually a bit of an outlier. In his four other appearances at golf's premier event, Watson has finished no higher than a tie for 20th. He's been especially prone to high-score Sundays, carding a 77 last year and a 78 in 2011.
Only once (2012, duh) has Watson been under par in the final round. His run on Friday was great. But this tournament is far from over.
A Weekend Without Tiger and Phil? What Say You, Casual Fan?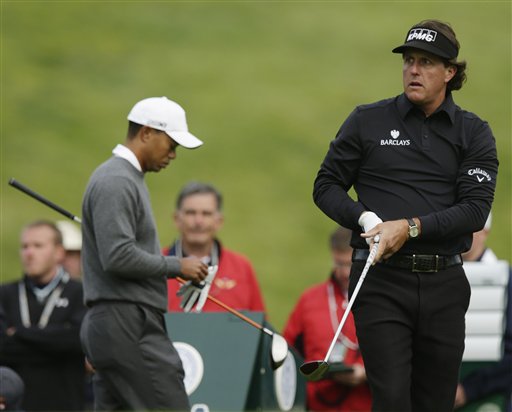 Charlie Riedel
There is a reason the Masters broadcasts its first two rounds on basic cable (ESPN) and its last two on one of the Big Four (CBS). And that's not just because of the relationships CBS headquarters has with its affiliates; those folks are more than glad to pause Let's Make a Deal or whatever for the NCAA tournament.
The reason CBS takes the weekend broadcast is because that's when casual viewers start tuning in. We like to say you have to glue yourself to the television for all 72 holes to get a good idea of what's happening in a tournament and to a certain extent it's true. But golf is not a difficult sport to follow casually, and you're frankly not going to feel all that left out if you skip to the weekend by just watching the highlights.
The weekend is where the money is made because the weekend is where a champion is crowned. It's also where these looky-loos typically like to get a glimpse of their favorite golfer. And, for most fans stateside, their favorite golfer ain't anywhere to be found.
Tiger Woods' absence due to a back injury has already been discussed ad nauseam. He's gone. He might be gone for a very long time. And when he comes back, it's increasingly ridiculous for us to continue propping up this "Tiger dominance" narrative in majors that hasn't been there in years. He's not the same guy anymore. Most folks just aren't ready to admit that.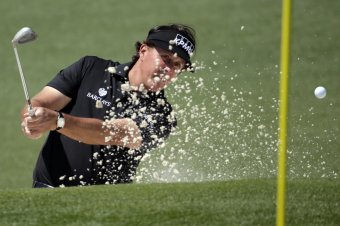 Chris Carlson
More distressing, though, is the absence of Mickelson. We've all had time to process and grieve Woods' absence. Mickelson's, though, it's hardly a shock considering his own lingering injuries and recent play, is more disappointing. Even late-career Lefty has built a cottage industry around contending in big events. I'm still frankly unsure how last year's mid-season surge happened, but we might have seen the last of Mickelson as a regular major contender.
Fred Couples and Jordan Spieth are great stories and of whom more anon. But is there really anything to grip the casual viewer.
To wit, here are six golfers who missed the cut: Mickelson, Sergio Garcia, Jason Dufner, Ernie Els, Luke Donald, Zach Johnson.
Here are our six leaders: Watson, John Senden, Thomas Bjorn, Jonas Blixt, Scott, Spieth.
If you were a television programmer whose job was reliant on ratings and advertising dollars, would you switch those two categories? Of course. In a nanosecond. These are things most fans don't really have to worry about but just get used to networks extracting a whole lot of storylines out of anything they can find.
The Oldie and the Youngster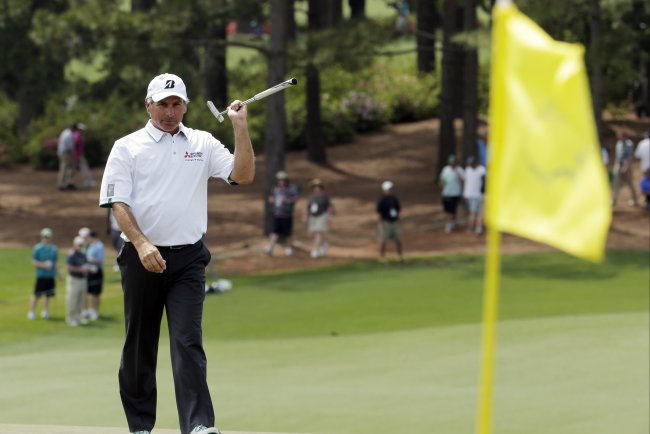 Charlie Riedel
You know, like this one. Couples and Spieth are perhaps the golf world's greatest dichotomy. On one side, you have a 54-year-old Hall of Famer who seems to only compete at Augusta. On the other, you have a kid who could be the next great hope for United States golf, just 20 years old and on the cusp of a long, lucrative career.
Couples is obviously the more heartwarming story. He's 11 years older than my grandpa. When he won his only major championship, I was still in diapers. To be honest, the only vivid memories I have of Sir Frederick Steven Couples are ones like these, where a grey-haired, smiling guy competes into the weekend of a major and we all go "ain't that something" before Young Dude X pulls away.
We're probably headed there again.
For now, though, let's all enjoy the "ain't that something" phase while we can. Couples has carded consecutive 71s to sit in a tie for seventh place, five shots off Watson's lead. This is far from a new thing, of course. Couples has been inside the top 10 through the first 36 holes each of the last five years at Augusta, and he's finished no worse than 15th in the last four.
Still long enough off the tee, Couples has hit nearly three-quarters of his greens in regulation and more than two-thirds of his fairways.
"Can I win this thing?" Couples asked reporters. "Of course I can. That is why I am here. But ask me that same question tomorrow. I need to play well on Saturday, which I have not done the past couple of years. I averaged 76 the last two Saturdays, and that is not too good."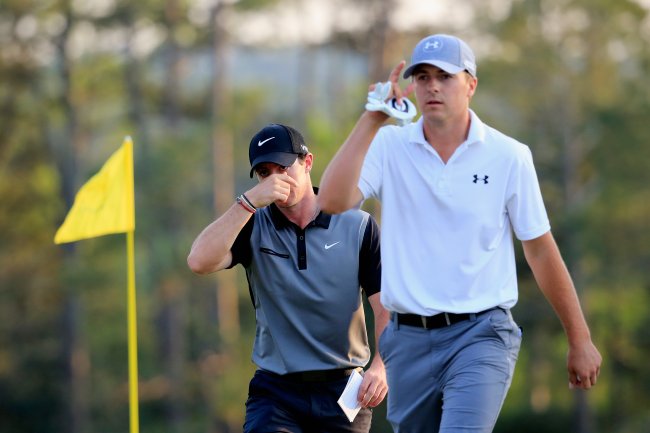 Rob Carr/Getty Images
Many are asking the same question of Spieth but for entirely different reasons. At age 20, he'd be the youngest Masters winner in history. He'd be one of the handful of youngest major winners in the history of the sport period. Woods was 21 when he first won at Augusta. Jack Nicklaus was 22 when he won the 1962 U.S. Open.
Spieth has played well enough to engender confidence he can beat both. He's hit more than three-quarters of his greens and fairways, playing a conservative and under control style not typical for someone his age. Spieth would be the first since 1979 to win in his first try.
Let's just say history is almost as long against him as it is for Couples. Ain't that something.
Follow Tyler Conway on Twitter: