New York Jets Top Five Biggest Draft Busts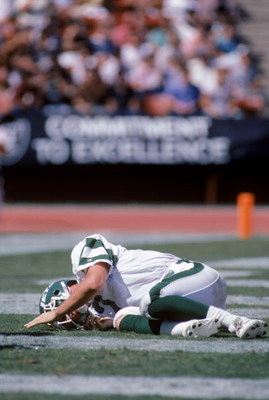 Jets fans are hoping and praying that trading up to draft Mark Sanchez fifth overall will bring the Vince Lombardi trophy back to the Gang Green for the first time in four decades. Over the years, the Jets have drafted quite a few first round clunkers. In fact, it's been a staple in Jets history to acquire some forgettable names. Here are the top five biggest busts for the New York Jets.
No. 5: Ron Faurot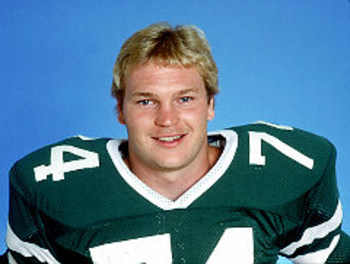 This 1984 first round pick played a total of 20 games in the NFL. His college coach, Lou Holtz, claimed he did not have the necessary mean-streak in him. Faurot was cut by Joe Walton five games into the 1985 season, and later tore a knee ligament with the Chargers that prevented him from ever playing again. Defensive back Russell Carter was also taken in the first round by Jets that year, never panning out much either. Both first round picks were gone four years after people hoped they would be franchise defensive players.
No. 4: Johnny Mitchell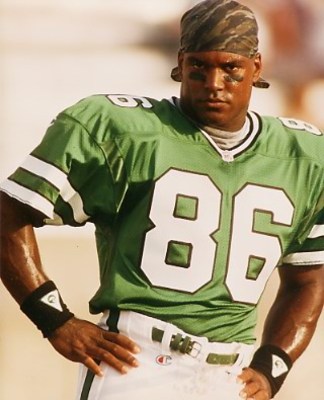 Similar to Kyle Brady (and Anthony Becht for that matter), Mitchell was a prototypical tight end; he was drafted 15th overall by the Jets in 1992 out of Nebraska. Mitchell, listed at 6'4 and weighed 240 lbs, signed a million dollar bonus and looked as if he could be a serious force for the lacking Jets. He showed promise in 1994 by pulling in 58 receptions for 749 yards. After the Jets 3-13 season in 1995, he opted for free agency, and was out of the league for good by 1996.
After a two-year hiatus in Brazil, Mitchell returned to the Jets summer camp in 1999, claiming he was there to "keep my mouth shut and try hard." He lasted exactly one day of training camp before walking out on the Jets a second time.
No.3: Roger Vick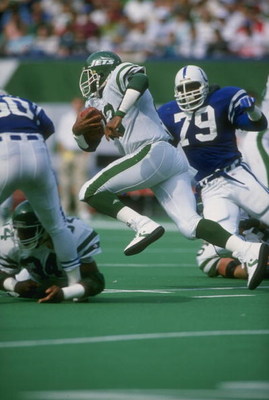 This former Texas A&M Aggie was chosen 21st overall in the 1987 draft as a running back/fullback. As soon as his name was called on draft day the boos began for Vick, and they never much subsided. He lasted only three seasons with the Jets, compiling a measly 1,231 yards and nine touchdowns during that time. He played a fourth season with the Eagles, before hanging up the spikes for good.
No. 2: Blair Thomas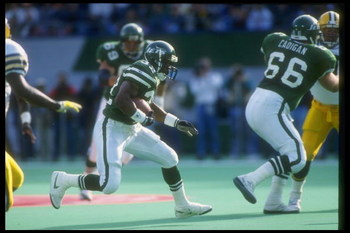 He seemed to be the kind of running back that could not go wrong for the Jets—he had success written all over him. Being chosen second overall behind the dubious Jeff George, Thomas was an All-American his senior year at Penn State. He finished college second on the Nittany Lion's all-time rushing list, and was the MVP of the 1989 Holiday Bowl.
However, he carried on the torch of Jets first-round picks that drifted into the football abyss. In four seasons with the Jets, he ran for a total of 2,009 and found the endzone only five times before being released by the Jets. Also adding insult to injury, some guy named Emmitt Smith was available until the 17th pick of the same year.
No.1: Ken O'Brien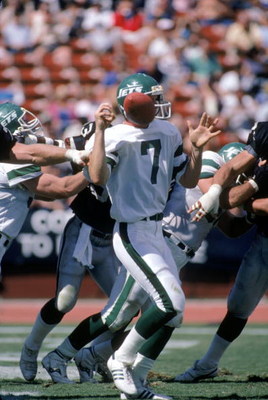 "Who? Out of Where?" Those words were uttered by Jets fans and non-Jets fans alike who were watching the draft on that fateful day in 1983. That year produced six quarterbacks in the first round, including John Elway, Jim Kelly, and Dan Marino.
True, O'Brien had some solid years for the Jets, and there was speculation about Marino's knee prior to draft day. However, it was said that if Marino was still around when the Jets got on the clock, they would take him. Instead, they settled with O'Brien, a virtual unknown, out of UC Davis. A long story short, Marino went on to be one of the best, if not the best passer of all time. Too bad we can't rewrite history with Marino under center and Emmitt Smith lining up in the backfield. It really makes you think, doesn't it?
Keep Reading