Day 2 is underway at the Masters, and you can follow along with the top of the leaderboard right here:
The entire Masters scoreboard can be found here.
Masters Day 2 Coverage
Date: Friday, April 11
Television: ESPN from 3 p.m. ET to 7:30 p.m. ET
Live Stream: Masters Live (through CBS Sports) and Masters.com
Now that we know what the leaderboard and coverage for Round 2 looks like, let's dig into some storylines for Friday.
Day 2 Storylines
Big Names Try to Avoid the Cut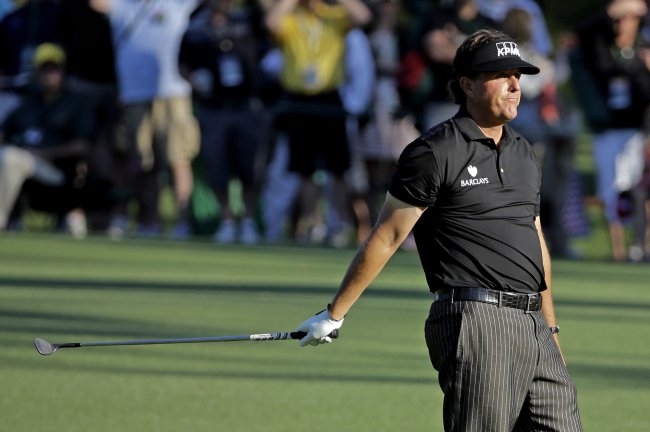 David J. Phillip
The overarching storyline for the second round at any golf tournament is the looming cut.
Will Phil Mickelson make the cut?
There are a number of marquee golfers who find themselves flirting with the cut position after Round 1. Remember, the cut line in years past at Augusta used to be 44th place (or within 10 shots of the lead), but the tournament extended it before the 2013 edition. As long as players are within 10 shots of the lead or tied for 50th place or better, they will make it to the weekend.
Looking forward, the cut line could fall somewhere in the two-over par range. After Thursday's action, there were 14 golfers tied for 39th place at two-over 74, with a handful checking in at three over par as well.
Now that the first-round nerves are officially gone and players have become more familiar with the playing conditions, it is difficult to imagine the cut line being much higher than two- or three-over.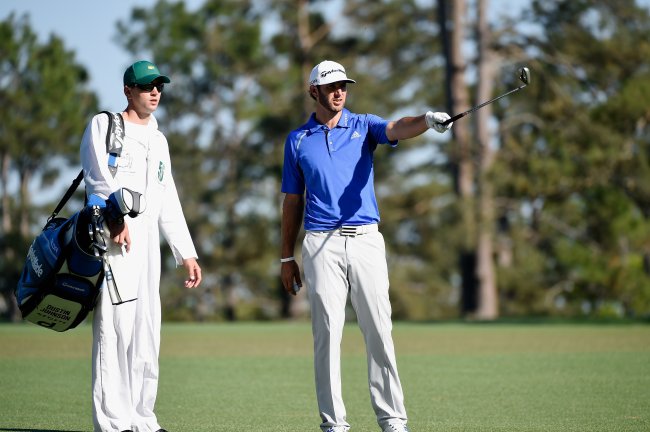 Harry How/Getty Images
Phil Mickelson, who finished with a four-over 76 and sevens on two separate holes, Jim Furyk, Sergio Garcia and Ian Poulter are all among those flirting with the cut line.
Throw in Dustin Johnson, who disappointed with a five-over 77 Thursday, as another marquee golfer to watch Friday in terms of the cut. He has played tremendous golf in the early going this season with a number of top-10 finishes and a win, but Kelly Tilghman of the Golf Channel pointed out that he has struggled lately:
Last time we saw Dustin Johnson he shot 80 and WD from Houston Open. Today he shot 77. #ouch

— Kelly Tilghman (@KellyTilghmanGC) April 10, 2014
Tune in Friday to see which superstars will make it to the weekend at Augusta.
Adam Scott Vies for Position on His Quest for a Repeat Green Jacket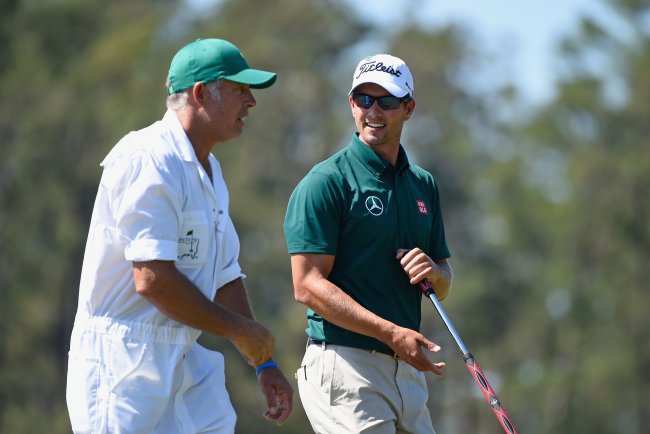 Harry How/Getty Images
One player who won't have to worry about the impending cut (barring a complete collapse) is defending Masters champion Adam Scott.
Will Adam Scott win the 2014 Masters?
Scott shot a three-under 69 on Day 1 and found himself a single stroke behind leader Bill Haas.
Were it not for hole No. 12, Scott would have turned in an incredible round. He registered five birdies and 12 pars on the day and brought the type of consistency to the course and the greens that he has become known for, especially at major tournaments. However, he did pick up a double bogey on No. 12 after hitting the ball in the water.
Scott discussed his round with reporters, via Bob Harig of ESPN.com:
I hit one poor shot on 12, which obviously cost me a couple of shots. But very pleased to get off to a good start, and there's no doubt winning the Masters last year had me a little more comfortable on the first tee than I've ever been in the past.

I didn't have the legs shaking and nerves jangling for six or seven holes like usual, so that was enjoyable for me today. But I'm very pleased with my opening round.
Most golfers would feel added pressure trying to defend a green jacket, but not Scott.
Looking forward, the fact that Scott is taking a calm approach at Augusta is bad news for the rest of the field. He already plays some of his best golf at majors, and if he brings the consistency we saw Thursday to the course in Round 2, there is a chance he could separate himself.
It is unlikely we will see Scott plunk another ball in the water again, which makes those birdies and pars all the more intimidating for those chasing him at the Masters.
Follow me on Twitter: