The Complete 2009 AFC Running Back Predictions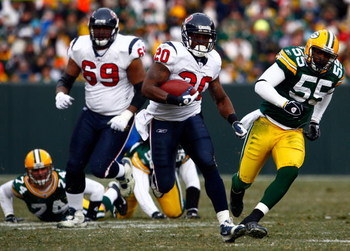 The quarterbacks are done with and now it's time for the running backs.
Teams like the Carolina Panthers, Minnesota Vikings, and Tennessee Titans have relied heavily on their running games the last few seasons (and in the Panthers case, their entire franchise history).
With more teams switching to a two-running back set, their value sky-rocketed just last season when we witnessed one of the best running back draft classes in NFL history.
Players like Matt Forte, Chris Johnson, Steve Slaton, and Jonathon Stewart played a vital role in the team's success. Others like Kevin Smith, Darren McFadden, Jamaal Charles, and Felix Jones are superstars in the making.
The running game is very important. It establishes a solid frame to build a passing attack around. The running game keeps the safeties honest and the linebackers near the line of scrimmage.
Without further ado, here's the predictions for each AFC team! ENJOY!
Buffalo Bills: Marshawn Lynch/Fred Jackson/Dominic Rhodes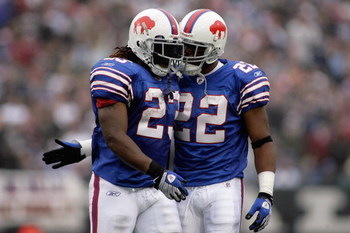 In his rookie season, he created quite a stir leading all AFC rookies with 1,115 yards, good for second in the NFL.
In his sophomore campaign, he didn't really improve nor did he regress. He was still able to rush for over a thousand yards while averaging 4.1 yards per carry and eight touchdowns.
What he did add to his arsenal in 2009 was the ability to catch the ball and run. He caught 47 balls for 300 yards and a touchdown.
For his third straight year though, he won't be able to play out all 16 games. He was recently suspended by the league for carrying a concealed weapon for three games.
While the Bills lost Jason Peters, their lone Pro Bowler, Marshawn should still put up solid numbers. He will be missed for the first three games, but should bounce back in no time. Unless of course he gets in trouble with the law yet again.
Not many people know about Fred Jackson. He doesn't change speeds too much from Lynch, but provides valuable depth. He was able to muster 571 yards on 130 attempts last season and should get plenty of playing time with Lynch gone for a couple games.
I like him better than Lynch myself and find that he may be the better man for the starting role.
The Bills also picked up veteran running back Dominic Rhodes from Indianapolis, but I'll be surprised if he gets much playing time at all.
2009 Predictions:
Lynch: 958 yards, 234 carries, 4.2 yards per carry, 8 touchdowns
39 receptions, 242 yards, 2 touchdowns
Jackson: 823 yards, 182 carries, 4.5 yards per carry, 7 touchdowns
43 receptions, 277 yards, 2 touchdowns
Rhodes: 182 yards, 49 carries, 3.7 yards per carry, 0 touchdowns
9 receptions, 41 yards, 0 touchdowns
Miami Dolphins: Ronnie Brown/Ricky Williams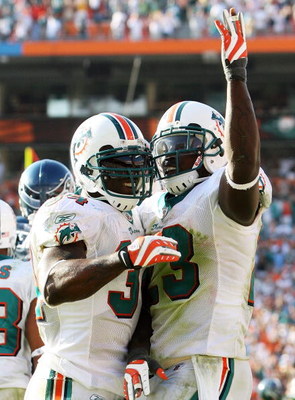 The two running backs are notorious for bringing back the Wildcat offense to the NFL. While it's been used before, it hasn't been run as effectively as the Dolphins ran it last season.
Ronnie Brown had a great year and was complimented well by Ricky Williams.
The two combined for 1,575 yards on the ground (Brown: 916 and Williams: 659) and 14 touchdowns. They added in 62 catches for 473 yards and one touchdown.
With Williams on his last run in the NFL, expect Brown to get a few more carries next season. Williams turned 32 last May and age will surely be a factor next season.
Brown has proved to be a solid running back in his four years with the Dolphins, but finally got the attention of NFL fans everywhere last season. It was his first season he wasn't injured.
While Williams' role is likely to diminish, Brown should pick up the slack nicely. After all, this is Williams' final year and it's unlikely he'll find a new home in 2010 at the tender age of 33.
2009 Predictions:
Brown: 1,214 yards, 270 carries, 4.5 yards per carry, 11 touchdowns
31 receptions, 255 yards, 2 touchdowns
Williams: 411 yards, 105 carries, 3.9 yards per carry, 3 touchdowns
25 receptions, 209 yards, 2 touchdowns
New England Patriots: Laurence Maroney/Fred Taylor/Kevin Faulk/Sammy Morris/BenJarvus Green-Ellis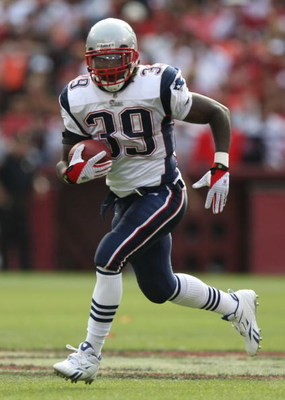 The Patriots learned last season that you can never have enough running backs. They had four running backs with over 70 carries.
After Maroney went down due to injuries last season, the Patriots didn't expect much of a running game let alone an offense with the injury to Brady.
The Patriots always find a way to win though. Morris, Green-Ellis, Faulk, and Lamont Jordan all showed that they can run in the NFL with a combined 1,872 yards, good for 4.8 yards per carry and 19 rushing touchdowns.
The Patriots parted ways with Jordan (363 yards, 4.5 YPC, 4 touchdowns) and picked up veteran playmaker Fred Taylor from Jacksonville who had a down year in 2008 with only 556 yards rushing.
The Patriots have probably the most balanced rushing attack in the game with five players who can give you four yards per carry on a weekly basis.
While Maroney will likely assume the starting role again, the others should get their fair share of carries. Second year player BenJarvus Green-Ellis will certainly play a diminishing role and could very well play on special teams only in 2009.
2009 Predictions:
Maroney: 992 yards, 220 carries, 4.5 yards per carry, 5 touchdowns
19 receptions, 107 yards, 1 touchdown
Taylor: 364 yards, 91 carries, 4.0 yards per carry, 3 touchdowns
24 receptions, 211 yards, 2 touchdowns
Morris: 345 yards, 78 carries, 4.4 yards per carry, 1 touchdown
8 receptions, 55 yards, 0 touchdowns
Faulk: 256 yards, 54 carries, 4.7 yards per carry, 0 touchdowns
40 receptions, 352 yards, 2 touchdowns
New York Jets: Thomas Jones/Leon Washington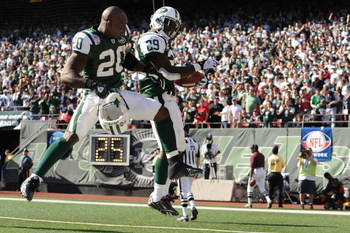 Thomas Jones had a career year with 1,312 yards rushing and 13 touchdowns. His running back partner, Leon Washington, proved that he is more than capable of handling his share of the load with 448 yards rushing and four touchdowns of his own.
The two are back together in 2009 with a new quarterback at the helm. It remains to be seen who that is, but it's unlikely either will perform at the level Favre did for the Jets, good or bad.
By the time the 2009 season starts, Jones will be 31 years old. His play certainly didn't show it in 2008 as he made his first Pro Bowl appearance.
While his age is catching up, Washington should do a decent job of filling in. It's Washington's job to give the aging Jones his rest and allow him to keep pushing the ball inside to help out whoever the quarterback may be.
Both running backs can catch the ball well and show the ability to pick up yards after the catch. The two combined for 83 catches for 562 yards and four touchdowns. Expect those numbers to improve with a less experienced quarterback.
2009 Predictions:
Jones: 1,187 yards, 276 carries, 4.3 yards per carry, 9 touchdowns
43 receptions, 293 yards, 2 touchdowns
Washington: 647 yards, 132 carries, 4.9 yards per carry, 6 touchdowns
74 receptions, 631 yards, 2 touchdowns
Baltimore Ravens: Willis McGahee/Le'Ron McClain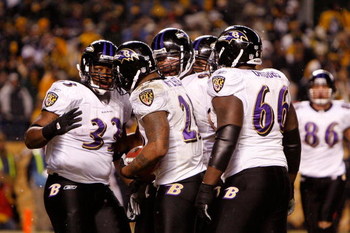 The Ravens featured a great rushing attack last season, right? After all, they did finish fourth in rushing offense in 2008.
However, a closer look into this stat reveals a scary truth.
The Ravens averaged just over 4.0 yards per carry last season, good for 22nd in the NFL last season.
The Ravens ran the ball 32 more times than the second place Atlanta and 73 more times than the third place Minnesota Vikings.
The Ravens' 592 rushing attempts were the most in the NFL since the 2004 Pittsburgh Steelers who ran the ball 618 times.
It's no wonder they had the fourth "best" rushing attack.
Willis McGahee is probably the worst starting running back in the NFL today. Only once in his career has he averaged more than four yards per carry and that was in 2007 when he had an impressive...4.1 yards per carry?
On top of that, McGahee is very injury-prone.
His replacement in 2008 didn't do a whole lot better. McClain ran the ball 232 times for 902 yards (3.9 average).
I was very surprised when the Ravens passed on Chris Wells, but you can't argue with them picking up Michael Oher to improve the offensive line. I don't think it'll be enough though.
I don't see a lot of improvement in 2009.
2009 Predictions:
McGahee: 1,138 yards, 321 carries, 4.0 yards per carry, 6 touchdowns
32 receptions, 225 yards, 0 touchdowns
McClain: 431 yards, 108 carries, 4.0 yards per carry, 8 touchdowns
27 receptions, 196 yards, 2 touchdowns
Cincinatti Bengals: Cedric Benson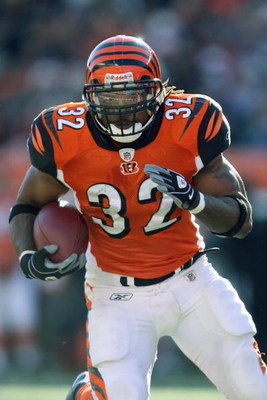 Cedric Benson will finally get what he's been waiting for, a quarterback to help.
The 2009 Bengals feature the return of Carson Palmer who should be back to full health when the season begins.
Benson has been a workhorse in his four years in the league. He isn't given the opportunity to run to the outside much and lacks the elite speed, but when teams stack eight men in the box and run blitz on you all day, it's tough to get anything going.
That won't happen with Palmer and Benson should have a career year. He has a starting position that really won't be taken away from him. The Bengals don't have any depth behind him.
The Bengals let go of Chris Perry after a disappointing season in which he could barely get 2.6 yards per carry. He won't be missed much.
Benson is very injury prone, but stayed healthy all of last season. Remember, he didn't start the season until October last year.
At only 26, he's still got a lot of football left and has time to live up to the first round draft pick expectations.
In four years, he's only got 2,340 yards rushing and only 12 touchdowns.
The Bengals expect a lot from Benson in 2009 and with a solid quarterback to keep the defense honest, he should have a breakout season that nobody will be watching for.
It's not certain who Benson's backup could be, all fingers point to the aging Kenny Watson. With about three months before opening kickoff, they should find someone else.
2009 Predictions:
Benson: 1,320 yards, 304 carries, 4.3 yards per carry, 11 touchdowns
43 receptions, 302 yards, 2 touchdowns
Cleveland Browns: Jamal Lewis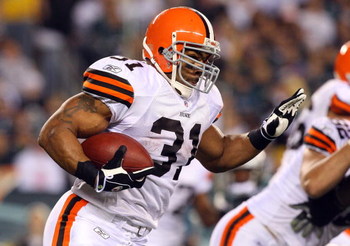 The Browns lack depth behind their bruising running back who will be 30 by the time the season starts.
In 2008, Lewis carried the ball 279 times. The rest of the Browns team carried the ball 130 times, but never found a number two player to compliment Lewis.
The Browns will again use Lewis to pound the ball up the middle to move the chains.
Who will quarterback the Browns is still unknown. Whomever it may be will have to keep the defenses honest and help to preserve Lewis' aging legs.
He won't be able to carry the ball 300 plus times in 2009. His body is beat up and it's only a matter of time before it completely gives.
Like many running backs today, injuries have plagued Lewis. He doesn't necessarily miss three games per year, but he never remains healthy throughout the entire season.
I love Jamal Lewis and believe he still has another good season or two in him, but his days are numbered.
2009 Predictions:
Lewis: 1068 yards, 287 carries, 3.7 yards per carry, 8 touchdowns
24 receptions, 182 yards, 3 touchdowns
Pittsburgh Steelers: Willie Parker/Rashard Mendenhall/Mewelde Moore
I'm not a huge fan of Willie Parker, but don't let that scare you away...
Willie is the typical NFL scat-back. He avoids contact whenever he can. If he takes a hit, he may get hurt and God forbid!
With second year player Rashard Mendenhall missing most of last season with injuries, he should bounce back in 2009 with more impressive numbers.
The one player I love on this Steelers team though is Mewelde Moore. I am first and foremost a Vikings fan and Moore was one of my favorite players during his short tenure.
Parker is off and on with injuries forcing backups to do his job for him. The problem is, with every injury he gets worse.
Every year since coming into the league five years ago, Parker has gotten worse. He averaged 5.8 yards per carry in limited duty his rookie season and followed it up by averaging 4.7, 4.4, 4.1, and most recently, 3.8 yards per carry.
The good news for Parker is he'll likely break the 5,000 yard mark next season. He's only 11 yards shy of that mark now!
The Steelers aren't afraid though. They like what they got out of Mendenhall and believe he could be their future back if Willie continues to struggle.
Moore has been a workhorse back since coming into the league in 2004. If I were Mike Tomlin, this guy would be starting in place of Parker, but that's just me.
2009 Predictions:
Parker: 1,403 yards, 331 carries, 4.2 yards per carry, 11 touchdowns
18 receptions, 131 yards, 2 touchdowns
Mendenhall: 353 yards, 88 carries, 4,0 yards per carry, 2 touchdowns
19 receptions, 107 yards, 0 touchdowns
Moore: 267 yards, 54 carries, 4.9 yards per carry, 0 touchdowns
33 receptions, 220 yards, 1 touchdown
Houston Texans: Steve Slaton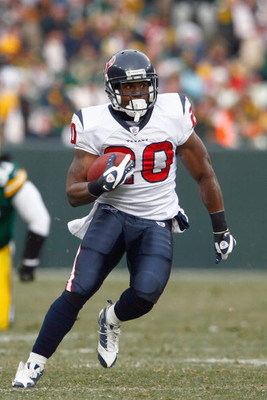 Ah yes, my slideshow cover guy...
The Texans struck gold in the 2008 NFL Draft when they took Steve Slaton in the third round at pick 89. In no way did the Texans believe that this guy could be as successful as he was his rookie season.
He flew under the radar and was one of the more effective running backs in the NFL rushing for nearly 1,300 yards and nine touchdowns. He would also add another 377 yards receiving and another touchdown.
He fell in the draft despite being a Heisman finalist. At just 5'9" and barely 200 pounds, many scouts felt that Slaton would take too much punishment in the NFL.
With a healthy Schaub at quarterback, Slaton should only get better. The Texans were only a couple poor red-zone appearances from being in the playoffs last season. That's something they won't let happen again.
Slaton was somewhat inconsistent through the first ten weeks of the regular season, but he tore it up in the final seven games with four games over 100 yards rushing. He would help the Texans finish the season going 5-2 after they started 0-4.
He also showed the ability to catch the ball which will come in handy when teams start triple-covering Andre Johnson. With Ahman Green out of the picture, expect Slaton to get even more carries.
Look for the Texans to do big things in 2009. They will utilize their strong passing game to open up room for their stud running back to improve on his stellar rookie campaign.
2009 Predictions:
Slaton: 1,478 yards, 301 carries, 4.9 yards per carry, 10 touchdowns
46 receptions, 354 yards, 2 touchdowns
Indianapolis Colts: Joseph Addai/Donald Brown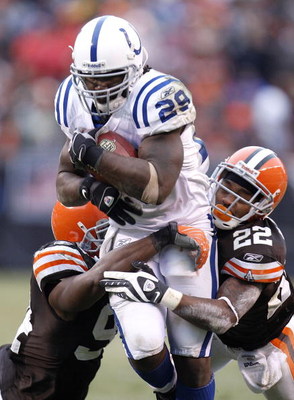 When the Colts drafted Donald Brown, I thought to myself, "Why?"
The Colts needed help on defense first and Evander Hood would have provided what the team needed most. I still think this was one of the worst selections in the NFL Draft.
I see Donald Brown as a mirror image of Joseph Addai, but not as good. He has mediocre speed and marginal size to compliment it.
Brown was in a run-first offense in college with one of the best offensive lines in the country. He will still have a great offensive line to work with, but they aren't the run-blocking type.
Manning will take over 65 percent of the offense and Addai should get the majority of the carries as long as he remains healthy, one of Addai's vices.
I don't think Brown was worthy of a first-round pick, especially not to the Colts. Being drafted ahead of Chris Wells is a slap in the face.
You have Addai who has been solid except for last season when he was hampered by injuries. He still performed well though.
As you can probably tell, I'm not expecting anything from Donald Brown and neither should any of you. He'll get his time in, but I see him as a first round draft bust in the making.
2009 Predictions:
Addai: 1,165 yards, 271 carries, 4.3 yards per carry, 8 touchdowns
38 receptions, 270 yards, 2 touchdowns
Brown: 265 yards, 72 carries, 3.7 yards per carry, 2 touchdowns
20 receptions, 160 yards, 0 touchdowns
Jacksonville Jaguars: Maurice Jones-Drew
He's the smallest starting running back in the league, but is one of the more explosive ones at that.
He's just 5'7" and 210 pounds, but he runs like Ladanian Tomlinson and hits like Brandon Jacobs.
Since his rookie season, he's had to split carries with future Hall of Fame candidate and likely inductee Fred Taylor, but now this is his team.
He'll get nearly every carry for the Jaguars next season as they lack depth at the running back position.
That's not a problem to Jones-Drew. He's up for the challenge and believes he can finally show what he's made of.
With the quarterback and wide receiver situations in flux, Jones-Drew will be asked to carry the Jaguars offense again. He can run, catch, and plow into defenders better than any running back in the league.
He will be highly thought of in fantasy drafts this season and with good reason, he's an animal with the ball.
He has all the tools necessary to succeed and has the attitude of a champion. He's a great guy and the face of the Jacksonville Jaguars.
2009 Predictions:
Jones-Drew: 1,580 yards, 351 carries, 4.5 yards per rush, 13 touchdowns
71 receptions, 644 yards, 4 touchdowns
Tennesse Titans: Chris Johnson/Lendale White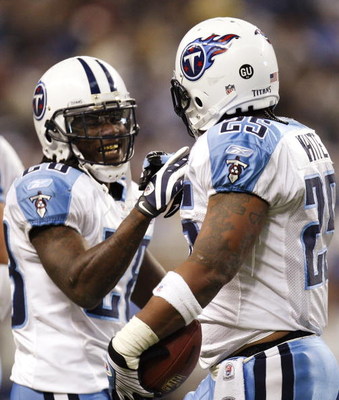 Titans fans call them "Smash and Dash", but I prefer "Waddle and Wiggle".
Chris Johnson is downright scary with the ball in his hands. The only problem is, he likes to juke and jive instead of lower his body and initiate contact.
At the beginning of the season, he was pounding the ball hard and quickly drawing comparisons to Adrian Peterson's rookie year. He was very fast and very physical.
But as the season was winding down, Johnson wanted to skip by defenders instead. He still remained consistent, but I think those fantasy numbers that White stole could have easily gone back to Johnson had he lowered his head.
Fisher loves his two running back set. They combined for 2001 yards, 24 touchdowns and fumbles the ball only once each. Their rushing attack ranked seventh in 2008.
Lendale White is the classic moocher of the NFL. He has other guys do all the work and he comes in to clean it up. T
hat's what happened all of last season. Johnson carried the offense down the field and White plowed the ball in the endzone.
Hey, whatever works, right?
If you don't believe me, check this out. White had 15 touchdowns, 14 of which were inside the opponents 20 yard-line. Of Johnson's nine touchdowns, four came outside the opponents 20 yard-line.
As long as White has a running back to carry the load for him, people will think he's great. As far as I'm concerned, he's garbage who would be nothing without Johnson.
2009 Predictions:
Johnson: 1,316 yards, 262 carries, 5.0 yards per carry, 11 touchdowns
32 receptions, 199 yards, 3 touchdowns
White: 567, 162 carries, 3.5 yards per carry, 10 touchdowns
14 receptions, 83 yards, 1 touchdown
Denver Broncos: Correll Buckhalter/Knowshon Moreno/Peyton Hills
So who exactly will be the starter on opening day? Your guess is as good as mine.
Selvin Young played great in moderate duty the last two seasons rushing for 1,032 yards averaging 5.1 yards per carry, but he was released regardless.
Peyton Hills is a bruising running back very comparable to Brandon Jacobs, but he will likely only be used in third and short situations. He too averages over five yards per carry.
Correll Buckhalter has spent his entire eight seasons in the league as a backup or injured. Take your pick as to which one it'll be. He's spent more time on the injured list than any other running back in that time span.
Knowshon Moreno was the tenth pick in this year's draft and he should get significant playing time. He was great in his two seasons at Georgia rushing for 2,700 yards and 30 touchdowns while also contributing heavily in the passing game
People always talk how the Broncos rushing attack was so bad. But how exactly is a team that collectively ran for over 4.8 yards per carry bad? They ranked twelfth, but they only ran the ball 387 times. That was good for 28th last season.
Expect them to rush quite a bit more next season.
2009 Predictions:
Moreno: 742 yards, 169 carries, 4.4 yards per carry, 4 touchdowns
24 receptions, 257 yards, 1 touchdown
Buckhalter: 537 yards, 117 carries, 4.6 yards per carry, 2 touchdowns
13 receptions, 91 yards, 0 touchdowns
Hills: 411 yards, 98 carries, 4.2 yards per carry, 5 touchdowns
18 receptions, 130 yards, 0 touchdowns
Kansas City Chiefs: Larry Johnson/Jamaal Charles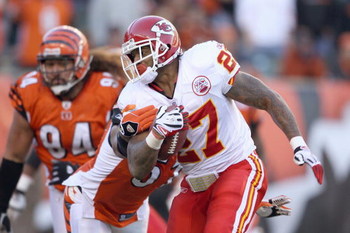 Larry Johnson could be nearing the end for the Kansas City Chiefs.
The once promising running back has fell victim to injuries the last two seasons and his attitude hasn't gotten any better. He's still getting run-ins with the law.
Don't worry Kansas City fans! Help is on the way! Well, actually it's already there...sitting...waiting...hoping for that chance to shine.
Jamaal Charles, the 2008 third round draft pick compliments of the Minnesota Vikings is a star in waiting.
In limited duty last season, Jamaal Charles rushed for 357 yards, but failed to ever find the endzone. He wasn't really given the opportunity though.
Johnson was rumored to be on the trading block, then he was rumored to be on the verge of cut. He'll be fighting for not only his job, but maybe his NFL career in 2009.
Any more time in the slammer could put Johnson away for a while. Teams aren't going to want that cancer in their locker room
Johnson has great speed and outstanding power. As long as he remains healthy, he is a deadly option in both the running game and passing game.
Jamaal Charles will get his chance and should be a Pro Bowler in time. He will have to wait and keep working his tail off in practice.
He's one of my favorite Chiefs' players and could be a solid sleeper pick in the late draft rounds this season.
2009 Predictions:
Johnson: 1,179 yards, 270 carries, 4.4 yards per carry, 7 touchdowns
25 receptions, 211 yards, 1 touchdowns
Charles: 569 yards, 124 carries, 4.6 yards per carry, 4 touchdowns
34 receptions, 283 yards, 2 touchdowns
Oakland Raiders: Justin Fargas/Darren McFadden/Michael Bush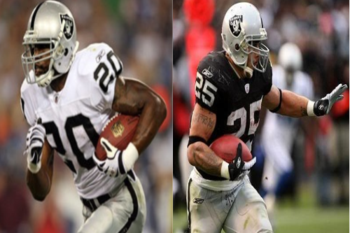 One had a great season in 2007 and received an extension.
One was drafted by the Raiders to become the next great running back of all time in 2008.
One was a surprise addition to a running back corps that couldn't stay healthy.
Fargas had a solid season in 2007, but failed to perform at a high level in 2008. He struggled to find any room to run last season. He'll hope to bounce back and prove to the Raider organization that he was worth the contract they gave him.
McFadden didn't do too terrible and showed a start to a very promising career. He didn't quite hit the 500 yard mark, but he was hampered by injuries all of last season to his foot.
Bush also showed promise in his rookie season. He was able to gain 421 yards on the ground and adding three touchdowns. He could very well step into the backup role if either Fargas or McFadden fails to produce in 2009.
There is a ton of talent amongst these three. The Raiders have a very good rushing attack that is constantly forgotten about due to their lack of quarterback production over the last couple of seasons.
With blocking extraordinaire Lorenzo Neal added to the mix, you can expect the Raiders rushing attack to be tremendous next season.
2009 Predictions:
McFadden: 1,049 yards,231 carries, 4.5 yards per carry, 8 touchdowns
24 receptions, 201 yards, 2 touchdowns
Fargas: 749 yards, 178 carries, 4.2 yards per carry, 4 touchdowns
17 receptions, 101 yards, 0 touchdowns
Bush: 381 yards, 82 carries, 4.6 yards per carry, 2 touchdowns
27 receptions, 242 yards, 2 touchdowns
San Diego Chargers: LaDanian Tomlinson/Darren Sproles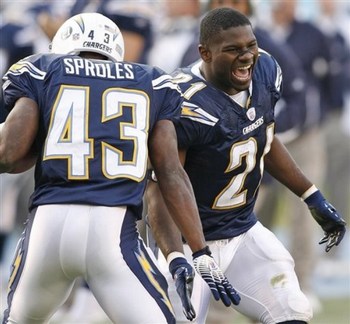 People say Tomlinson had a bad year. By who's standards?
Most running backs around the league would kill to do what Tomlinson did in 2008. He still managed to rush for 1,110 yards and 11 touchdowns and adding another 426 yards on 52 receptions and another touchdown.
While his 3.8 yards per carry isn't great, it was more or less the fact that Tomlinson had battled injuries last season. He still stuck it out all 16 games though.
Sproles provided a good change of speed. He is four inches smaller and 40 pounds lighter than Tomlinson. He uses his size to wiggle past defenders and outrun them in the open field.
Sproles, who was franchised earlier this season by the Chargers, had an impressive 5.4 yards per carry although only rushing the ball 61 times for 330 yards.
What Sproles does best is catch and run. He had five touchdowns on receptions alone and averaged almost 12 yards per receptions, a very solid number for a running back.
Although Tomlinson turns 30 on June 23, I don't think he's slowing down. People are going to underestimate him n 2009 and he will make them pay. He should be back to his normal self in no time. He has at least another three solid years ahead of him, maybe even four.
2009 Predictions:
Tomlinson: 1,300 yards, 286 carries, 4.5 yards per carry, 13 touchdowns
63 receptions, 466 yards, 3 touchdowns
Sproles: 562 yards, 114 carries, 4.9 yards per carry, 1 touchdown
32 receptions, 330 yards, 2 touchdowns
Keep Reading