Day 1 of the 2014 Masters at Augusta is in the books, and the course itself is the real winner, as some of the sport's biggest names struggled to work their way up the leaderboard.
Adam Scott and a few select others, such as the surprising Bill Haas, shot rounds in the 60s, an impressive feat given the degree of precision and skill necessary to excel at Augusta. Here's a look at how the leaderboard shaped up after each golfer his the clubhouse to call it a day:
Things start back up bright and early on Friday. Beforehand, let's take a look at the Day 1 action and peek at what Day 2 has in store for fans.
Day 1 Results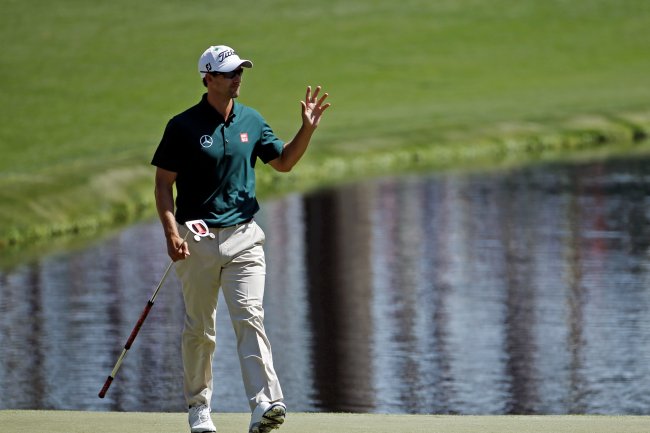 Matt Slocum
The day was a rather unpleasant one overall for some of the sport's biggest names. Jason Day, Dustin Johnson, Keegan Bradley and even Phil Mickelson turned in rather mediocre performances, as captured by Shane Bacon of Yahoo! Sports:
Surprise struggles - Jason Day is 3-over, as is Dustin Johnson, Keegan Bradley and Phil Mickelson.

— Shane Bacon (@shanebacon) April 10, 2014
Mickelson was perhaps the most disappointing thanks to his obvious prestige at the event, so a triple on the seventh hole was cringe-worthy.
Until he pulled this stunt:
Amanda Balionis of PGAtour.com put it best:
annnd Phil being Phil.. after a triple on 7... bounces back with a bomb of a birdie on 10. he looked as shocked as anybody

— Amanda Balionis (@Amanda_Balionis) April 10, 2014
But the real story of the day was the aforementioned Haas, who had never finished higher than 20th in five appearances at Augusta. After his career-best performance, Haas told the media his favorite part about the proceedings at the Masters, via Beth Ann Nichols of Golfweek:
"The best part about this game is that you have to earn it," Bill said. "Kevin Stadler and myself, and other players that followed in their father's footsteps, they didn't get to have their father hit shots for them."
Six birdies gave Haas the top spot, but the defending champ Scott was not far behind thanks to his three-under 69. Only three golfers in history have won back-to-back at Augusta, but Scott was on a convincing tear until a double-bogey on the 12th hole.
Rounding out the top of the leaderboard were two more surprises, thanks to a strong overall round by Louis Oosthuizen and a late surge by Bubba Watson. The latter turned in a rather impressive performance all things considered, as captured by ESPN's Justin Ray:
Bubba Watson in at -3. Before today, Watson was a combined +10 in 1st round of majors since Masters victory.

— Justin Ray (@JRayESPNGolf) April 10, 2014
As expected, things started a bit slow for most and quickly turned for the better as the world's best shook off the rust.
Day 2 Preview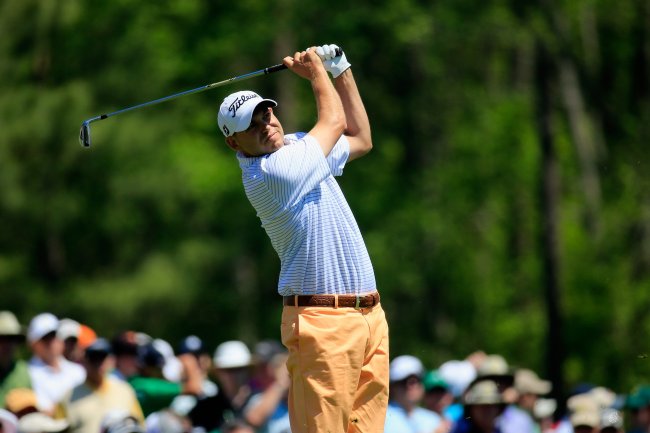 Rob Carr/Getty Images
As sloppy as Day 1 was at times, Friday's offering promises to be even better right off the bat.
The trio of Day, Johnson and Henrik Stensen get things started, while Scott and other big names tee off no later than 1 p.m. ET.
Haas and those close behind figure to remain in close contention on Friday. This is especially the case for a guy like Mickelson, who sounds ready for the challenge, via Kelly Tilghman of the Golf Channel:
"I've got a lot of work to do just to make the cut tomorrow. I've got a lot of issues."-Phil Mickelson on tying Masters career high 76

— Kelly Tilghman (@KellyTilghmanGC) April 10, 2014
There are other names to keep an eye on who are within striking distance, including Fred Couples, Rickie Fowler, Matt Kuchar and others. While the first cut looms for those flirting with the mark, the action at the top of the leaderboard will be as intense as ever, as stars and newcomers alike look to distance themselves from the pack heading into the weekend.