The Frozen Four lived up to the hype of its basketball counterpart on Thursday thanks to a thrilling upset and offensive-minded action that kept fans in Philadelphia at the Wells Fargo Center on the edge of their seats.
In the first contest, Union—making its second Frozen Four appearance in history—was able to take down a Boston College team with plenty of NHL talent thanks to a hat trick from Daniel Ciampini.
Here's how the action unfolded.
No. 1 Minnesota 2, North Dakota 1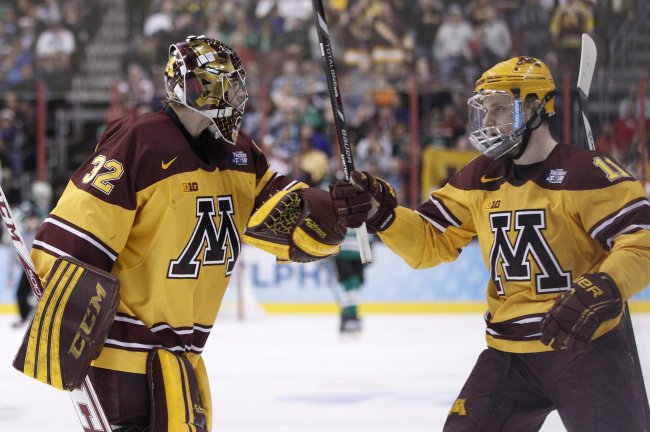 Chris Szagola
In a storied rivalry, it would only be perfectly poetic to have the last game of the night end at the buzzer.
The No. 1 team in the bracket needed every millisecond of regulation on Thursday to sneak past North Dakota, as Justin Holl's shot with 0.6 seconds left gave the Golden Gophers the victory:
Justin holl scores FIRST of the season w/ .6 of a second left. 2-1 Minny

— Dennis Dodd (@dennisdoddcbs) April 11, 2014
For all intents and purposes, the closing moments were in no way indicative of how the action unfolded. In fact, neither team scored until the third period in what amounts to one of the sport's best overall rivalries:
.@UNDMHockey vs. @GopherHockey LIVE on #ESPN2 now. @Buccigross, @NHLBarryMelrose & @QKessenich on the call. pic.twitter.com/J3h06fkzCd

— ESPNU (@ESPNU) April 11, 2014
The tone was set early as the star of the night—before Holl's heroics—was Golden Gophers goalie Adam Wilcox. He hoisted the team on his back for most of the night as North Dakota fired off more shots than Minnesota in both of the first two periods.
Wilcox ended up saving 36 shots in his 60 minutes of work, but even he had a mistake in the wild second half of the final period. With nine minutes left, Sam Warning put the Golden Gophers ahead, but Wilcox let a Connor Gaarder shot slip past to tie things up.
3:14 to go on #ESPN2. All tied up at 1 between @UNDMHockey & @GopherHockey, Will we see #Overtime? #MINNvsUND pic.twitter.com/MUIlRqcPIl

— ESPNU (@ESPNU) April 11, 2014
After narrowly avoiding an upset, the Golden Gophers now advance to the title game to take on another upset-minded team in Union, which downed Boston College in the first game of the night.
No. 3 Union 5, No. 2 Boston College 4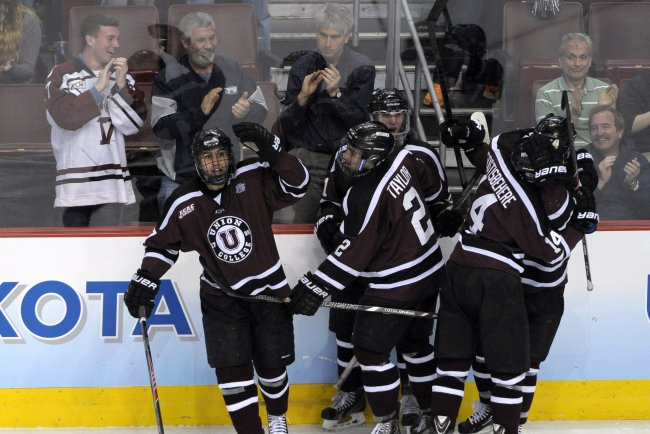 USA TODAY Sports
Things got off to a rather slow start in Philadelphia, with the glaring exception a spectacular goal by Johnny Gaudreau to give the Eagles an early edge:
GOAL! Johnny Gaudreau puts Boston College ahead, 1-0, with 17:52 left in the first period. Assist to Kevin Hayes. #BCvsUNION #FrozenFour

— NCAA Ice Hockey (@NCAAIceHockey) April 10, 2014
As Wes Gilbertson of the Calgary Sun points out, Gaudreau—a fourth-round selection by the Calgary Flames in the 2011 NHL Entry Draft—was off to quite the hot start:
So ... #Flames prospect Johnny Gaudreau already scored once, hit crossbar on another chance, in Frozen Four semi. Nice start.

— Wes Gilbertson (@SUNGilbertson) April 10, 2014
Joe Haggerty of CSN New England echoed these sentiments colorfully:
Johnny Gaudreau is something special. Even getting his nose dirty on that one. That kid can roll, man #FrozenFour

— Joe Haggerty (@HackswithHaggs) April 10, 2014
The period was radio silent after the score, with Boston College shooting just nine shots to Union's 11. Outside of a strong defense on the edges, Thatcher Demko shined in front of the net and did much to keep Union at a disadvantage.
ESPNU captured the summary well:
2nd period is underway here in Philadelphia. @BCHockeyNews leads @UnionHockey 1-0. #FrozenFour pic.twitter.com/nFlkOf3hFD

— ESPNU (@ESPNU) April 10, 2014
The tide changed in a major way in the second period.
Mat Bodie struck a beauty of a shot from distance to knot things up with 17:21 left in the period. Union continued to win in the shots department before Ciampini nailed a rebound to give his team the 2-1 advantage at the midway point.
Steve Santini had seen enough about four minutes later and brought the score even from long distance before the wild period ended.
Santini's goal proved to be just a whimper in the face of the Union onslaught led by Ciampini. He scored again with just over 12 minutes left before Mike Vecchione added another to make it 4-2. Boston College would attempt the epic comeback with a goal near the end of regulation, but Ciampini then put the nail in the coffin:
GOAL! Throw the hats! Daniel Ciampini makes it 5-3 with an empty netter, 1:09 left in the 3rd. #BCvsUNION #FrozenFrour

— NCAA Ice Hockey (@NCAAIceHockey) April 10, 2014
The overall superb performance speaks well to the prophetic words by Bodie before the game, as he credited the experience of the Frozen Four loss in 2012 as a critical turning point for the team, per Denise Maloof of NCAA.com:
"I don't think we had a championship hangover necessarily," Bodie said of the 2012 Final Four, "but it took us a while to get going against Ferris State. …This time I think we're more prepared mentally. Guys are just looking forward to playing hockey. Like I said, just looking forward to having some fun."
Union has now won six in a row and impressively won the shots battle 41-38 over a juggernaut Boston College team, which has to concern whichever team emerges from the Minnesota-North Dakota showdown.
Union compares favorably against North Dakota, but overall No. 1 Minnesota figures to be a much steeper challenge for Ciampini and Co. Alas, Union's experience is on full display so the final matchup figures to be a heavyweight bout regardless of which team advances.