On Tuesday, NHL Central Scouting released its final rankings of the top skaters from North America and Europe who are eligible for June's 2014 entry draft.
Kingston Frontenacs forward Samuel Bennett remained the top North American pick from the midterm to the final rankings and Finland's Kasperi Kapanen did the same on the separate European rankings, but there were some significant prospects making big moves up the board.
While the draft order will not be determined until after the NHL playoffs, here are the four best players who gained the most ground between the midterm and final ranks.
Kevin Fiala, Center, Sweden (Midterm Rank: 11, Final Rank: 3)
Fiala hails from Switzerland but has competed most recently in Sweden. As The Hockey News' Ryan Kennedy observed, Fiala powered his team, HV71, "into the Swedish League quarterfinal by beating Leksand in a play-in series ... with four points in three games." One scout even labeled Fiala "an artist."
#HV71 forward Kevin Fiala has made a huge jump up between midterm and final rankings for #NHL draft. Justified too. Outstanding second half.

— Alex Nunn (@aj_ranger) April 8, 2014
Though he missed the kick save in the inset photo, teams are not pursuing Fiala for his defense. It's his stick-handling and instincts on offense that have NHL front offices salivating.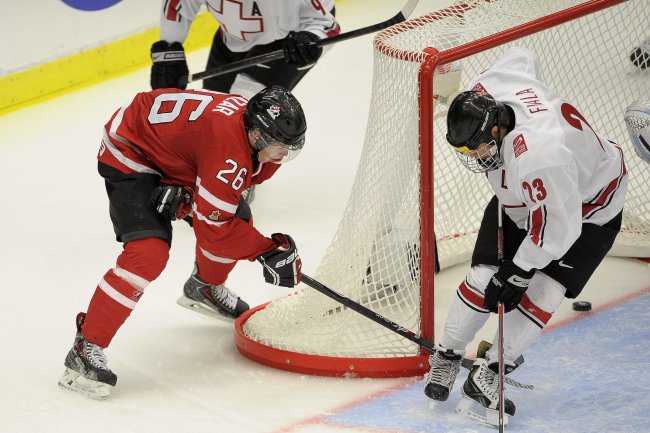 Bjorn Lindgren
ESPN's Frank Provenzano and Corey Pronman have him at No. 25 in their April 2 mock draft (subscription required). They heaped praise on the Swiss' ability to be a facilitator:
Fiala is a really good passer with great hockey IQ, and this allows him to be dangerous because he doesn't seem to turn the puck over. Fiala can slow the game down well and push the pace through the neutral zone. On the power play, Fiala is the kind of player you want controlling the action.
On a team with multiple scoring threats, Fiala sounds like a potent fit. He's a good thing in a small package at 5'9" and 178 pounds, but he's savvy enough to get rid of the puck before getting creamed.
Alex Tuch, Center/Right Wing, United States (Midterm Rank: 21, Final Rank: 12)
Tuch hails from Baldwinsville, N.Y., near Syracuse. He skates with the U.S. National Team Development Program based in Michigan. He helped seize a gold medal at the 2013 Under-17s World Hockey Challenge in Canada, and he looks destined to collect more hardware thanks to size and ability.
Tuch measures in at 6'4" and 213 pounds, meaning the huge young forward needs just a little more bulk to approach Eric Lindros proportions. Perhaps instead think of him more like Ryan Kesler, only bigger. Tuch is not a gifted skater, but his stick-handling ability is strong and he uses his hulking frame to shield the puck from defenders.
Baldwinsville's Alex Tuch helps U.S. National Under-18 Team win Five Nations Tournament | http://t.co/eFGwK8Tazt http://t.co/nfZta0nW67

— Syracuse Hockey (@syrhockey) February 8, 2014
Tuch is bound to be an Eagle next season as he steeps himself in the dual pursuits of education and ice hockey. As he told The Hockey News, "I love Boston College, it was my dream school and I wanted to play for a winning program." Kudos to the kid, as he will get a valuable education there on the ice as well.
Nikolaj Ehlers, Left Wing, Canada (Midterm Rank: 22, Final Rank: 13)
Ehlers hails from Denmark, but he's been plying his trade up for Halifax in the Quebec Major Junior Hockey League. At 5'10" and 176 pounds, he a speedy little wing with a nose for the net.
Nikolaj Ehlers ranked 13th best North American skater by Central Scouting. Way too low: http://t.co/43sjp74eOR

— Willy Palov (@CH_WillyPalov) April 8, 2014
Both NHL.com's Eastern Conference Scout Mock Draft and Provenzano and Pronman's ESPN mock have the Detroit Red Wings locking up Ehlers.
As Pronman sees it, "Ehlers is a really flashy and creative player with the puck who can make defenders look silly. He has a large arsenal of moves with the puck and often will try to find ways to beat defenders who attempt to match him up."
That sounds like both a goal scorer and a ticket-seller for some lucky NHL team, and the Red Wings have the track record of being patient and carefully developing promising European talents.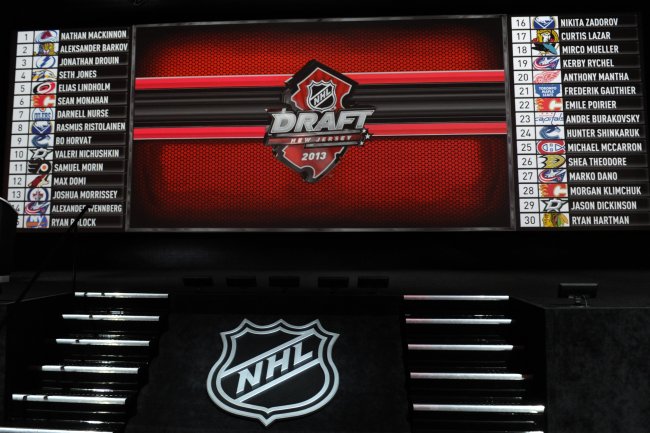 Bill Kostroun
Ondrej Kase, Left Wing, Czech Republic (Midterm Rank: 16, Final Rank: 8)
Kase is undersized at just 5'10" and 159 pounds, and he lacks the top-notch speed to balance out his lack of bulk. However, he has hockey in his blood with his brother a player at the under-20 level and his father a coach and former player.
As Mike Repertorio of Pro Puck Prospects points out:
(Kase) is a slick, slippery winger, frustrating opposing defenders using his agility, creativity and puck skills. ... He displays great awareness and ability in passing the puck. Despite his smaller size, Kase isn't afraid to go toe-to-toe with bigger players though, refusing to back down. ... The natural playmaker has done well at the second level of hockey in the Czech Republic, scoring at almost a point per game clip.
Between his low midterm rank and lack of imposing physicality, Kase will likely drop into the second round, but whoever selects him will get a gritty player who skates bigger than his size and brings plenty of potential on offense.
(All player measurements from NHL.com)