NHL Players' Cash Invested in Hookers, Booze
June 19, 2009
A group of former and current NHL players has sued real estate develop Ken Jowdy. Unfortunately, their money was blown on hookers and booze — by somebody else. They allege that their investments, meant for a golf course, were squandered by Jowdy. Jowdy, the head of Legacy Properties, allegedly blew the cash on parties with strippers and porn stars as well as giving people high-paying jobs as "favors".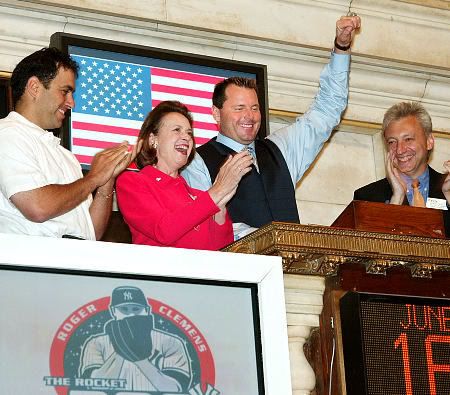 Interestingly enough, the NHL players' money was spent with former MLB players. Joe Morgan denies being involved, but he's one of Jowdy's fishing buddies. Similarly, Jowdy is mentioned as a work out partner of Brian McNamee in a 2007 Sports Illustrated article about Roger Clemens.
I think the most interesting aspect of this story is the way NHL and MLB personalities are involved on opposite sides. It also forces me to mention (again) the excellent Sports Illustrated article on athletes and their poor investments that destroy their fortunes. Hey, at least it's not as bad as Torii Hunter investing $70K in "inflammable rafts" (aren't rafts primarily used in water?).
The other interesting part is… Ken Jowdy.  He got NHL players to give him hundreds of thousands of dollars. He knows a lot of baseball personalities. He was hanging out with Brian McNamee back in 2007. He associates Hal Sutton and Phil Mickelson with his projects. He sources hookers, strippers, and porn stars for parties. Who is this guy? Below is a round up of facts relevant to the case.
HOW THEY FOUND OUT
From the New York Daily News:
The players said they learned they'd been hoodwinked when Jowdy gave an under-oath deposition in a lawsuit against Phillip Kenner, an unlicensed Arizona financial adviser accused of scamming other NHL players out of millions.
LIST OF PLAYERS
From TMZ:
The list of NHL players includes some of the sport's most famous guys — Michael Peca, Sergei Gonchar, Chris Simon, Greg deVries, Jason Woolley, Mattias Norstrom, Vladimir Tsyplakov, Jay McKee, Raymond Murray, Glen Murray, Bryan Berard, Dimitri Khristich, Jozef Stumpel and Darryl Sydor.
DETAILS ON THE ALLEGED FRAUD
From the New York Post:
Jowdy allegedly got rowdy by blowing their investment on "lavish parties" that included "various female porn stars, escorts, strippers [and] party girls" to impress Clemens, Jackson, Rose and ESPN announcer Joe Morgan, one of the suits filed in Los Angeles County Superior Court alleges.

Jowdy did not immediately return calls for comment.

Among the biggest losers in the failed investment are Bryan Berard and Michael Peca, both former Ranger and Islander players, who each lost $700,000, while ex-Ranger Mattian Norstrom lost $600,000, according to the suits.

Among the claims, Jowdy allegedly:

– Put a woman named Adrian Moore — described as a "regular party attendee" who was "close to Clemens" — on his payroll "as a personal favor" to the former Yankees Cy Young hurler

– Paid himself an $800,000 a year salary — plus travel and entertainment expenses — while his brother-in-law, Connecticut lawyer Bill Najam, took in $650,000 annually even though his role in the company "has yet to be identified"

– Hired Brian MacNamee, the onetime Clemens trainer who told Congress he supplied the ballplayer with steroids, as fitness trainer for one property as another favor to the former all-star.

– Paid the projects' sole construction manager Ken Ayers a $550,000 annual salary, even though he spent fewer than 20 days at the sites in seven years and had a full-time job in California.
KEN JOWDY INFORMATION
From Legacy Properties:
Legacy Properties is a land development company that specializes in ultra-exclusive golf resorts and luxurious private communities. Founded by developer Ken Jowdy, Legacy Properties' mission is to discover and develop exceptional destinations that are rich in culture and abundant in natural beauty.

With each project, Legacy Properties is dedicated to nurturing and showcasing the uniqueness of the land. We aspire to build eco-friendly developments that are intelligent in design and complement the local environment. At the core of each community is world-class golf. Tom Fazio, Greg Norman, Davis Love III, Phil Mickelson and Hal Sutton are designing challenging and distinctive courses that are unique to each property and sensitive to the surroundings.
From You've Got To Be Kidding Me:
Joe [Morgan]: Jon, I gotta ask you a trivia question. I was fishing with Matt Franco, who used to play for the Mets, and Ken Jowdy, I was fishing with 'em on a boat. And Matt Franco asked me this trivia question. He said he had talked to players past and present, and he said, and he asked me who, which guy, hit the hardest line drives most consistently of all the players I had ever seen.
From Sports Illustrated:
Only 13 hours later he is out in the cold rain on an artificial-turf field working on No. 300 with his trainer, Brian McNamee, and his buddy and training partner, Ken Jowdy.