Augusta National Golf Club is once again the site for the season's first major. The Masters got underway on Thursday morning with a star-studded field of golfers chasing the coveted green jacket. A win in the storied tournament also secures a player's place in golf history.
Adam Scott edged Angel Cabrera in a playoff one year ago. It marked his first triumph in a major championship after several close calls in the past. His victory also made it seven straight years with a different Masters winner.
Given the amount of parity throughout the sport right now, it wouldn't be a surprise to see that streak extend to eight in 2014. So let's check out the current leaderboard along with a preview and predictions for the top finishers in this year's tournament.
2014 Masters Leaderboard
Preview
One of the biggest stories heading into the tournament was the absence of Tiger Woods. The biggest star in golf is currently working to overcome a back injury. Bob Harig of ESPN.com passed along comments from Phil Mickelson about the weird feeling that exists without him playing:
It's a weird feeling not having him here, isn't it? He's been such a mainstay in professional golf and the majors. It's awkward to not have him here. I hope he gets back soon. I mean, I hope he's back for the other majors, and as much as I want to win and I know how great he is and tough to beat it ... it also makes it special when he's in the field and you're able to win.
Even though Woods hasn't won a major title since 2008, he usually still fills the role as favorite at the biggest events. His absence gives off an even greater vibe that the tournament is wide open, with players like Mickelson, Scott and Rory McIlroy serving as the top contenders.
The unpredictability of any given tournament is what makes golf unique. Scott won the Masters last year. His countryman Matt Jones won the Shell Houston Open last week. But neither of the results guarantees those players will perform well over the next four days.
Prior success in a tournament or current good form increases a golfer's chances of success. In the end, though, it comes down to who strikes the ball best and holds the nerve the longest this week. In other words, the term favorite takes on a completely different meaning in golf.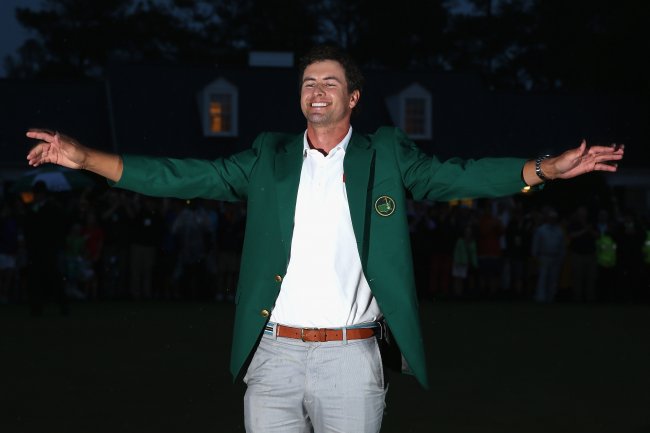 Ross Kinnaird/Getty Images
Another thing to track is the wide range of golfers in the field.
There are wily veterans like Miguel Angel Jimenez and the aforementioned Cabrera, who always seem to make their presence felt even though they rarely generate any buzz before the tournament. Experience on the big stage is a valuable asset.
Then there's stars of the future looking to contend while also gaining that experience. The group includes players like Jordan Spieth, Hideki Matsuyama and Matthew Fitzpatrick, who may not be ready to capture a green jacket yet but have bright futures.
Jason Sobel of Golf Channel provided an interesting note about Spieth's group, which also includes McIlroy and Patrick Reed, two other players on the rise:
Grouping of Rory McIlroy, Patrick Reed and Jordan Spieth is combined only three years older than Tom Watson, the oldest player in the field.

— Jason Sobel (@JasonSobelGC) April 8, 2014
Jason Day could very well be the golfer who outshines them all, though. The 26-year-old Australian has come extremely close at the Masters before, finishing in a tie for second in 2011 and third in 2013. He's also been in the final round mix twice at the U.S. Open and PGA Championship.
It may finally be time for him to break through with his first victory in a major championship. As those prior results illustrate, his game matches the Augusta course well, and the experience he gained in those previous close calls should help, as well.
A couple other names to keep in mind are Matt Kuchar and Matt Every. Day is the pick to take home the green jacket on Sunday, though.
Predictions for Top Finishers
1. Jason Day (-9)
2. Matt Kuchar (-8)
T-3. Adam Scott (-7)
T-3. Rory McIlroy (-7)
5. Matt Every (-6)