Update from Tuesday, April 15
Cristiano Ronaldo will travel to Valencia for the Copa del Rey final between Real Madrid and Barcelona, but will not play.
Carlo Ancelotti confirmed on Tuesday, via Madrid's official Twitter and ESPN FC's Dermot Corrigan:
.@MrAncelotti: "I found out that I can't count on @Cristiano this morning. We can do well tomorrow despite the absence of some players."

— Real Madrid C.F. (@realmadriden) April 15, 2014
Ancelotti: "Ronaldo will not be there, we know that since this morning. But team has always reacted well to absences & will again tomorrow"

— Dermot Corrigan (@dermotmcorrigan) April 15, 2014
Ancelotti: "Cristiano's absence makes everyone more motivated. We have played very well in games he's missed, worked more, ran more."

— Dermot Corrigan (@dermotmcorrigan) April 15, 2014
.@MrAncelotti: "Cristiano didn't rest because he didn't have to. It wasn't a special situation; he didn't seem to be tired." #RMLive

— Real Madrid C.F. (@realmadriden) April 15, 2014
.@MrAncelotti: "We won't risk with Cristiano so he won't play. He will train tomorrow then travel to Valencia to see the game." #FinalCopa

— Real Madrid C.F. (@realmadriden) April 15, 2014
Tom Conn of Inside Spanish Football had earlier highlighted a report in AS:
According to Spanish sports daily, AS, Cristiano does not want to miss the slightest bit of rehab on his knee, as he continues his fitness race ahead of next week's Champions League semi-final tie against Bayern Munich and will therefore stay behind while the rest of the team travels to Valencia and will arrive shortly before the game on Wednesday, after his morning treatment.

Real Madrid will take the high-speed AVE train to Valencia right after Tuesday's training session and Cristiano, along with Arbeloa, Marcelo, Khedira and maybe even Jesé will all take a chartered plane to to Valencia to support their teammates in their attempt to win their first title of the season.
Update from Friday, April 11
Carlo Ancelotti has confirmed Cristiano Ronaldo has a thigh injury, but is unsure if he will miss the midweek Copa del Rey final, per Real Madrid's official Twitter:
.@MrAncelotti: "Cristiano has a small injury. He could feature in the Copa del Rey final but we won't take any risks." #RealMadridAlmeria

— Real Madrid C.F. (@realmadriden) April 11, 2014
Original Text
Cristiano Ronaldo will reportedly miss Real Madrid's Copa del Rey final against Barcelona at Valencia's Mestalla Stadium on Wednesday after picking up a thigh injury that could see him out of action for over two weeks.
The news was reported by Spanish newspaper AS via its Twitter feed:
BREAKING: Cristiano will miss Wednesday's Copa del Rey final after suffering a thigh muscle tear. He faces 15 days on the sidelines.

— AS English (@English_AS) April 10, 2014
Real Madrid confirmed the injury on their official Twitter feed but did not specify as to how long the former Manchester United man would be out for:
.@Cristiano Ronaldo has a muscular injury in his left thigh. Awaiting developments. #halamadrid pic.twitter.com/KkpRXLKR2y

— Real Madrid C.F. (@realmadriden) April 10, 2014
It comes just two days after Carlo Ancelotti's side reached the semi-finals of the Champions League thanks to a 3-2 aggregate victory over Borussia Dortmund. On Wednesday, Ronaldo boasted his club's success:
Another step in the competition. The team is now on the Champions League semi-finals. http://t.co/bFW6uqr5fs

— Cristiano Ronaldo (@Cristiano) April 9, 2014
The 29-year-old would miss the the first leg of the Champions League last four, scheduled to take place on either April 22 or 23, if the reports are accurate.
The injury would also rule the Portuguese superstar out of this weekend's La Liga clash against Almeria.
Real currently sit third in the league, three points behind leaders Atletico Madrid and two points off second-placed Barcelona.
Ronaldo scored both goals in Los Blancos' second-leg Copa del Rey semi-final victory over Atletico, which saw them run out 5-0 aggregate winners to cruise into the final.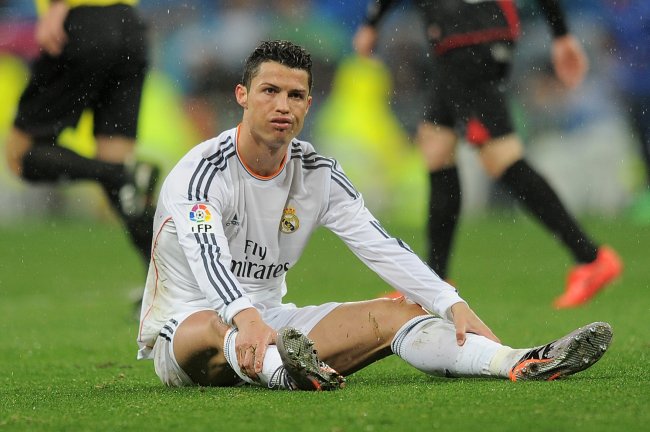 Denis Doyle/Getty Images
He also scored the winner in Real's 1-0 extra-time victory at the same stadium in the 2011 Copa del Rey final, the last time Spain's two biggest sides met in the showpiece event.
It will be a big blow to Madrid's chances of claiming victory over Barcelona, as Ronaldo has contributed 28 goals in 27 La Liga games this season.
The last time Real and Barca met was on March 23, when the Catalan giants won 4-3 thanks to a Lionel Messi hat-trick.
Ronaldo was relatively underwhelming that evening, despite scoring a penalty, but that will not deaden the blow for Madrid of losing their best player for this length of time.