After beginning the season in the shadows of Manchester United's other attackers, Shinji Kagawa has slowly crept back into prominence with a run of good form.
For much of the season, Kagawa had played second fiddle to Antonio Valencia and Juan Mata. Mata's 11 EPL starts for United in only a few months beat Kagawa's total of 10, while Valencia has racked up a more respectable total of 18.
However, Moyes has recently began to use Kagawa more frequently, with the seventh-placed United in need of all the creative and attacking ability they can find.
And Kagawa, given another opportunity to prove himself at United, has responded brilliantly.
He has one assist apiece in his last two EPL games vs. Aston Villa and Newcastle respectively, combining with Juan Mata to great effect. He was especially exceptional against Newcastle, completing three key passes, hitting three of his four long balls, and maintaining a pristine 89 percent pass-completion rate (WhoScored).
While Kagawa has played his part the last couple of matches, Moyes should give him the opportunity to really spearhead the United attack in the second leg versus Bayern.
With first-choice attacking midfielder Juan Mata ineligible for Champions League play and Robin van Persie injured, Kagawa might finally get the opportunity to play in his preferred No. 10 behind striker Wayne Rooney.
Against Bayern Munich in the first leg, Kagawa came on to begin the second half and was an instant improvement over Tom Cleverley. Injecting pace into the United side, Kagawa was all over the pitch and helped to penetrate the opposing half.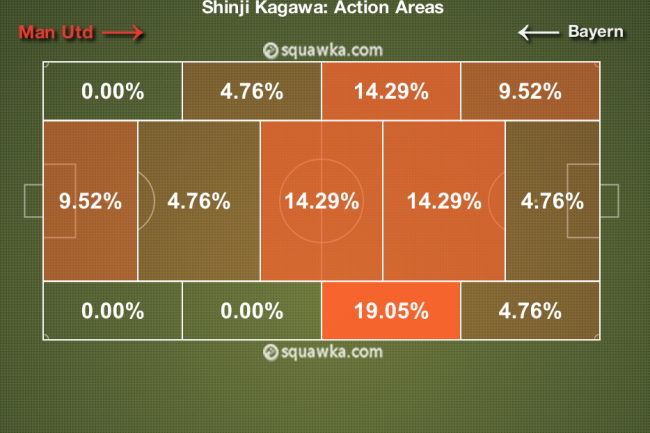 photo via Squawka
Though David Moyes has found his footing a little bit recently, his team selection this season has certainly been flawed, and it is possible that he will make the mistake of playing Rooney in the No. 10 position instead of Kagawa.
While this decision would affect Kagawa, who plays better through the center, it would also be detrimental to Rooney. With Robin van Persie out for up to six weeks due to injury, Rooney has moved back up to his traditional role as a striker, wasting no time in putting his name back onto the scoresheet.
Since being played in the more advanced role, Rooney has bagged braces against West Ham and Aston Villa, respectively.
If Moyes decided to shift Kagawa over to the left, and place Rooney in the center, Danny Welbeck would likely be the striker. Welbeck is capable of playing in this position, but just as much so as he is on the left flank, where he often found himself antagonizing the Bayern defense at Old Trafford.
Until Welbeck becomes a more solid finisher, he should only be played as a striker sporadically, and not in place of Rooney, who is far more apt at putting the ball in the back of the net.
Because of the impressive play of both Kagawa and Rooney in recent weeks, they should be given the green light to impress from their natural positions—striker for Rooney and attacking midfield for Kagawa.
All stats and info via ESPNFC unless otherwise indicated.