Connecticut is officially the center of the college basketball world.
One day after the men's team knocked off Kentucky for the national title, the women's team joined the party with a dominating 79-58 victory over previously undefeated Notre Dame. The Huskies finished the season 40-0 and claimed their second consecutive crown.
Will Connecticut win the national title again next season?
It was Geno Auriemma's ninth national title, which passed Pat Summitt for the most championships of all time.
Connecticut established the tone early with a 16-0 run in the first half. When Notre Dame closed the gap to eight after intermission, the Huskies used a 16-2 spurt to officially close the door on any comeback hopes.
Let's look at some key takeaways from the impressive performance.
Dominance in the Paint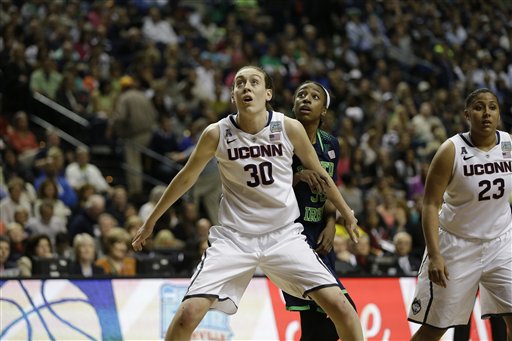 Mark Humphrey
The absence of Natalie Achonwa wasn't a crippling issue for Notre Dame against Maryland in the Final Four, but it ultimately was its undoing against Connecticut on Tuesday.
The Fighting Irish were outscored in the paint in dominating fashion to the tune of 52-22. The Huskies nearly scored more points in the paint alone than Notre Dame did all game.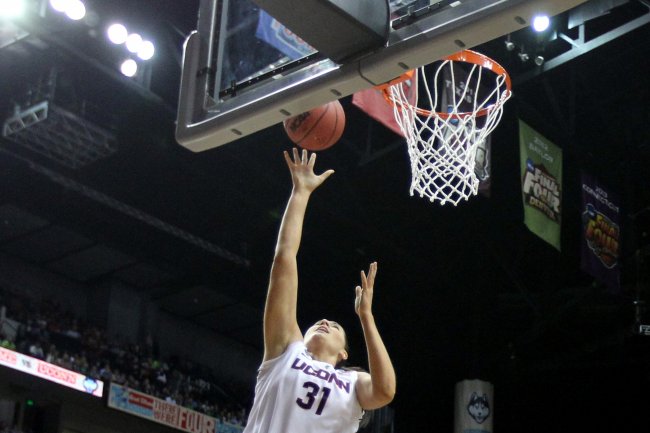 Andy Lyons/Getty Images
However, the scoring differential doesn't paint the entire picture, as Connecticut enjoyed a 54-31 rebounding advantage and grabbed an absurd 22 offensive rebounds. Stefanie Dolson, Breanna Stewart and Kaleena Mosqueda-Lewis combined for 56 points, 32 rebounds and five blocks for Connecticut (although Mosqueda-Lewis did much of her damage outside the lane), while Ariel Braker and Taya Reimer only tallied eight points on seven shot attempts and eight rebounds for Notre Dame.
The Fighting Irish allowed more points in the paint (32) to the Huskies in the first half alone than they did to Maryland in the entire Final Four game (28). What's more, Stewart scored 18 of her 21 points in the paint.
If you are looking for one telling reason why the Huskies cut down the nets, it was their complete control of the lane on both ends of the floor.
Stefanie Dolson's Overall Brilliance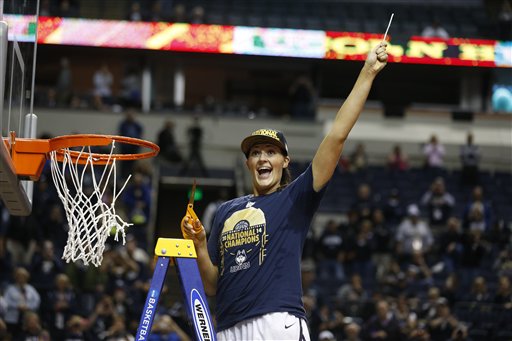 John Bazemore
Dolson did her best Joakim Noah impersonation Tuesday by stuffing the entire stat sheet and controlling the offensive flow of the game from the center position.
While Stewart scored a game-high 21 points, Dolson tallied 17 points, an astounding 16 rebounds and seven assists to go along with terrific interior defense and three blocks. There has never been a triple-double in the women's Final Four, but fans were almost treated to history from Dolson on Tuesday.
Notre Dame's Jewell Loyd recognized that Dolson and company were simply too much for her team down low, according to the Associated Press, via ESPN.com:
"We needed to box out and rebound. Those are the things we didn't do tonight. It is strange because we did so well against Maryland in both boxing out and rebounding. But tonight we didn't have it."
Dolson was overcome by emotion at the end of an incredible game, as Melanie Jackson of ESPN.com pointed out:
Stefanie Dolson gets a long, emotional hug from Geno Auriemma as she leaves the court in a UConn uni for last time. pic.twitter.com/eGlXl6bLQA

— Melanie Jackson (@MelJax) April 9, 2014
Give Notre Dame's Backcourt Credit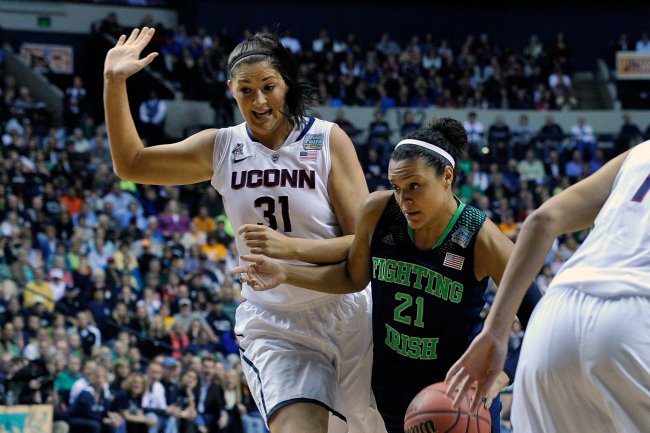 Frederick Breedon/Getty Images
Despite the blowout loss, Notre Dame's backcourt performed admirably.
Kayla McBride finished with 21 points, five rebounds, two assists and one steal, while Loyd tallied 13 points, six rebounds, two assists, one steal and one block. The two guards were the leading rebounders for a Fighting Irish team that simply couldn't match Connecticut's size down low without Achonwa, which is a testament to their skill level and overall desire on the floor.
On the Huskies' side, Bria Hartley finished with 13 points on only 4-of-15 shooting from the field and 2-of-9 from downtown, while Moriah Jefferson totaled only four points on 2-of-8 shooting, although she did register seven assists.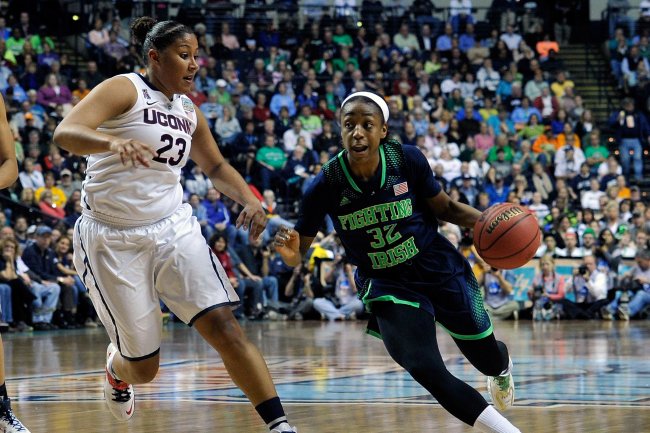 Frederick Breedon/Getty Images
Ultimately, the guard play was not enough for Notre Dame to overcome such a significant advantage in the paint for the Huskies, but it was impressive nonetheless that the Fighting Irish could have a statistical edge in the backcourt in a game that they were blown out by so much.
Looking forward, the obvious question now becomes when Connecticut will lose again.
With so much roster turnover from year to year in college basketball, it is almost impossible to imagine the Huskies going two straight years without losing. Frankly, it is almost unfair to put such undue pressure on Auriemma's team by suggesting as much.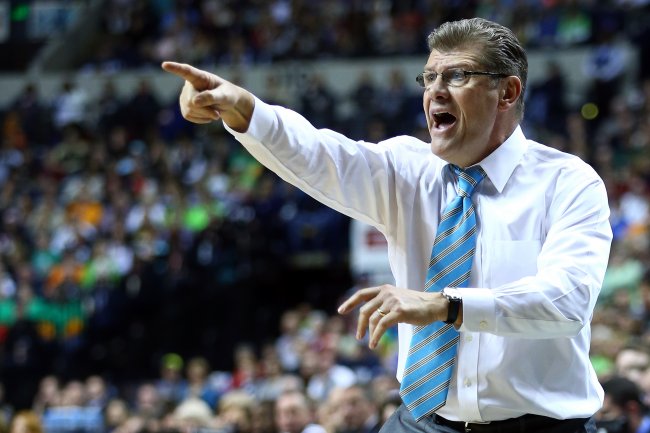 Andy Lyons/Getty Images
Still, the Huskies avoid the typical multiple clashes they used to have with Notre Dame in the Big East and could very well be favored in every single one of their games next season. A three-peat isn't out of the question.
Follow me on Twitter: