The first SmackDown of the post-WrestleMania 30 year emanates from Lafayette's Cajundome and features the second appearance of new WWE World Heavyweight champion Daniel Bryan after the biggest night of his career this past Sunday.
In a huge main event, he teams with the WWE Tag Team champions The Usos to take on Batista, Randy Orton and Kane. After the way Monday's show ended, one can expect that the Authority will have something in store for Bryan. Would the Usos provide suitable backup for the champion or would he need to look elsewhere support?
After seeing his plans to unleash the monster inside John Cena, Bray Wyatt is sure to have something to say to his rival and the WWE Universe as a whole. What thoughts will he share with the world and what threats would he make specifically to Cena?
With Cesaro and Jack Swagger under the same roof, would the fans be treated to the latest in the war between the former Real Americans? What would Hulk Hogan have in store for fans as he made his second consecutive appearance on the Friday night show? Would fans be treated to any more newcomers to the WWE Universe?
Find out now, courtesy of our friends over at WrestlingInc.com!
Setting
Cajundome in Lafayette, La.
Broadcast Team
Michael Cole and John Bradshaw Layfield
Quick Results
John Cena kicked off the show, cutting a promo about his win over Bray Wyatt and calling himself the measuring stick of WWE. The Wyatt Family interrupted on the video screen and said Cena will not be smiling soon. Wyatt finished by saying they will go to the extreme.
Paul Heyman cut a promo about being the best manager of all-time, then introduced Cesaro for his match against Big Show.
Cesaro defeated Big Show via DQ when Jack Swagger attacked and applied the ankle lock to his former partner; after the match, Big Show cleared Swagger out of the ring before Cesaro delivered the Neutralizer to Show
Ryback and Curtis Axel defeated Los Matadores
Rob Van Dam defeated Damien Sandow; he cut promo before the match
Hulk Hogan appears and discusses WrestleMania 30. He brings out Daniel Bryan, who discusses his week and his upcoming wedding to Brie Bella this weekend. He poses with Hogan while Real American plays.
Bad News Barrett defeated Kofi Kingston
Fandango (with Layla) defeated Santino Marella (with Emma); Layla taunted Emma at ringside
Daniel Bryan and The Usos fought Batista, Randy Orton and Kane to a double countout; Batista and Orton laid out the Usos after the match and Kane was about to do the same when The Shield hit the ring and prevented it. Bryan hit Kane with the running knee to end the show.
Analysis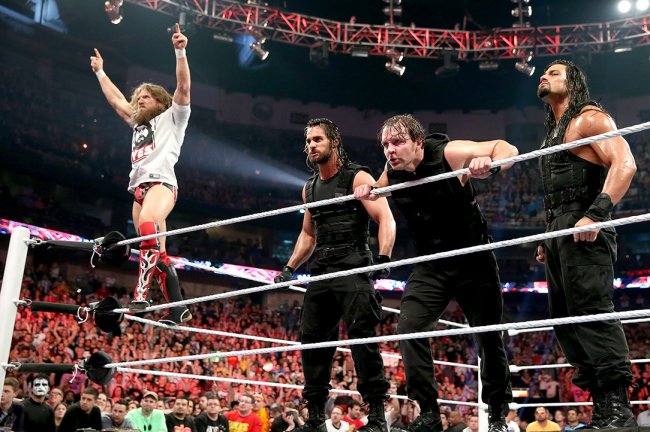 Credit: WWE.com
Bryan and the Hounds Stand Tall Again
After Monday's Raw, during which Batista and Randy Orton left WWE Tag Team champions The Usos lying, the twins team with new WWE World Heavyweight champion Daniel Bryan to meet the former Evolution standouts and their partner, Kane.
It does not appear as though Friday will be much kinder to them as Orton and Batista once again overwhelm them and leave them in the same position they did to start the week.
Bryan nearly finds himself joining them but thanks to great timing from The Shield, he escapes Friday's show without suffering any major damage.
The alignment of Bryan and The Shield is interesting in that the WWE World Heavyweight champion spent months being the punching bag for the Hounds of Justice but now joins them in the war against the Authority.
Will their past rear its head or will all four highly talented wrestlers be able to coexist?
The more pressing question is just how awesome will the impending matches between Bryan, The Shield and the Authority be?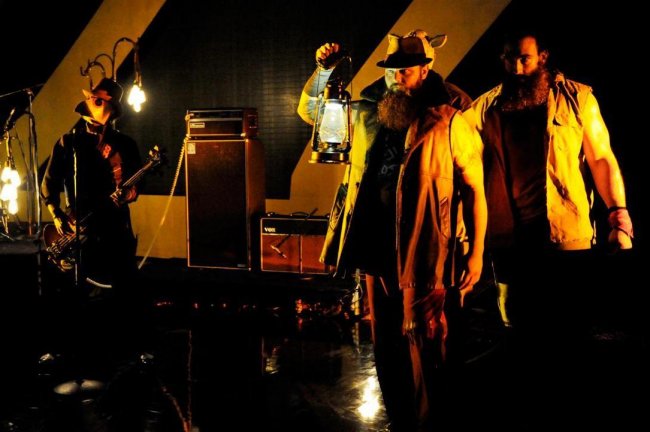 Credit: WWE.com
Wyatt Promises the Extreme
Sunday night at WrestleMania, Bray Wyatt failed to unleash the monster inside of John Cena and, more importantly, lost his match against the leader of the Cenation.
Friday night, he promises to take more...extreme measures to achieve his goal.
With the Extreme Rules special (because pay-per-views are so yesterday) on the horizon, there is a great deal of potential for Wyatt and Cena to not only improve upon their WrestleMania match but to steal the show with a match that would better suit their styles than the one from this past weekend.
Wyatt is more determined than ever to expose Cena for what he feels he really is and that could happen in a hardcore setting where Cena is exposed to weapons and stipulations that he is not necessarily used to.
Cena was incredibly lucky to escape with a win and his mind intact considering some of the games Wyatt was playing with him at WrestleMania. The likelihood of him achieving both a second time is very low. Will he rise above one more time or will he succumb to the Reaper of Souls?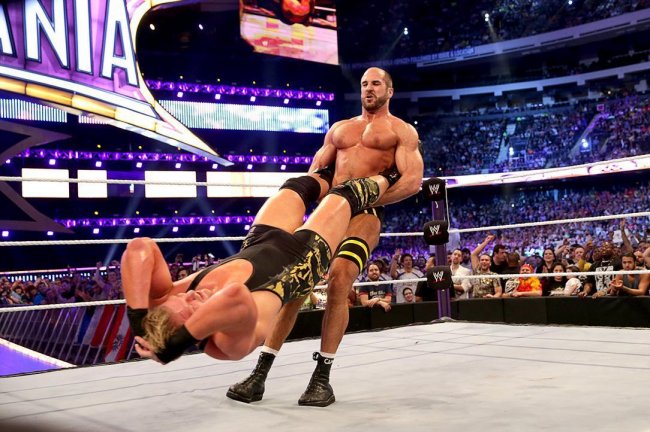 Credit: WWE.com
The Real Americans Explode
Just days after eliminating Big Show to win the Andre the Giant Memorial Battle Royal, Cesaro meets the World's Largest Athlete in singles competition on SmackDown.
The match is secondary to what happens afterwards, however, as Jack Swagger draws a disqualification win for Cesaro by attacking his former partner and applying the Patriot Lock. Big Show dumps Swagger over the top rope and ends up paying for his actions with the Neutralizer from an unappreciative Cesaro.
If Monday's match between the former partners was any indication, there is certainly potential for a very good, perhaps even great, match between the two. If they are the recipients of a solid story over the next few weeks and a decent amount of time come Extreme Rules, Cesaro and Swagger could produce a dark horse candidate for match of the night honors.
Credit: WWE.com
Summer Rae Exits Stage Left, Layla Enters
Hey, @RealSummerWWE. Did you get my text? Like I said, it's really not me, it's you. It's over...

— Fandango (@WWEFandango) April 8, 2014
Early Tuesday afternoon, Fandango sent out a Tweet that implied that he and Summer Rae were going their separate ways. Summer's responding Tweets confirmed it and on SmackDown this Friday, Fandango reveals that his new dance partner is former Women's and Divas champion Layla.
With the talented performer by his side, Fandango defeats Santino, something he could not do with the leggy blonde at ringside.
Could this lead to career rejuvenation for Fandango, a year after he made such a splash by defeating Chris Jericho in his in-ring debut at WrestleMania 29?
Only time will tell.
One thing is for certain: It is always good to see Layla, arguably one of the more underrated Divas over the last decade, on television.