Although only a week remains in the 2013-14 NBA regular season, the rumor mill continues moving along at a brisk pace.
Fourteen teams will miss out on the postseason, and many of those 14 have big questions to answer in the upcoming offseason. Is the head coach retained? Does the general manager have a long-term plan in place? Should both go?
Once the season is over, you can expect a lot of movement in the coaching carousel and behind the scenes in the front office.
Here are the latest updates on two coaches who are on shaky footing and one GM who might already have a foot out the door.
Tyrone Corbin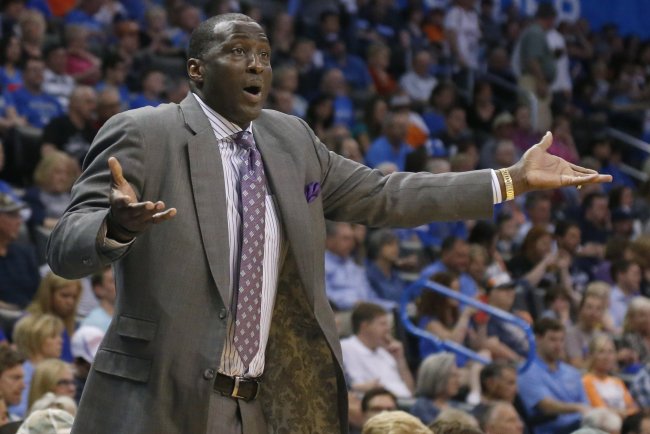 Sue Ogrocki
It doesn't matter how low expectations were to start the season, if a team is dead last in its conference, the head coach is always on the hot seat. Utah Jazz head coach Tyrone Corbin is no exception.
Yahoo Sports' Marc J. Spears reported in his most recent power rankings that the the team is weighing whether to retain Corbin and his staff.
"Tyrone Corbin and his coaching staff have contracts ending June 30. They expect to learn their fate by the end of April, a source said," Spears wrote.
Kurt Kragthorpe of The Salt Lake Tribune thinks that Corbin is as good as gone:
This is not about convicting Corbin, as much as recognizing there's not a compelling case to keep him. I've wanted him to succeed and hoped he would make the decision difficult for management, and that almost happened. Corbin made a push in January and February when the Jazz played nearly .500 basketball. But the schedule got tougher, his young players wore down and the season crumbled — as planned.

His bosses will never say Corbin's future beyond this season was doomed from the start, but everybody sensed a predetermined outcome in the last year of his contract. Corbin may have overcome the difficult circumstances and survived, if the season had ended at the two-thirds mark. The Jazz regressed and a coaching change is inevitable, now that they're 3-16 since late February.
Corbin admitted this has been a tough season for his players, per Kragthorpe.
"It's been a long year for these guys," he said. "They've been through a lot."
The Jazz are obviously in a rebuild, so it would make sense that management would want to start over with a new head coach. Throw in the fact that Corbin's in the last year of his contract, and the writing is on the wall.
Mike D'Antoni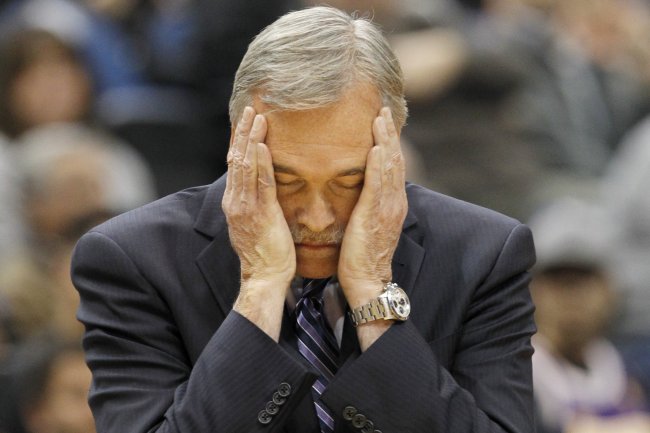 Ann Heisenfelt
Speaking of writing being on the wall, everything points to Mike D'Antoni getting fired by the Los Angeles Lakers. The team is in a tailspin, and D'Antoni seems to have few supporters.
Yet, Bleacher Report's Kevin Ding reported that the Lakers are considering keeping him through next season:
D'Antoni has one more guaranteed season left on his Lakers contract, and the club is leaning toward retaining him despite some privately disgruntled players and massive public disdain. It's not clear which way the organization will go with him.
Los Angeles already went through the problem of paying two coaches in one season—D'Antoni and Mike Brown—so it might be loathe to run into that again next year. It's unlikely the Lakers will be much more competitive than they are at the moment, even in the event they get a game-changer in the 2014 draft.
The Buss family may be willing to suffer through one more bad season before seeing the back of its current head coach.
Joe Dumars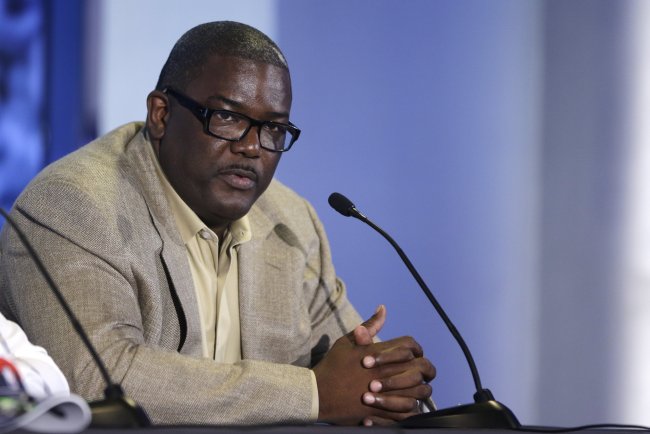 Carlos Osorio
Detroit Pistons fans are likely breathing a sigh of relief. The silver lining of his disappointing 2013-14 season is that general manager Joe Dumars looks on the way out, per Vincent Goodwill of The Detroit News:
Dumars has told multiple sources within the NBA that he plans to resign — possibly as soon as this week — after a busy offseason that included the signings of high-priced free agents Josh Smith and Brandon Jennings and led to an underachieving 2013-14 season. The Pistons, who many experts picked to return to the playoffs in the Eastern Conference, are 28-49 and out of playoff contention.
Ever since orchestrating the Pistons 2003-04 title-winning season, Dumars' stock has been on the decline. Since 2008-09, the team has gone through five different coaches. The team's draft strategy has produced more busts than gems, and free-agent signings like Ben Gordon, Charlie Villanueva and Josh Smith have been disasters. Putting Smith and Brandon Jennings on the same team is the latest failed experiment from Dumars.
ESPN.com's Adam Reisinger wonders where Dumars' career would've gone if the Lakers won the NBA title back in 2004:
If Karl Malone doesn't get hurt and Kobe & Shaq keep it together for another week in '04, does Joe Dumars even keep his job this long?

— Adam Reisinger (@AdamReisinger) April 8, 2014
The Pistons appear to need a lot of work in order to become contenders again. Letting go of the current GM would certainly be a large step toward accomplishing that goal.