Fans couldn't have asked for much more drama in Tuesday's Champions League play, as Chelsea and Real Madrid both advanced through to the semi-finals in tight and thrilling fashion.
The matches provided far more excitement than could have been reasonably expected. Both of the away clubs held strong leads.
Heading into Tuesday, Paris Saint-Germain led Chelsea, 3-1, on aggregate after Javier Pastore netted a brilliant goal in the 93rd minute of the first leg to give the French side an all-important third goal.
Meanwhile, Real Madrid's victory over Borussia Dortmund in the first leg was not as close. The Spanish side entered its match with the German powerhouse leading 3-0.
Have a look at the scores from Tuesday's action, followed by a recap of the matches.
Tuesday's Champions League Results

| | | | |
| --- | --- | --- | --- |
| Home | Score | Away | Winner |
| Borussia Dortmund | 2-0 | Real Madrid | Real 3-2 |
| Chelsea | 2-0 | PSG | Chelsea 3-3 |
Source: ESPNFC.com
Borussia Dortmund 2-0 Real Madrid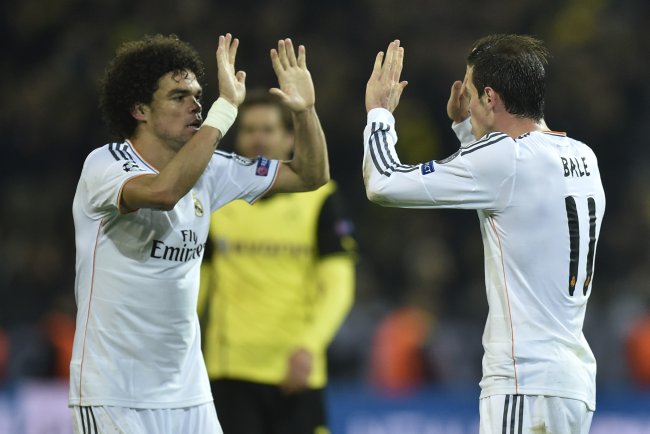 Martin Meissner
After a thorough beatdown in the first leg of this matchup, Los Blancos didn't have much to worry about in the second leg. They only had to worry about losing by fewer than three goals, and if they could score just a single goal, the Spanish side would have the lead in away goals.
Real Madrid were not at full strength for this match, though, as talisman Cristiano Ronaldo was left on the bench for the match. After scoring a goal in the first leg of this matchup, Ronaldo left that contest with knee issues and has not played since.
It quickly became apparent that Dortmund had not conceded defeat. Marco Reus picked up a brace in the first half with goals in the 24th and 37th minutes.
Angel di Maria had a chance to put the visitors on the board first, but the winger couldn't convert.
The second half was intense, and although Real's attack was not nearly the same without Ronaldo, the Spanish side forced some good looks after half-time. Football Vines helps provide a glimpse of how Dortmund were able to withstand the looks:
Iker Casillas keeping Real Madrid in this. http://t.co/Y41nQIRRra

— Football Vines (@Vine_Football) April 8, 2014
Indeed, the German side never did allow a goal, but they also couldn't muster one themselves in the second. Dortmund fired off 12 shots on the match with six coming on target, but the attack began lacking intensity as the match wore on. Perhaps they expended too much energy in the first half.
At any rate, Los Blancos advance in hard-earned fashion, and with their position in La Liga diminishing, the Spanish side will be pouring even more energy into this competition.
Los Blancos trail table leaders Atletico Madrid by three points and Barcelona by two. Obviously, the league title is still within their grasp, but they need help in that race. They remain in complete control of their Champions League destiny.
Real Madrid will next take the pitch on Saturday against Almeria in league action and then have a date against Barcelona on April 16 in the Copa del Rey final.
Chelsea 2-0 Paris Saint-Germain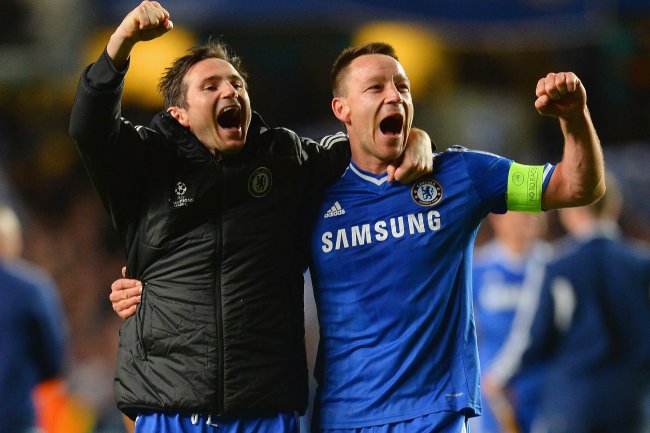 Mike Hewitt/Getty Images
As intense as the above match was, this one topped it. The action was tight throughout, and the drama was cranked up, as Chelsea suffered several near misses before claiming their all-important second goal.
In the 31st minute, Andre Schuerrle scored the only goal in a well-played first.
Chelsea came out gunning in the second half and were the superior side. They were not the luckier side, however. Twice in two minutes, Chelsea struck PSG's crossbar. BBC Sport helped highlight the moment:
Chelsea hit the crossbar twice in two minutes. Pressure is mounting on #PSG who are yet to have a shot on target http://t.co/MgX2N0q5LX #CFC

— BBC Sport (@BBCSport) April 8, 2014
As time passed in the second half, it looked like those crossbar shots were going to loom large in a Chelsea failure. Demba Ba had a different idea. B/R UK explains:
Chelsea have done it! (For now) Demba Ba scores and Chelsea are set to advance!

— Bleacher Report UK (@br_uk) April 8, 2014
The winner came in the 87th minute and came only after Ba entered the match for Frank Lampard in the 66th minute. It's safe to say Ba rewarded his manager for the move, and it sent Jose Mourinho sprinting in celebration, which you can check out in this Vine from Hinho:
Mourinho was understandably excited, but he wasn't surprised. "The Special One" passed along this prophetic quote from the manager:
José Mourinho: "They settle back too much in second part. I said to my assistant: 1-1 or 2-0. Minute later is 2-0"

— The Special One (@Team_Mourinho) April 8, 2014
Chelsea were able to play excellent in the back to close out the match and earn the victory. The Blues left goalkeeper Petr Cech with little to do on the day. PSG fired off 10 shots, but just one came on goal. Mourinho's men also controlled 54 percent of possession for the match.
Chelsea are now in a similar position as Real Madrid. They are in the thick of the race for the Premier League title, but they need help to accomplish the feat.
Combine that with the fact that Chelsea's only two scheduled matches over the next two weeks come against Swansea City and Sunderland, and Chelsea will be locked in on Champions League success.