In an NCAA tournament that featured countless overtime games, nail-biting finishes in every round, No. 11 seed Dayton making it all the way to the Elite Eight and No. 14 seed Mercer thrilling America with an upset of No. 3 seed Duke, it seems only fitting that the Connecticut Huskies became the first ever No. 7 seed to cut down the nets as national champions.
Bleacher Report captured the moment and final score of 60-54:
UConn takes down Kentucky 60-54 and they're your 2014 NCAA national champions! #SorryDerekTheRA pic.twitter.com/NKFr0oK7Ho

— Bleacher Report (@BleacherReport) April 8, 2014
The Huskies delivered for both their own fans and those who believed in them in Las Vegas, as Todd Fuhrman of Fox Sports Live pointed out:
UCONN finishes the NCAA tournament 6-0 ATS with 5 outright wins as an underdog. Not a bad pay day for anyone who rode train to the window

— Todd Fuhrman (@ToddFuhrman) April 8, 2014
The entire box score for the championship clash can be found here. With those statistics in mind, let's dig into a few key takeaways from the box score that help paint the picture as to why Connecticut emerged victorious over No. 8 seed Kentucky.
Backcourt Dominance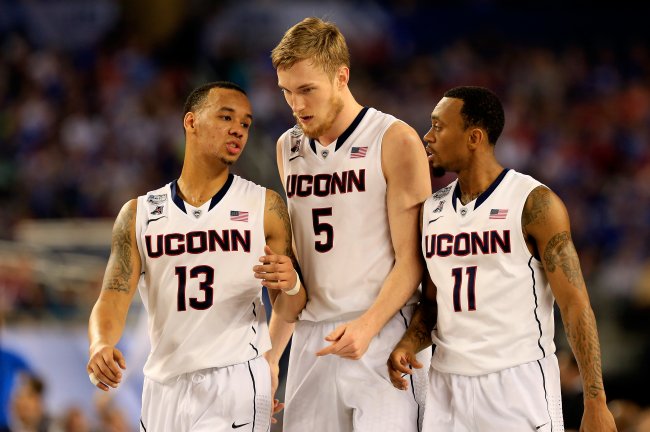 Jamie Squire/Getty Images
Aaron Harrison established himself as one of the superstars of the entire Big Dance by hitting what proved to be game-winning shots against Louisville, Michigan and Wisconsin in the Sweet 16, Elite Eight and Final Four, respectively.
However, he and his brother Andrew were simply outplayed by Connecticut's backcourt of Shabazz Napier and Ryan Boatright.
Napier and Boatright combined for 36 points, 10 rebounds, six assists and six steals behind 13-of-22 shooting from the field and four made three-pointers (all from Napier). Napier was named the Final Four's Most Outstanding Player and was ecstatic in the game's immediate aftermath:
Former coach Jim Calhoun was more than willing to throw Napier's name alongside some of the best in program history, according to the Associated Press, via ESPN.com:
"When they say Ray, Rip, Ben, Emeka, Kemba -- they'll soon say Shabazz."
On the flip side, the Harrisons combined for 15 points on 6-of-16 shooting and turned the ball over seven times. Neither looked fully comfortable on the offensive end (although Andrew did dish out five assists), as the same stifling defense that shut down a more experienced Florida backcourt in the Final Four contained the talented freshmen for 40 minutes.
Julius Randle's Lack of Production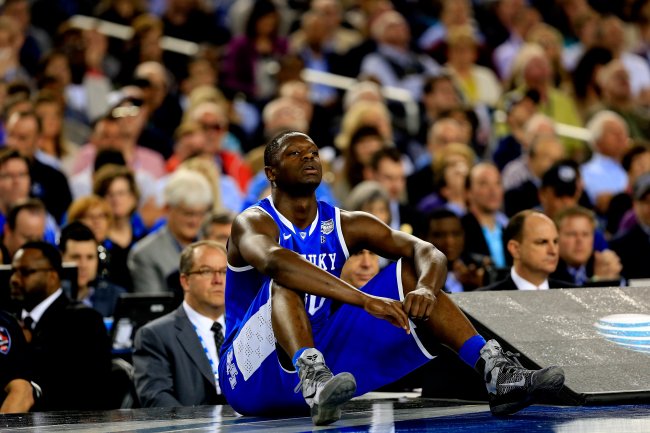 Jamie Squire/Getty Images
Julius Randle finished with 10 points, six rebounds and four assists, but only shot 3-of-7 from the field and 4-of-7 from the free-throw line.
He never asserted himself on the offensive end, didn't attack the rim with consistency, didn't establish himself on the post, didn't handle double-teams as effectively as he did during the season and missed three free throws when he finally did create contact. To be fair, he was dealing with cramping issues, as Eric Crawford of WDRB in Louisville pointed out:
CBS says Julius Randle is cramping.

— Eric Crawford (@ericcrawford) April 8, 2014
Randle may not have posted the superstar numbers that his team needed him to, but at least his one block was impressive:
Superstars need to shine the brightest in the biggest moments, and the fact that Randle only shot the ball seven times is disappointing from Kentucky's point of view. The Huskies' big men dealt with foul trouble all game, so if Randle had been a bit more aggressive he could have altered the outcome of such a tightly contested matchup.
Will Julius Randle be a top-five pick in the NBA draft?
Looking forward, it is downright irresponsible to suggest that one lackluster showing will impact Randle's NBA draft stock in a significant manner, even if that poor game did come in the national title contest.
He should still be a very early selection on draft night thanks to his body of work during the season in Lexington and his raw potential as a shot-blocking and rebounding presence and post scorer on the offensive side.
One Monday night against Connecticut in a contest in which he was hobbled from the beginning isn't going to change that.
Rebounding/Free Throws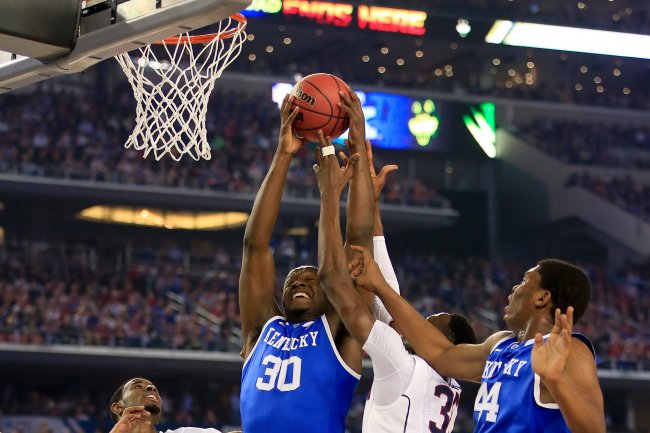 Jamie Squire/Getty Images
Kentucky was supposed to have an advantage on the glass against Connecticut.
After all, the Wildcats ranked in the top 10 in total rebounds per game, while the Huskies didn't even crack the top 100.
Yet, Willie Cauley-Stein's absence and the overall lack of production from Randle neutralized that rebounding advantage. In fact, the Huskies out-rebounded the Wildcats 34-33 and never appeared intimidated by the size of John Calipari's team down low.
The fact that Kentucky didn't exploit Connecticut on the glass meant the advantage in the guard department for the Huskies was even more pronounced. It was hard to find any area of the floor that the Wildcats controlled, which is a major reason why Connecticut cut down the nets.
Throw in the fact that Kentucky finished 13-of-24 from the free-throw line as compared to Connecticut's perfect 10-of-10 mark, and it's no wonder that the Huskies are your national champions.
Follow me on Twitter: