The Connecticut Huskies are officially national champions, taking down the Kentucky Wildcats 60-54, and there were a number of exciting plays throughout.
It was a wild run for both teams, as the Huskies were a No. 7 seed and the Wildcats were a No. 8 seed. Both teams pulled off major upsets throughout the tournament, but only one team could walk away as national champions.
NCAA National Championship

| | | | |
| --- | --- | --- | --- |
| Team | First Half | Second Half | Final |
| Kentucky | 31 | 23 | 54 |
| Connecticut | 35 | 25 | 60 |
The Huskies got off to a strong start early thanks to a strong start from the starting backcourt of Shabazz Napier and Ryan Boatright, going up 19-10 just over eight minutes into the game. DeAndre Daniels made a very early statement, throwing down this slam dunk.
But Connecticut wasn't done there, as it continued to extend the lead all the way to 30-15.
One of the big reasons for the early struggles was Julius Randle's ineffectiveness down low. According to Pat Forde from Yahoo! Sports, Randle appeared to be in serious pain during warm-ups, which could have been a reason he struggled.
Julius Randle grimacing his way through some warmup jogging on court. He may always do that, don't know, but he doesn't appear comfortable.

— Pat Forde (@YahooForde) April 8, 2014
Even though he was hurting and struggling, that didn't stop Randle from coming up with this block later in the half.
Despite the slow start from Randle, the Wildcats were eventually able to turn things around late in the first half. Over the last 5:41, the Wildcats were able to go on a 16-5 run, heading into the locker room down just four points at 35-31.
Napier had a very strong first half, leading all scorers with 15 points after scoring just 12 in the Final Four matchup against Florida. But he wasn't done there, as he continued to put up points in the second half.
However, at the beginning of the second half, the Huskies struggled to put up points. For nearly the first eight minutes of the half, the Huskies put up just four points. The Huskies eventually made another quick run to go up by nine points, but Kentucky's James Young came up with this exciting and-1 play to keep his team in it.
After a couple of consecutive three-point shots from the Huskies, it looked like they might have a chance to pull away. But the Wildcats refused to give up, continuing to keep it close with crucial buckets. One of those baskets came from Alex Poythress, who was able to draw a foul on this putback dunk.
While the Wildcats came up with so many big plays, the Huskies continued to answer, and they were eventually able to walk away as national champions. After carrying the team all year with his scoring, Napier was great once again, dropping 22 points, six rebounds and three steals to lead his team to victory.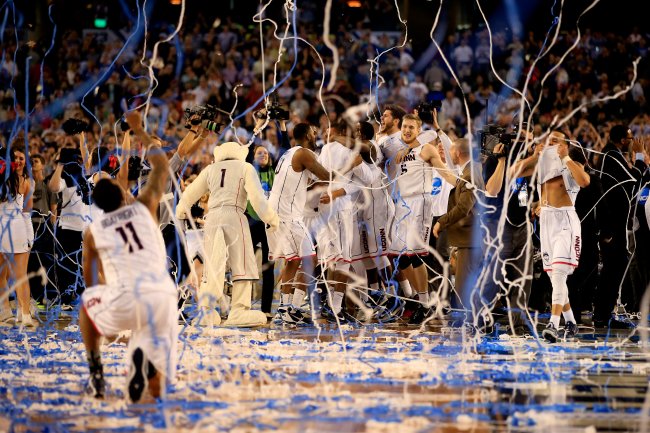 Jamie Squire/Getty Images
It was a tough night shooting for the Wildcats, going just 18-of-46 from the floor. The bigger problem for Kentucky, however, was its awful shooting from the free-throw line, going just 13-of-24. As Jon Solomon from AL.com pointed out, Young went 8-of-9 from the charity stripe, but the rest of the team struggled mightily.
The Huskies have now won their fourth national championship and the first under head coach Kevin Ollie, who took over the team in 2012. It was a close game throughout, but the Huskies prevailed, and the team can now enjoy the next few months as reigning NCAA champions.