The Kentucky Wildcats exceeded everyone's expectations in the NCAA tournament by reaching the national title game (even though many expected them to be there before the season started), but Connecticut knocked off Julius Randle and company on the game's biggest stage to the tune of 60-54.
Randle did not have the type of contest that fans have become accustomed to seeing and finished with 10 points, six rebounds, four assists and a block on 3-of-7 shooting from the field and 4-of-7 shooting from the free-throw line. A large reason for the lack of superstar production from the big man was his health, though.
Games of national-title magnitude should never be marred by outside forces, but that was unfortunately the case for the Wildcats on Monday night. Discussions about Randle's health began before the ball was even tipped, as Yahoo! Sports' Pat Forde pointed out:
Julius Randle grimacing his way through some warmup jogging on court. He may always do that, don't know, but he doesn't appear comfortable.

— Pat Forde (@YahooForde) April 8, 2014
Eric Crawford of WDRB in Louisville reiterated what CBS officially reported about Randle's cramping issues:
CBS says Julius Randle is cramping.

— Eric Crawford (@ericcrawford) April 8, 2014
Connecticut dominated the early going and built a 15-point lead at one point, largely because Randle was ineffective. The Huskies used their athleticism and speed to beat the hobbled Randle down the floor in transition a number of times, which eliminated his shot-blocking presence.
Jason McIntyre of the Big Lead and Jeff Borzello of CBS Sports both recognized that Randle looked far from 100 percent in the first half:
Julius Randle situation is a bad one. Total non-factor on the offensive end. One shot attempt. How did UK keep these cramps under wraps?

— Jason McIntyre (@jasonrmcintyre) April 8, 2014
Julius Randle does not look all that comfortable out there.

— Jeff Borzello (@jeffborzello) April 8, 2014
Despite the injury concerns, the Kentucky superstar persevered and played the majority of the opening 20 minutes. He went into intermission with six points on 2-of-3 shooting from the field and 2-of-3 shooting from the free-throw line. He added two rebounds, an assist and a block that you can see here:
Randle was helped immensely when John Calipari decided to switch to zone midway through the first half. Thanks to the cramping issues, he was having trouble keeping up with the Huskies in man-to-man situations, and the Wildcats gradually clawed back to within four points by halftime.
Randle converted a critical basket through contact in the final seconds of the half to give his team momentum heading into the locker room, even though he missed the ensuing free throw and didn't have enough spring in his step to reach the pass that was originally intended as an alley-oop.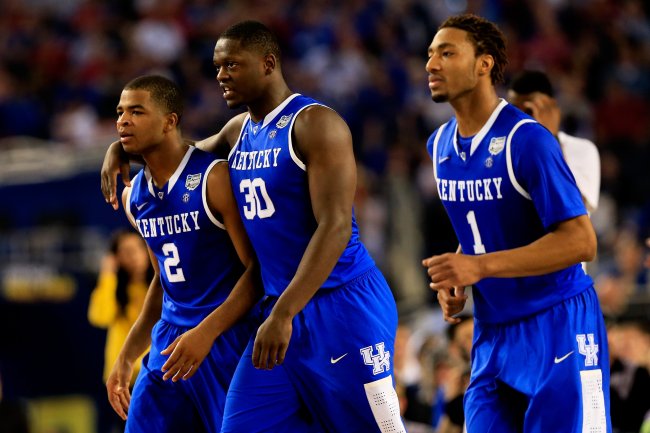 Jamie Squire/Getty Images
Coming into the game, Kentucky appeared to have a significant rebounding advantage on paper, but Randle's injury compounded with Willie Cauley-Stein's absence neutralized that. The Wildcats outrebounded the Huskies only 16-15 before intermission.
Calipari pointed out in his halftime interview that Randle and his teammates were falling victim to their own youth in the first half, via the Associated Press:
Kentucky coach John Calipari: "They're young, they're nervous. They got away from what we're trying to do."

— AP Top 25 (@AP_Top25) April 8, 2014
The Wildcats came out of the locker room with energy and confidence, though, and Randle helped the cause with an early assist and rebound that led to a transition basket. While he was still virtually nonexistent in the offense, his help defense down low was critical to keeping Connecticut at bay.
In fact, Randle's first field-goal attempt of the second half didn't even come until there was just more than 13 minutes remaining in the game. He was fouled and proceeded to hit one of the two free throws to cut the lead to 39-37.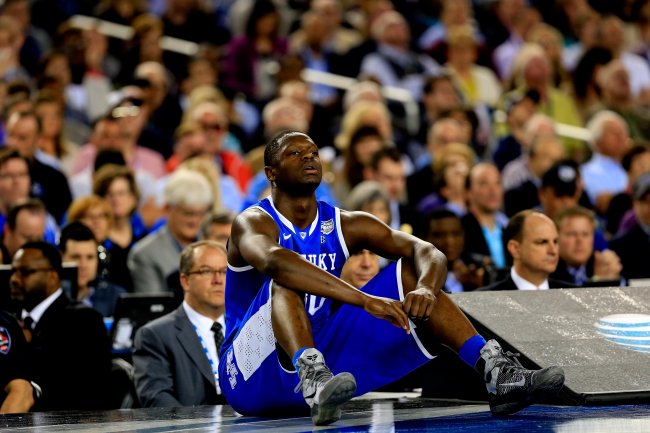 Jamie Squire/Getty Images
However, Connecticut responded with a run of its own to stretch the deficit to 48-39 when there was just under 11 minutes left. Randle threw the ball into the third row for a critical turnover during that stretch and did not take a shot.
Gregg Doyel of CBS Sports and Borzello commented on the turnover:
To throw that ball into the first row, Julius Randle had to throw it over three media rows first.

— Gregg Doyel (@GreggDoyelCBS) April 8, 2014
That would be an errant pass by Randle if the court were another 15 feet wide.

— Jeff Borzello (@jeffborzello) April 8, 2014
While Kentucky managed to climb back in the game and trade haymakers in the back-and-forth contest, Seth Davis of CBS Sports and Sports Illustrated urged Randle to become more involved:
Randle has one shot attempt this half. Not how you get Capone.

— Seth Davis (@SethDavisHoops) April 8, 2014
ESPN Stats & Info noted that Randle and his team as a whole simply weren't being as aggressive in the paint:
Only 56% of Kentucky's shots have come in the paint today. In each of their last two games, 74% of their shots came in the paint.

— ESPN Stats & Info (@ESPNStatsInfo) April 8, 2014
Almost on cue though, Randle attacked the rim on two possessions within a one-minute stretch and helped cut the lead to 54-50. Still, missed free throws and a missed shot with just over than two minutes remaining were absolutely crippling.
Connecticut went on to control the pace of the final two minutes and win the game with little resistance from Randle. If that was the last game of his collegiate career, it was a rather lackluster way to go out.
Looking forward, Randle's next step will likely be the NBA draft, assuming he decides against returning to Lexington.
ESPN's Mike Greenberg thinks he should be the first freshman taken in the draft, while Adam Zagoria of SNY.tv and NBA.com reiterated that scouts have liked what they saw during the Big Dance:
I'm no scout, but of all the freshman I have watched this year the one I would draft first is Julius Randle. #Kentucky

— Mike Greenberg (@Espngreeny) April 6, 2014
"I think Julius Randle has helped himself probably more than anybody else in the draft." veteran NBA scout

— Adam Zagoria (@AdamZagoria) April 1, 2014
It would be unfair to put too much stock in just one game for Randle in terms of his NBA prospects, especially one in which he was hampered by injury throughout the contest. If anything, the fact that he pushed through the pain to play in such a meaningful game should stick in the minds of NBA scouts.
He will almost assuredly be a very early pick in the draft.
Although Randle struggled to assert his will throughout the game, it is a testament to his greatness that we were disappointed with 10 points, six rebounds, four assists and a block. Still, superstars are asked to perform at their best when the lights are brightest, so even with the injury, Randle's grade suffers.
He simply wasn't the presence that Kentucky needed if it was to cut down the nets on Monday night.
Final grade: C