It has been an incredible NCAA tournament run for the No. 8 seed Kentucky Wildcats, but they are dealing with much more than Connecticut during the national title game.
Eric Crawford of WDRB in Louisville alerted fans to the status of superstar Julius Randle in the contest's early going:
CBS says Julius Randle is cramping.

— Eric Crawford (@ericcrawford) April 8, 2014
Pat Forde of Yahoo! Sports recognized that Randle looked far from 100 percent before the ball was even tipped:
Julius Randle grimacing his way through some warmup jogging on court. He may always do that, don't know, but he doesn't appear comfortable.

— Pat Forde (@YahooForde) April 8, 2014
Jeff Borzello of CBS Sports and Jason McIntyre of The Big Lead noted that Randle appeared to be nowhere near his usual self in the first half:
Julius Randle does not look all that comfortable out there.

— Jeff Borzello (@jeffborzello) April 8, 2014
Julius Randle situation is a bad one. Total non-factor on the offensive end. One shot attempt. How did UK keep these cramps under wraps?

— Jason McIntyre (@jasonrmcintyre) April 8, 2014
The Huskies stretched their early lead to double digits, no doubt partially because Randle was virtually ineffective from the beginning. While he did start, these cramping issues have hampered him against a physically imposing Connecticut defense, which puts even more pressure on the Wildcats guards.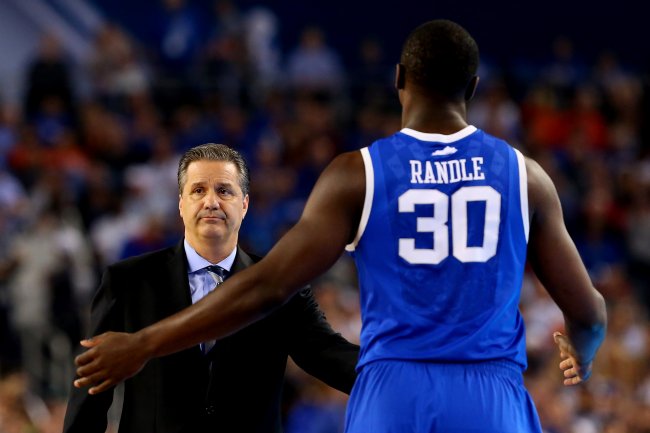 Ronald Martinez/Getty Images
Furthermore, Willie Cauley-Stein is already out for the title game. One of Kentucky's biggest advantages over its opponents throughout the tournament has come on the glass, but missing Cauley-Stein and having an injury-plagued Randle neutralizes that against Connecticut.
Postgame Update
Randle played the majority of the game despite the cramping issues and finished with 10 points, six rebounds, four assists and a block behind 3-of-7 shooting from the field and 4-of-7 shooting from the free-throw line.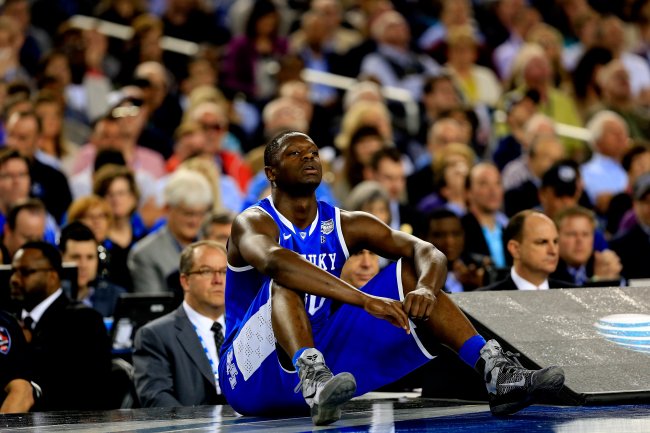 Jamie Squire/Getty Images
He was not aggressive on the offensive end like one would expect from a superstar in the national title game, and his lack of production was one of a number of reasons why Connecticut won the game 60-54.
Fortunately for Randle, the cramping clearly isn't an injury that will be a long-term concern. His NBA draft prospects certainly won't suffer because of one bad game, although Wildcats fans wish that bad game didn't come at the biggest moment of the season.