Don't let the No. 7 and No. 8 seeds next to the names Connecticut and Kentucky on your bracket fool you—we aren't talking about your average scrappy Cinderella stories.
After all, this year's version of the Huskies and Wildcats are just the latest from two of the best programs in the history of the game. Yes, there were some stumbling blocks along the way during the regular season, but the talent has shone through when it matters most.
John Calipari's highly touted group of freshmen are right where so many predicted they would be heading into the season (even if nobody saw this coming on Selection Sunday), while Shabazz Napier is doing his best Kemba Walker impersonation with a little help from DeAndre Daniels for Connecticut.
With such a tightly contested national title game on the immediate docket, experts, fans and commentators alike took to Twitter to air their predictions.
Let's take a look at some.
Jeff Goodman of ESPN kicks us off, and he thinks the Wildcats will win yet another one-possession game. If that happens, there will be plenty of Kentucky fans without any nails or hair left out on the streets of Lexington celebrating:
My prediction: Kentucky 67, UConn 64.

— Jeff Goodman (@GoodmanESPN) April 7, 2014
Jason Stewart of In Depth with Graham Bensinger (and formerly of The Jim Rome Show) was far less specific in his prediction:
My prediction for the UK-UConn title game: it's too early to tell, it could go either way. One thing's for sure: it's gonna be interesting

— Jason Stewart (@JasonStewart) April 7, 2014
While much of the pregame chatter has centered around Kentucky and its talented group of freshmen finally coming together as a team to win games, Connecticut fans will be happy to know that national title games are where their team thrives. SportsCenter pointed out just how dominant the Huskies have been on the big stage:
There are some good vibes coming from Storrs! UConn's men's and women's teams are UNDEFEATED in National Championships, a combined 11-0.

— SportsCenter (@SportsCenter) April 7, 2014
Despite the Huskies' impressive title-game mark, experts from ESPN and CBS Sports were somewhat split on their predictions, but most gave an edge to the Wildcats:
ESPN and CBS Expert Predictions

| | | |
| --- | --- | --- |
| Name | Source | Predicted Winner |
| Jay Bilas | ESPN | Kentucky (67-66) |
| Eamonn Brennan | ESPN | Kentucky (74-70) |
| C.L. Brown | ESPN | Kentucky (67-62) |
| Sean Farnham | ESPN | Kentucky (68-64) |
| Fran Fraschilla | ESPN | Connecticut (68-65) |
| John Gasaway | ESPN | Connecticut (64-63) |
| Seth Greenberg | ESPN | Kentucky (67-63) |
| Andy Katz | ESPN | Connecticut (68-66) |
| Myron Medcalf | ESPN | Kentucky (76-72) |
| Dana O'Neil | ESPN | Connecticut (68-63) |
| Miles Simon | ESPN | Kentucky (69-65) |
| Gary Parrish | CBS Sports | Kentucky |
| Gregg Doyel | CBS Sports | Kentucky |
| Jeff Borzello | CBS Sports | Connecticut |
| Matt Norlander | CBS Sports | Kentucky |
| Doug Gottlieb | CBS Sports | Connecticut |
| Jon Rothstein | CBS Sports | Connecticut |
| Jerry Palm | CBS Sports | Kentucky |
ESPN and CBS Sports
At least those experts know which teams are playing in the game, which is more than SportsPickle would sarcastically say about former quarterback and current Fox Sports analyst Donovan McNabb:
Counting down till tip off, who do you have? UConn or KU?

— Donovan McNabb (@donovanjmcnabb) April 7, 2014
UConn is going to be caught off guard because they haven't prepared for Kansas at all.

— SportsPickle (@sportspickle) April 7, 2014
Lost Letterman also got in on the comedic relief in its prediction, playing off the fact that Aaron Harrison has hit clutch shot after clutch shot throughout the NCAA tournament:
Prediction: Andrew Harrison gets haircut before game, switches jerseys w/ Aaron. UConn mistakenly quadruple teams Andrew, Aaron hits GW shot

— LostLettermen.com (@LostLettermen) April 6, 2014
Like many others, Alex Kennedy of Basketball Insiders foresees a close game, with the Wildcats eventually emerging as national champions:
I have Kentucky winning, but I'm not overly confident in my prediction. I could see it going either way, and I think it'll be close.

— Alex Kennedy (@AlexKennedyNBA) April 7, 2014
Even Calipari himself had something of a prediction about one of his key players, via Rush the Court:
Calipari: "James Young, I'm making a prediction he'll have [25-pt game] on Monday night."

— Rush the Court (@rushthecourt) April 6, 2014
As for the prediction here, the thought process is that the backcourt of Napier and Ryan Boatright will lead Connecticut to a national title.
The two guards shut down Scottie Wilbekin and Michael Frazier III in the Final Four game against Florida, holding the Gator standouts to a combined seven points on 3-of-12 shooting. Wilbekin and Frazier only had one total assist between the two of them and turned the ball over four times.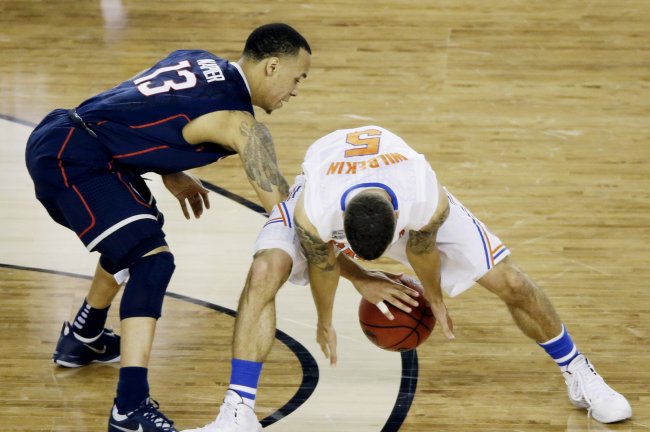 Tony Gutierrez
For as great as the Harrison brothers (Aaron in particular) have been in the NCAA tournament, the defensive combination of Napier and Boatright will be too much for the Wildcats to handle. Look for Connecticut to force enough turnovers to make up for a rebounding deficit against Julius Randle and company.
Napier will hit the most important shot of the game in the final minute, and the Huskies will be the ones cutting down the nets after a 64-61 victory.
FiveThirtyEight also thinks Connecticut, who will be facing a Kentucky squad that is still missing Willie Cauley-Stein, will win a tightly contested game:
Our bracket recalculated today to account for Kentucky center's injury. Chance of UConn win 50.126%, UK 49.874%. http://t.co/x20eFFKq49

— FiveThirtyEight (@FiveThirtyEight) April 7, 2014
Remember, Nate Silver and those over at FiveThirtyEight have something of a history when predicting tight races with incredible accuracy. Don't say you weren't warned if Connecticut wins by the narrowest of margins, just like it did in their calculation.
Let me know what your predictions are on Twitter: