Two undefeated, historic programs will clash on Tuesday night in the 2014 NCAA women's championship when Connecticut meets Notre Dame.
While predictable, unlike its counterpart in the men's Madness, fans couldn't ask for a better showdown between two juggernauts in the women's college basketball scene. Richard Deitsch of Sports Illustrated concisely puts the contest in perspective:
UConn (39-0) vs. Notre Dame (37-0). Tuesday night.

— Richard Deitsch (@richarddeitsch) April 7, 2014
Here is a look at how fans can catch the final game of the Madness:
Women's National Championship Game

| | |
| --- | --- |
| When | Tuesday, April 8 |
| Time | 8:30 p.m. ET |
| Where | Bridgestone Arena, Nashville, Tenn. |
| TV | ESPN |
| Live Stream | ESPN3 |
NCAA
The Madness couldn't end on a higher note, as captured by SportsCenter:
39-0 UConn vs 37-0 Notre Dame on Tuesday night. 1st time in NCAA Tournament history with 2 undefeated teams in final. pic.twitter.com/XfQkl5WYXm

— SportsCenter (@SportsCenter) April 7, 2014
Despite impressive seasons, as most expected, some considered the Final Four to be a major test for both sides. It was but a bump in the road instead, with Notre Dame picking up an 87-61 victory over Maryland and UConn waxing Stanford, 75-56.
This sets up a historic moment for the sport, and one that UConn head coach Geno Auriemma says simply feels like destiny, per Doug Feinberg of the Associated Press, via Yahoo! News:
It looked to me like as the season went on it almost looked like it was inevitable to happen. It was supposed to happen. Our sport doesn't have enough significant moments. ... To have the spotlight on Tuesday on two teams that one is going to lose for the first time this year, it's pretty remarkable when you think how hard it's to do for one team much less two.
Few problems stick out for UConn. Auriemma's team blazed through 11 ranked teams and their portion of the bracket with relative ease. Stefanie Dolson remains a force beneath the rim and tallied 10 points and seven boards against the Cardinal.
Breanna Stewart, the Associated Press Player of the Year, continues to be the best player in the nation and stole the show against Stanford with a game-high 18 points and seven boards of her own.
Things aren't as bright for the Fighting Irish, although head coach Muffet McGraw took home some hardware as well:
UConn star Breanna Stewart named Women's AP POY, averaging 19.4 Pts, 8.1 Reb this year. Notre Dame's Muffet McGraw is Coach of the Year.

— SportsCenter (@SportsCenter) April 5, 2014
As talented as the Fighting Irish truly are, the absence of leader Natalie Achonwa, who suffered a torn ACL before the Final Four, may end up hurting the team in a big way on Tuesday.
That said, it certainly did not hurt against the Terrapins, as Kayla McBride predictably put the team on her shoulders with 28 points and nine rebounds.
Notre Dame is known for getting off to fast starts, so it'll be key on Tuesday without Achonwa in the lineup. Five players scored a minimum of nine points against Maryland, but things won't come as easy against the best team in the land.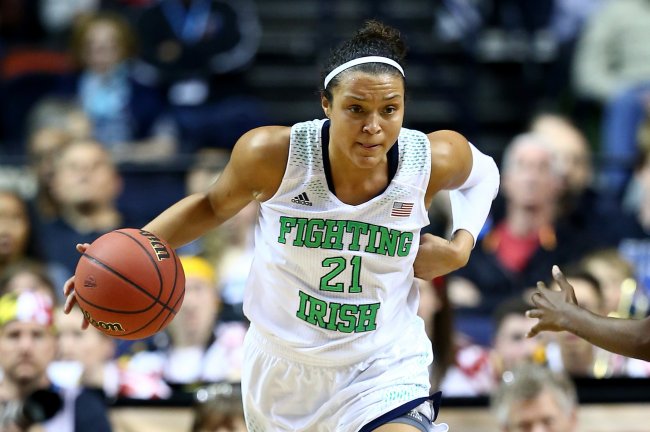 Andy Lyons/Getty Images
That's the most important thing to watch—which team can start hot? UConn sputtered out of the gates against Stanford before turning on the afterburners in the second half en route to the blowout. If that happens again—paired with a patented fast start from Notre Dame—then this one has shocker written all over it.
It's near impossible to predict. In their Final Four contests, both the Huskies and Fighting Irish shot better than 50 percent from the field. They had freakishly close numbers from long range, at the charity stripe and on the glass.
Go ahead and add in legendary coaches to the equation, too.
The deciding factor? Star power. Notre Dame is hobbled just enough that it will cost them the game. Points won't come as easy for the impressive depth on the roster against the Huskies, and Stewart will out-duel McBride in an instant classic.
Prediction: UConn 76, Notre Dame 74