With Brock Lesnar making The Undertaker's unprecedented undefeated run at WrestleMania a part of history, everything else is battling for the night's second-most memorable moment.
That was an intense battle. WrestleMania XXX lived up to the hype with almost nothing but high notes. Have a look at the results, and then I'll recap my three favorite moments from Sunday night in New Orleans.
WrestleMania 30 Results

| | |
| --- | --- |
| Match | Winner |
| Pre-Show: The Usos vs. The Real Americans vs. Rybaxel vs. Los Matadores | The Usos |
| Daniel Bryan vs. Triple H | Daniel Bryan |
| The Shield vs. Kane and the New Age Outlaws | The Shield |
| Andre the Giant 30-Man Memorial Battle Royal | Cesaro |
| John Cena vs. Bray Wyatt | John Cena |
| Undertaker vs. Brock Lesnar | Brock Lesnar |
| AJ Lee vs. The Rest of the Divas | AJ Lee |
| Randy Orton vs. Batista vs. Daniel Bryan | Daniel Bryan |
Source: LA Times.com
Cesaro's Big Night
The Andre the Giant Memorial 30-man Battle Royal was destined to be a fun match. It was, and it turned into Cesaro's launch to superstardom.
The Swiss Sensation had the most impressive moment and a fitting tribute to the legacy of Andre the Giant when he bodyslammed Big Show over the top rope to win the match. WrestleMania's Twitter feed captured the moment:
CESARO is the #WM30Andre BATTLE ROYAL WINNER, with an EPIC BODY SLAM of @WWETheBigShow!! @WWECesaro

— WWE WrestleMania (@WrestleMania) April 7, 2014
Cesaro also caught his triumph on Instagram:
The win came after Cesaro broke up with Jack Swagger during the pre-show, which makes this a real launching point for the prime of Cesaro's career.
On a night where the WWE paid careful attention to remember the great stars of past WrestleManias, Cesaro was given an iconic moment. This is going to be a big year for Cesaro.
Bryan Ends Night on a Happy Note
After much of the audience had its heart ripped out with the shocking defeat of The Undertaker—more on that in a moment—Daniel Bryan made sure fans could leave with a smile.
Of course, with Taker's streak coming to an end, it was entirely predictable that Bryan would win, but that didn't make it any less satisfying. This was one of the biggest feel-good wins in the event's history.
Bryan has been a hard-working fan favorite who was overdue to be WWE world heavyweight champion. He is now, and he had to accomplish the feat in spectacular fashion.
First, he had to beat Triple H in a singles match, and he did so with a clean win. He then had the night's final match against Randy Orton and Batista, and he won that one by forcing Batista to tap out.
It was an epic and fitting way for Bryan to claim the title, and the fans loved it. WWE caught the moment:
He has done the unthinkable! New champion Daniel Bryan!!!! #YesMovement #WrestleMania https://t.co/2Sy0nJwV3H

— WWE (@WWE) April 7, 2014
He came, he saw, he conquered! @WWEDanielBryan #WrestleMania pic.twitter.com/caBEtDfriL

— WWE WrestleMania (@WrestleMania) April 7, 2014
His win was definitely popular. Positive tweets about his win flooded Twitter and included the following two from fellow company stars:
The impossible dream @WWEDanielBryan is #Wrestlemania30 @wwe #newchampion #wwe #YesYesYes #YesMovement #amazing

— Devin Taylor (@DevinTaylorWWE) April 7, 2014
YES! Finally! What a night for Daniel Bryan! Congratulations! #WRESTLEMANIA

— Kofi Kingston (@TrueKofi) April 7, 2014
The Streak Ends
An odd and unique atmosphere filled the Superdome as a third F-5 from Brock Lesnar ended Undertaker's 21-match unbeaten streak in WrestleMania.
I could go on to try to explain this atmosphere, but I could not do the moment as much justice as the following tweet from Mushpower:
This guy just lost his bankroll on the undertaker pic.twitter.com/9N9vodvbEP

— Mushpower (@spbetting1) April 7, 2014
It was a fantastic match as the two physically imposing wrestlers went to battle.
The importance of The Undertaker's streak isn't really rational, but it is also undeniable. The Taker is an icon, and that streak is embedded in the childhoods of countless of wrestling fans. There was always the reality that the streak would come to an end, but it was hard to see it ending like this.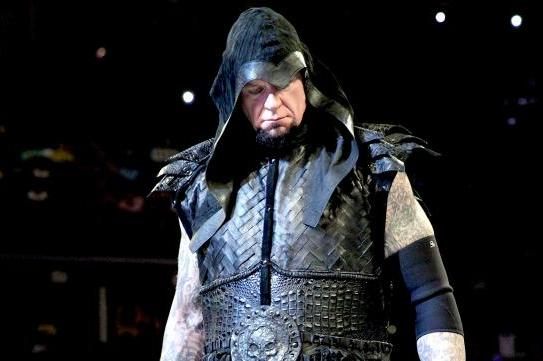 Photo: WWE.com
Lesnar is a popular part-timer, but there is little plus side for the company with this victory. Lesnar isn't going to be around to build on the hype. It is hard to see the company's motivation behind this result.
What is easy to see is that the streak is over, and WrestleMania XXX will be eternal because of it.