Likely and Unlikely NASCAR Drivers on the Move
Well, this is my first article here on Bleacher Report. It's great to get reaction to my favorite thing about NASCAR, silly season. I feel bad enjoying it, as this is a guys career that gets played with every year, but I'm a guy that loves change about 90 percent of the time. I like to see guys on the move, to see things such as Mark Martin in a Chevy, Dale Jr and Jeff Gordon teammates, Tony Stewart driving a Toyota as he did last year, I'm just a fan of seeing how things will play out, if the changes made in each season are a dream come true in alignment, such as Mark Martin at the Hendrick organization, or if it'll become a nightmare as it has with Jamie McMurray at Roush Racing. Anyways, here's my thoughts and opinions on this silly season, and granted I know there are some long shots but after all the years I've been watching this sport, some moves have made my jaw drop in disbelief! Anyway, here are some free agents and possible free agents that I've been watching.
Best Free Agent Driver: Martin Truex Jr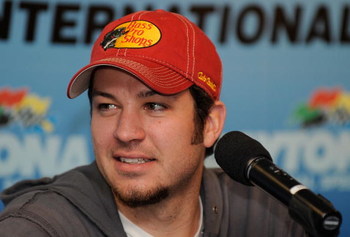 Just to let you know, I'm ranking these by who I think is the best to the best at the bottom of the barrel. I always figured that Truex Jr. would eventually leave, although I thought it would've been last year, but earlier in the season, I thought that he could very well replace Joey Logano for next season, but obviously Joey has picked it up so he's safe. I felt he could really relate and represent the Home Depot market and could possibly bring Bass Pro with him to off set Home Depot sponsorship cost and at the same time Bass Pro could cut back as well, but Bass Pro on a Toyota just didn't that as a good combo, but I thought it could happen. Well, obviously Joey Logano, who I originally thought would be moved back to Nationwide full time just for next year and brought back either in a fourth Gibbs car, or replace Hamlin or Kyle Busch as their contracts are up after 2010, more than likely Hamlin as I think he'll be elsewhere, but if Busch went to Formula One which was rumored, he'd fit there, but that's unlikely to happen.
It's pretty obvious to me that Truex will be at Mikey Waltrip Racing, not a smart move in my opinion, but MWR has much more potential than EGR does but a fourth Gibbs with no guaranteed top 35 spot is a better option than the Napa ride. I look at RCR's fourth team, and that was the knock on that ride, and yea, he got owner points he bought from Earnhardt's team, but i looked at it and had they not had them points, even with as horrible as they are, they would've qualified for the first five races and would've been safe of making the races and would've been securely locked in the top 35 in owner points.
Who would've sponsored that fourth Gibbs car? Well, Farm Bureau Insurance is to sponsor a handful of races in a fourth Gibbs car, so i say maybe Gibbs talks M&M's into taking full sponsorship of Busch's car and move Interstate Batteries to split with Farm Bureau for the fourth car. Who drives it now, well, McMurray is the second on my list behind Truex so he could be an option, but i dont see Marc Davis or Brad Coleman, but they moved JJ Yeley and didnt work, but they did the same for Logano and Hamlin and as of right now it's working out.
End opinion: Will be in the 15 Napa Toyota at MWR
2nd Best Free Agent: Jamie McMurray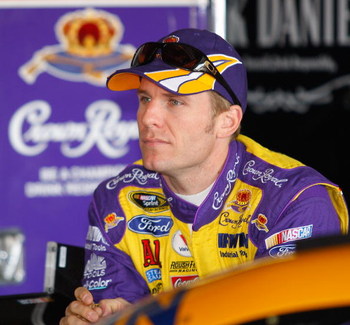 Well, let me just start by saying, if he's the odd man out, I don't see him at Yates Racing, I think he'll be gone altogether. I like McMurray, he's my favorite driver at Roush, but as much as I hate to defend Roush, as I hate how he's ruined Ford Racing in NASCAR by stealing all Ford support, he's done everything to get McMurray running right, just look at all the crew chief changes. He ruined Carl Edwards team in 2007 to give him his worst season and they went winless and missed the Chase by giving McMurray his crew chief, went and bought Larry Carter from MWR, bought Donnie Wingo from Ganassi, and started him with Kurt Busch's champion crew chief Jimmy Fennig, and nothing has worked.
To me, McMurray has potential and fits as top talent behind Truex this off season, as for one of the drivers I'm sure is a free agent, but whether anyone is willing to admit it or not, going to Yates, if one of those drivers were to do that, would be taking a step back in their career. Compare Bobby Labonte and Paul Menard to the Roush organizaton and you can see the difference. The only driver I could see moved to Yates could be David Ragan, but they'd move him into the 26 car as the six car WILL NOT be moved, that's Roush's cherished first car and wont be moved and UPS left Yates for a reason, and is not going back there, I'm sure they are the attitude of been there, done that.
Now, if David was to be moved, that would open a top ride and could lure a name not even thought of to be out there that's running horrible this season. You have to remember, Stewart had another year left on his contract he wiggled out of and he had a great love for Chevy, people knew he was not happy with the move to Toyota. Some have talked about Kahne's unhappiness, and I agree he is, but I see RPM moving to Toyotas and is going to boost RPM's team and Kahne will get more technology and speed and it'll keep him happy to stay. Not to mention Bud wants and loves Kahne, don't know why, but UPS before going with Dale Jarrett to MWR, they tried to get on Kahne's car, but Dodge at that time wouldnt budge. Dont see Kahne, but how bout Harvick?
Harvick has just lost his manufacturer support and obviously he's running horrible at RCR, I know they all are, but who was supposedly the top driver at RCR at one time, is now the worst driver in the stable, even below Casey Mears surprisingly. They've already made a change of the whole crew but not much improvement and he hasn't won a points race since winning the Daytona 500 in 2007 so a two year drought isn't making him too happy. Maybe Roush does what Hendrick and JR did, combine Nationwide programs, and in Harvick's case, Truck team as well, and helps get Harvick switched into Fords alot easier. Harvick could fit the marketing UPS would want and he's supposedly considered one of the top drivers in the sport, I don't see it, but that's what they say.
I know that's a long shot, but hey, who saw Stewart at Haas and Jr. at Hendrick, or even this, Mark Martin in a Chevy? NOT ME! But let's say Harvick leaves, it opens up a RCR ride, and guess who RCR went after for the Cheerios ride last year? Jamie McMurray! His buyout was way too expensive last season, and if RCR is interested, which I think McMurray was a better option that Mears, I think it'd be a good pick up. Thought with EGR and RCR ties in engines might draw an interest in Truex to RCR, that's not happening now, so there's been an interest there before between McMurray and RCR, and the last driver from Roush to RCR worked out, that being Burton, who's RCR's top driver and rightfully so, maybe McMurray would take that into consideration, and even though RCR is on downtime right now, still better than Roush leftovers at Yates Racing.
Also, wanted to say that I think the 26 number, the owner points, and maybe David Ragan, will be the only things moved to Yates, as I don't think the sponsors will be moved over there with them. Right now, with sponsorship so tight, there are much better options as far as teams to go to over Yates Racing. I hear rumors of maybe Crown Royal going to split sponsor with Kenseth as one is needed to split with DeWalt as they are looking to cut back from what's rumored. Also, there have been questions with Biffle's sponsors as how much there is and Aflac was selling some of their races off during the off-season, talking to Subway and Army(although Army went to Stewart Haas), and I think Irwin would be interested in both Biffle and/or Edwards over a third Yates car, even with David Ragan. Also, Gibbs fourth team or splitting Logano with Home Depot's car, Stewart-Haas third team or spliting with Army on Newman's car, or Penske's 12 car(which I think will be open next season) or a fourth Penske car, all would be better options than Yate's team.
End opinion: Will be considered and drive for RPM, RCR, or Penske Racing.
Possible Free Agent: Elliott Sadler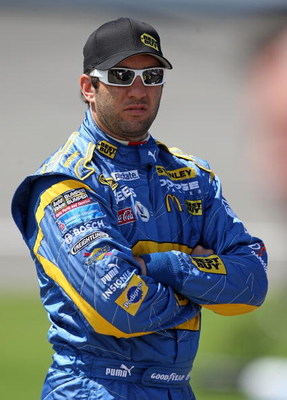 Let me say, his contract is to run through next season, technically, he's not to be a free agent after this season, but after what has transpired after this off season, and what's happened this season with how he's running right now, him staying at RPM is looking bleak, and if he does become a free agent, I'd rank him the behind Truex Jr. and McMurray. If RPM switches to Toyota, does it tend to maybe help Reed and Sadler pick it up, it could, but right now Reed is looking much better than Sadler, and these are the only drivers I like in the RPM stable, so I'd like to see them both stay, but if they had better opportunities, I'd love it even more, but that seems unlikely. The first place I could see Sadler landing is at Penske Racing. I think Dodge likes him, I think with how much power and speed Penske has and how they've improved, I think Penske could grab some attention. I believe that Stremme will be out, he's the worst car at Penske, behind Hornish Jr which surprised a lot of people(I'm a fan of Hornish so it puts a smile on my face to see how he's running) but from what I hear, Stremme has only a one year contract and also wasn't even the first or second choice for that ride as rumored, Truex Jr. and Keselowski was offered that ride before Stemme was.
What options could Penske have? Well, McMurray and Sadler are the first two that jump out at me as both been representatives of Dodge and were fairly marketable for the manufacturer. Although Penske has been very impressive this season, it's not a ride that's going to steal a top name that's underperforming like Roush or possibly Gibbs could like a Kahne or Harvick, and Keselowski could consider it, but I doubt Brad would take it unless desperate which he could be. Justin Allgair is in Nationwide, and Verizon is happy with him and love his marketability, as Verizon has technically got another year of obligation to sponsor the 12 car, but if Penske could find one to replace them to get a name on the car, I think he would.
In detail, Sadler's options could be limited but i think he could get another top ride lined up for next season. RCR and Gibbs would be longshots, Roush too although UPS use to have some ties to Sadler from his days at Yates, he did some commercials with DJ there so UPS must've liked him a bit, but I also heard Bud was in talks of going with Sadler at RPM before they decided on Kahne, so maybe if UPS could get Kahne, maybe Bud would be interested in Sadler, Best Buy and Stanley from what I hear kept Sadler in the 19 car. Sponsors really really like him from what i hear. Also, wanted to say there was rumors around the garage at Michigan that RPM was looking at more cutbacks and that they may have to shutdown a team by August, which it was rumored they would go with cutting Reed Sorenson, however, there was also talk that AJ Allmeindinger was looking elsewhere for next year, and alot found that odd since he just worked hard to get an extension through 2010 with RPM.
End opinion: I think if he is let go Penske Racing is most likely to pick him up.
4th Best Free Agent: Brad Keselowski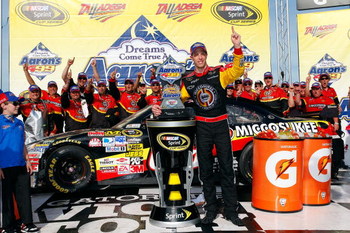 Let me just start by saying, I'm not a fan of Brad and honestly, I think he's a bit over-hyped because he drives for Dale Jr., however, with such a small number of drivers available this season, he falls a number four for talent and is available. So with that said, where does this kid go, I have no idea! My first guess would be for a third team at Stewart Haas team, maybe with GoDaddy or some other one, who knows. I really believe that Bass Pro will be with the US Army on Newman's car next year, it's a cheap option for Bass Pro, they love Stewart as is, and Newman fits their outdoorsman profile they aim for, so I think that'll be set and done. Also, it keeps Brad in the Hendrick family, to an extent, and it gives Brad a guaranteed seat, as I'm sure Stewart would move his owner points to that car and use his past champ provisional again which he really didn't need to use at the beginning of this year, he was fast enough not to need it. Stewart would either use the 25 number from Hendrick, but more than likely the number four he wanted to use for Newman before Morgan McClure through a temper-tamper to keep it, and only tried to attempt one race, which was at Talladega which they failed to make the race.
Maybe Roush takes a chance on him in the six, he's shown more potential than David Ragan, still personally think Brad's overhyped because of who he drives for , and I'm a huge Dale Jr. fan, but I don't see it, but UPS will probably make the final call on that. Penske wanted him last year, could pursue him again, whether he lands him depends on what's on the table for Brad for next season. Don't see JR Motorsports move up to Cup unless they work out a deal with Stewart-Haas for like split ownership of a third car, still gets a guaranteed starting spot as what's a selling point for sponsors, but with manufacturer support pulled from Jr., and as bad as they've struggled trying to find sponsors since Navy left, and from what I hear, it's too expensive to run in the Nationwide series for Jr now, Brad feels he's ready for the Cup series, and with the new Nationwide COT car coming, there is only one driver I think JR Motorsports could land to stay in Nationwide next year.
Also, RPM and RCR would be long-shots for Brad's services too, but again never rule anything out, especially if RPM gets Toyota support and wants a future star to replace Sadler over there, especially since they have no potential developmental drivers in their stable.
End opinion: Will probably drive for SHR in 3rd car until a Hendrick car opens.
Unsure Future Nascar Driver: Danica Patrick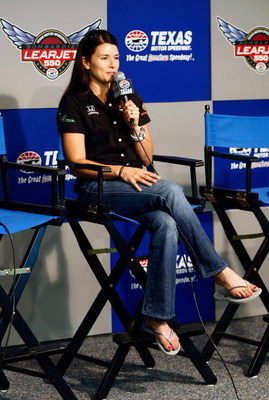 Now, I'll be honest, I dont think she's coming to NASCAR. I think she's just using it as a bargaining chip to gain more from a team in the IRL and the only reason she is a top candidate in NASCAR is because of the slim pickins this down season, the economic times hurting the sport so she could bring sponsorship dollars, and would help NASCAR on their diversity argument. I don't think she has what it takes to cut it, at least not in the Cup Series and I think if she decides to go to NASCAR, she needs to do Nationwide for a full season next year to help her get a better feel for stock cars.
Why the Nationwide Series, well first let me state, she's open to it but has said she wants to go to strait to Cup which i think is a horrible idea. Like I stated, she needs the experience to deal with a stock car, but I think she could bring some great exposure to Nationwide Series, which desperately needs it. Also, look at the other drivers that have jumped from open wheel strait to the Cup series, they have majority struggled, as only Montoya, Hornish Jr, and Ambrose has had just mild success, but enough to validate why they are still in the Cup Series, and compare their open wheel numbers to hers, it just isn't even close. If she goes and talks to Carpentier and Francitti, I'm sure they'd tell her she should consider starting in a lower series, and she's said she was going to talk to Stewart and Jr. and I hope they tell her the same. It's the path that Stewart took starting out in the Nationwide series and look where his NASCAR career is now.
I see two viable options that best fit Danica to translate to NASCAR. First would be Stewart-Haas/JR Motorsports/Hendrick route. First off, her ties to GoDaddy.com as theirs to JR Motorsports I think could be a starting spot. It could be what keeps JR Motorsports in the Nationwide series as it'd give them the funding and top sponsorship to offset the loss of manufacturer support and the new COT car coming into Nationwide series. Hendrick equipment right now is the top equipment to be in as it's dominating . Brad is ready for Cup which opens the JR Motorsports ride and like I said, she respects and was to talk to Stewart, maybe it's the direction she looks at to jump to after JR Motorsports, maybe replaces Brad in that third car if Brad was to go to Hendrick Motorsports, maybe replaces Jeff Gordon(with back problems), Mark Martin(retires after his contract expires) or long-shot Jimmie Johnson(contract expires after 2010 season but doubt he leaves) and if a couple of those guys leave, both Brad and Danica go to Hendrick, but I doubt that happens.
The other team I think would fit her well is Penske Racing. First off, like Francitti at Ganassi when he went to stock cars, if it doesn't work out, she has a back up plan to get her back into IRL, if she wanted. But like Hendrick/JR Motorsports, Penske could start her out in Nationwide series. Just move Justin Allgair up to replace Stremme in the 12 Cup car, and he already has a good relationship with Verizon who sponsors both the 12 Nationwide and Cup car. Justin has shown great improvement and Penske could feel he has enough experience to move to Cup. Even if Penske wanted to keep Stremme, and I don't know why he would, if he could find new sponsorship for a fourth team, he could Justin into a new fourth team, and give the owner points from Kurt Busch's car to that fourth car and Kurt could rely on his past champ provisional like he did when Hornish came into the sport.
The only thing is to be careful because if Stewart did that, Stewart's champ is newer than Kurt's so Stewart would be in line for the past champ before Kurt, but it's an option. Move Danica into that 12 Nationwide Verizon car, which is a fully sponsored car with a top sponsor in Verizon, Danica has represented Cell phone companies well so I'm sure Verizon would be happy to have her, and then after a full season in Nationwide, move her up to Cup , maybe in the 12 Cup car with Verizon in their limited role on sponsorship on that car, or like I stated earlier, start a new team with her and move owner points, as Stewart wouldn't I think start another team that year, as it'd be the year AFTER next season. The only problem is is if you think this is a dead year for silly season, next season, for the contracts that expire at the end of 2010 season, there is some hot top names that will be on the market.
There is a lot of teams that will be having some drivers who's contracts are going to expire at that time. Contracts who expire after the 2010 season are Gibbs drivers Kyle Busch and Denny Hamlin, RCR drivers Kevin Harvick and Jeff Burton, RPM drivers AJ Allmeindinger, Kasey Kahne, and Sadler(who like iIsaid will be probably gone after this season), Hendrick drivers Jimmie Johnson and Mark Martin, Roush may have Kenseth's expire and there might be some others, but I don't believe all these drivers will be moving on. I think RCR will lock up Jeff Burton, I think Hendrick will lock up Johnson, and Gibbs will keep Kyle Busch. Mark Martin will probably retire, and if RPM switches to Toyota, then I think if they get the support they need to improve the team, Kahne and Bud could be back. As for others, I could see Harvick and Hamlin at other destinations next season.
Other teams that could have interest in Danica is Ganassi, which has been rumored lately, but only for IRL as I hear Ganassi wants to keep Danica far away from NASCAR, which I think is ridiculous, as his Cup team is in much more dire straits and is on the verge of falling apart and she could bring sponsorship to his Cup team, which it desperately needs. I don't see it a good option for Danica as far as Cup, but if it failed, then Ganassi could move her back to IRL, just as he did for Francitti. Also, Roush has told her he would help her translate to Cup if she ever decided to give it a try. Now he didn't say she'd directly drive for him, and I think she'd be a long-shot to end up in a Cup car for Roush directly, and isn't worthy to replace David Ragan but like I said earlier, if UPS wanted her, they may have enough pull with Roush to put her in the six car, but Roush has yhree Nationwide teams and could put her in one of them.
End opinion: Probably won't even be in Nascar next season.
Unlikely Moving Free Agent: Kurt Busch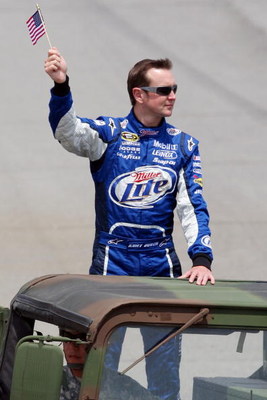 Another guy who's contract expires after this year that I thought would definitely be out the door this season would be Kurt Busch, but from the horsepower improvement this season and with him being back in the Chase and actually at one point leading the points in the Cup series, he seems happier this season and I think he isn't going anywhere. As much as I'd like to see another driver in the Miller Lite blue deuce, it wish it would happen and although there is a slight chance Penske could have another manufacturer on his cars, I think he'll be the only Dodge Cup team next season.
End opinion: Will be back next season driving the Miller Lite Blue Deuce.
Unlikely/Unsure Nascar Driver: Juan Montoya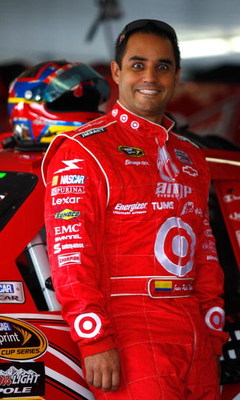 Now Montoya could cause a bit of a stir in some silly season theories I have, probably not likely but some good solutions for some teams. As of right now, I'll say that he'll be the only EGR team next year and with EGR not being able to attract sponsors and isn't even close to landing top drivers, Montoya and Target will all EGR will have next season. I'll also say, if GM decides to start making cuts in their Cup budget, guess who'll they'll start with, EGR, because they are the lowest on the totem pole and really have no potential. So what's Ganassi's best option? Well, in my opinion, have another team, merge(pretty much sell) to another team that's wanting to expand.
First one I could think of that really should do this is Gibbs. They desperately want to expand to four teams, but with very little sponsorship options due to the economy, no owner points to help secure sponsors into backing them, and no real driver waiting in the wings to move up, and their past interest in Montoya to replace Stewart last season, it seems like a logical fit. Chevy cuts ties with Ganassi, Ganassi sells team to Gibbs, put his name as owner to get owner points, get Target sponsor and a driver that people has potential if he was given the right equipment(I'm not one who thinks that, but some do) and it's a logical fit. The only reason I don't see this happen is the fact that Gibbs wouldnt even consider giving Stewart partial ownership to entice him to stay at Gibbs as they like to think of themselves as a family business, so that could hurt the potential of this happening.
Another possible team that wouldn't be as desperate to need it as Gibbs, but might work for is Penske Racing. They don't necessarily need the owner points to start a fourth team, as they have a past champ in their stable in Kurt Busch, and Penske has a very good developmental driver he could move up in Justin Allgair, but the sponsorship would be an enticing incentive, and maybe Dodge would like to have Montoya back in their camp. This is even more unlikely to happen simply because of the rivalry in IRL between Penske and Ganassi and have questions of it creating a problem for them in the open wheel series. The Gibbs option seems more likely and a better fit for both organizations than the Penske merger.
One iIjust thought of just today, and again could be unlikely like the Penske one, is the team that EGR shares their engine program with, RCR. There has been alot of questions around not only Casey Mears future with RCR, but with Jack Daniels as well. There was supposedly some negotiations between UPS and RCR and supposedly Jack would be moved to Burton to take some races to replace ATT from when they left, but Jack had a contract and were very stubborn in enforcing it on RCR. UPS really wanted to team with RCR and RCR wanted them, probably because they offered more money than JACK, but just couldnt get it worked out. Maybe RCR and EGR just merge into one, Target and Montoya and possibly the one, eight, or 42 number replaces JACK, Casey Mears and the 07 number as RCR only runs it due to the Jack Daniels sponsorship. Again, RCR has sponsorship, has the owner points and has a driver, but Target could offer more money, and Montoya a lot feel is a better option than Mears, as to me both Mears and Montoya are not very good options as drivers. Also, as far as maybe sponsorship for a second team, M&M's with Yates at one time had the same company sponsor two cars, just as Red Bull does, so it's possible that Target could step up and sponsor two cars at EGR, maybe unlikely, but possible, however, I still don't think they'd attract a top name driver to come to the organization.
End opinion: As of right now, no indication he'll be anywhere else next year.
Locked up Free Agent: Brian Vickers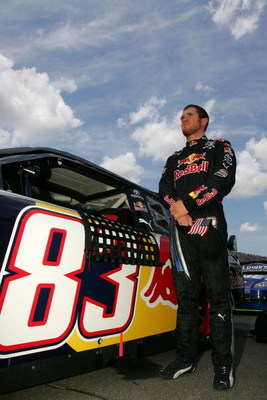 Brian Vickers was to be a free agent this season but I knew he wasn't going anywhere as they are happy to have him and he's happy where he is, both stink and just works, go figure. Also Scott Speed will get one more season, but he could be replaced if Red Bull found another driver they were interested in, like Harvick who they went after before Vickers in 2006 and maybe Hamlin could land here. Also, rumors are around that maybe Red Bull switches to Chevy, and i think even though Chevy is the most successful manufacturer in the sport, i don't see Toyota and Red Bull splitting up, not because of the financial trouble of GM, just because Toyota helped Red Bull step into the sport and I see Red Bull sticking it out with them. Wanted to say also, that Stremme will once again be run out of the Cup series, maybe back to Nationwide if he's lucky.
End opinion: Pretty much has been locked up by Red Bull for four more years.
Retirement Approaches: Mikey Waltrip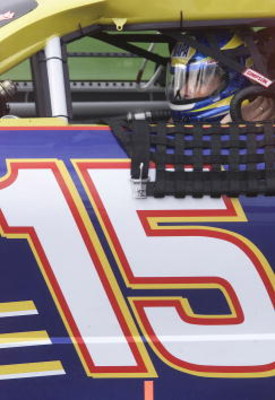 Also wanted to say that even though I don't think it's a smart move for Truex to go to the Napa ride, it'll finally be nice to see Waltrip out of Cup, even nicer if he'd just give it up completely, but from what I hear he wants to run part time if he does decide to give up the Napa ride, but a part time Waltrip is better than a full time washed up Waltrip. I also heard that Waltrip wants to keep the number 55 for himself meaning he'd have to get another number, and the only other one he had, the number 44, is at RPM now, so if he wants to go with a double number, I think the only one he could get would be the 66 number. MWR already has the 00, Gibbs has the 11, Penske has the rights to the number 22 which he has stated that he'll use for when he starts his fourth team in the future, the 33 is at RCR, RPM has the 44, MWR has the 55, the 66 was vacated by Stewart-Haas for the 14 or 39, the 77 is at Penske as well, 88 is of course Dale Jr's at Hendrick, and Roush has the 99 on Carl Edwards car, which Roush could give Carl the 26 number instead of moving it and sell the number 99 to MWR as they run that in the Nationwide series, but honestly that's not happening, sponsors of Carl wouldnt go for it, Roush has a long history with that number, and even if he was willing to sell it, I'm sure it'd be an huge amount of money that I don't think MWR could even consider paying for it.
Personally, I think it'll be the 15 number for Truex and Napa, as Mikey tried to deal with Teresa when he left to take the number with him, but like Jr. and the number 8, Teresa was a pain about it, but since EGR doesn't look to be bringing it back anytime soon, it's available, Napa has history with it, Mikey has history with it, and even though I liked it better on the side of a Chevy, I think it'd be a better fit for Truex and just let Waltrip have his 55 number, but if MWR is so set on double numbers, then the only one he'll be able to get is the 66, which his brother did run at one time.
End opinion: ABOUT TIME!
In Summary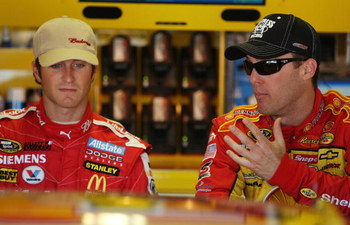 So that's my latest on this year's silly season. Depending on a big name driver, like Kahne or Harvick, or a top ride such as the UPS six car opens up, it's going to be a dull year, not necessarily because of the economy, although it isn't helping, but because not many contracts of top drivers are up this year. Also, the manufacturers who might land other teams, such as maybe RPM to Toyota, which if happened would actually give me some Toyota drivers to pull for, as Truex, Sorenson, and if still there, Sadler would become my favorite Toyota drivers, but to see Bud on a Toyota or even Miller Lite if Penske went to Toyotas, just seems strange, or maybe Red Bull to Chevy, even the manufacturer switches are like silly season to me which I enjoy.
Well, if you've read this article, thanks for taking the time. For a small silly season, I hope I broke it down well enough, and please leave your comments, whether youu agree and disagree. I do understand some are long shots like Kahne, Montoya, and Harvick, but the one thing I've learned from this sport, these drivers can end up just about anywhere no matter what people think as far as loyalty, whether to owners(Stewart and Gibbs), manufacturers(Mark Martin and Chevy), or even unlikely teammates (Earnhardt Jr. and Gordon). Thanks for your interest and comments if you leave them.
Keep Reading