Arsenal's 3-0 defeat at Everton felt epochal. Whatever happens between now and the end of the season, serious questions must now be asked about whether Arsene Wenger is the right man to take Arsenal forward.
For so long, this looked like a promising season. Wenger broke the habit of a decade to spend big on Mesut Ozil, and Arsenal led the table for much of the first half of the campaign.
However, that feels like a good while ago now. As OptaJoe report, Arsenal have conceded exactly half of their goals this season in games against the teams nearest to them in the table.
20 - Half of the 40 goals Arsenal have conceded in the PL this season have come away at Chelsea, Everton, Liverpool & Man City. Thumped.

— OptaJoe (@OptaJoe) April 6, 2014
When Arsenal led Everton back in December 2013, they were set to go seven points clear at the top of the league. They were pegged back by a late equaliser from Gerard Deulofeu, and they've arguably never quite recovered.
Only a point now separates the Gunners from fifth place, and chasing Everton have a game in hand.
Wenger: "Our performance was not convincing. Everton were better than us."

— Phil Kirkbride (@philkecho) April 6, 2014
On this evidence, the Toffees are undoubtedly the form side. Arsenal were abject at Goodison Park. Everton had more pace, more power and plenty more desire. It was deeply concerning to see Arsenal perform so meekly in what was undoubtedly a hugely important game.
Is it a question of motivation? There's no doubt that the Arsenal XI contains plenty of talented players.
Even taking into account the injury problems that have dogged the second half of their season, the Gunners were still able to field a team capable of holding their own against Everton.
Distressingly, the players didn't look as if they were playing with any real conviction. The manager's motivational powers appear to be fading.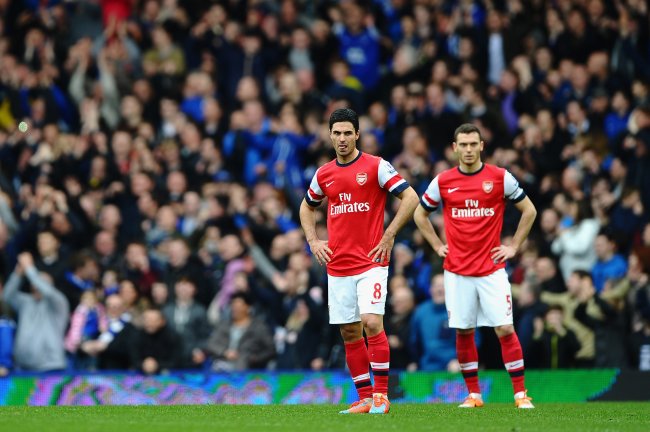 Laurence Griffiths/Getty Images
With momentum comes belief. In the first half of this season, Arsenal played with the charisma befitting a team that topped the table. Now, they're dramatically unravelling. Their capitulation in individual games is a microcosm for their season.
Not only is Wenger failing to motivate his players; he is failing to organise them effectively too.
Without Kieran Gibbs and Laurent Koscielny, Arsenal's defending was shambolic against Everton. Roberto Martinez caught Arsenal off guard by deploying Steven Naismith through the middle and Romelu Lukaku on the right. Wenger and Arsenal could not muster a cogent response.
With the Gunners trailing 2-0 at half-time, many Arsenal fans expected a forthright set of substitutions from Wenger. Instead, he sent out exactly the same XI for the second period.
The manager surrendered every bit as meekly as his players did.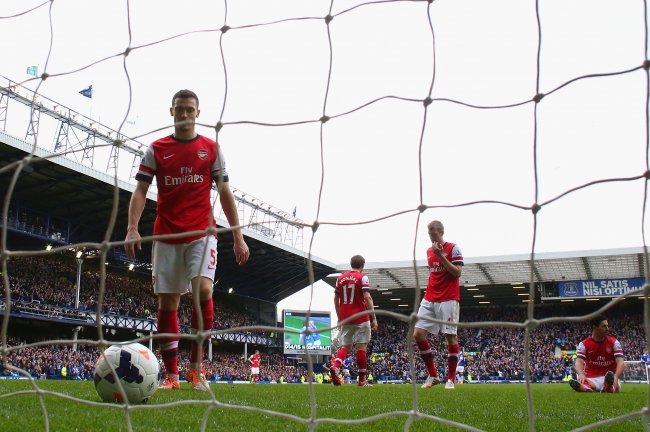 Alex Livesey/Getty Images
Wenger's contract expires at the end of this season, and doubts persist as to whether he will remain at the helm for 2014/15.
The expectancy has always been that Wenger himself will make the decision as to whether he quits or continues. On the evidence of recent weeks, the Arsenal board should certainly be considering their contingency plans.
Wenger is an intelligent man and will surely see that the players are not responding to his commands. A fresh face may be required to get the best out of the current squad.
The fixture list still favours Arsenal. They have a great chance of finishing in the top four and could yet win the FA Cup. However, winning the Premier League under Wenger feels increasingly unlikely.
When it comes to the crunch, Wenger's Arsenal tend to crumble.
James McNicholas is Bleacher Report's lead Arsenal correspondent and will be following the club from a London base throughout the 2013-14 season. Follow him on Twitter here.