Encore Presentation: People of the U.S. Open
Okay, I really did walk the course of Wednesday.
Please see my other slide show, "Holes of the U.S. Open", for proof.
Invariably, I met some more nice people along the way and felt I had to do an encore presentation of the people I met at the U.S. Open.
Like the folks I met on Tuesday I found the people just too interesting to pass by without a little conversation, and a chance to get to know them.
Here are thirteen pictures direct from the U.S. Open to you.
Enjoy!
Andy Reistetter is a freelance golf writer. He follows the PGA TOUR volunteering for the tournaments and working part time for NBC Sports, CBS Sports, and The Golf Channel.
He resides in Jacksonville Beach, Florida near the PGA TOUR headquarters and home of The PLAYERS Championship at TPC Sawgrass in Ponte Vedra Beach.
He enjoys pursuing his passion for the game of golf and everything associated with it.
He can be reached through his website www.MrHickoryGolf.net or by e-mailing him to Andy@MrHickoryGolf.net
Two Boys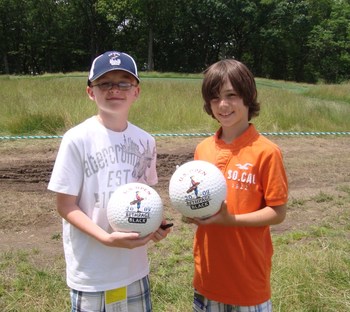 Near the 13th tee I ran into two nice boys with what I thought yesterday were soccer balls. Come to find out, they are souvenir replica golf balls about the size of soccer balls. Play on, and play through young men.
Go Phil and Amy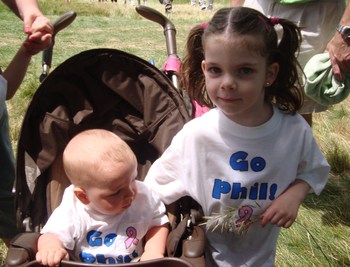 Down in the hollow on the par-3, 14th hole, I saw a young family coming across the walkway. They were all dressed alike encouraging Phil Mickelson to play well during this U.S. Open, and letting his wife Amy know she is in their thoughts.
The t-shirts read, "Go Phil and bring home that silver trophy and Amy from the hospital ASAP".
Isn't the baby adorable?
Little Baby Boy with Two of Three sisters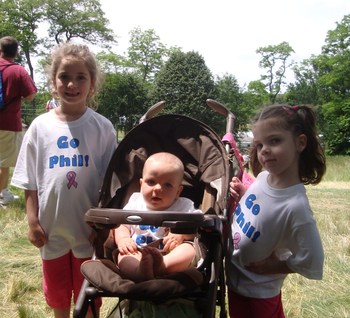 Here is a little boy with two of his three sisters. The third sister was too shy and didn't want to pose along with her siblings. A word to the wise: Mom and Dad, she is the one to watch out for ten to twelve years down the line.
No Cooler Gang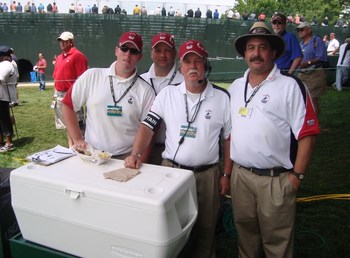 This is the "Cooler Gang" on the 17th tee. The gentleman second from the right with the captain armband is a remarkable person named Skip Schumeyer.
The NBC host and commentator was on his way to interview him for a feature story. Tim Rosaforte did an article on him in Golf Digest.
Skip organized the wearing of pink ribbons by the marshals in support of Amy Mickelson, and all women impacted by breast cancer.
Skip lost a sister to the disease.
He is the retired fire chief for the Farmingdale community.
There is also an article and picture in the U.S. Open program where he is wearing a shirt embroidered "Ex Chief."
Skip, you are always a skipper-the Chief.
Guys like you never retire from life, you go on to the next thing to inspire us all.
Father and Son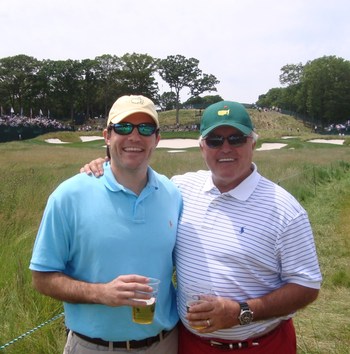 Here's father Jerry Barrett on the right with son Bo on the left.
They have been celebrating Father's Day together at the U.S. Open since 2003, in Chicago when Jim Furyk prevailed.
Now Bo has kids of his own so they come earlier in the week.
What a nice tradition-hint, hint, hint.
Lady Marshall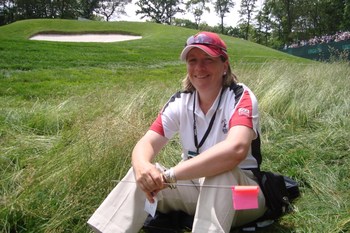 Here's Anne Lloyd from England sitting down on the job, but only when there are no golfers.
She's from the southern coast of England, but no, she is not connected to the Lloyds of London.
She and the other volunteers from the Executive Women's Golf Association are marshalling hole numbers fourteen and fifteen.

Though their goal is to encourage women to take part in the game of golg, interestingly enough, you don't have to be an executive or a woman to be part of that organization.
Bubble Booth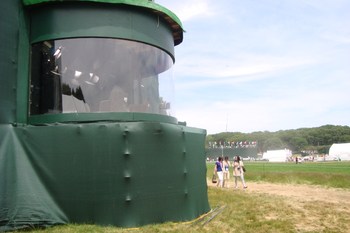 Not a person but a bubble booth underneath the NBC tower on the 18th fairway.
Where is the Bubble Boy?
(Ed. Note-reference to Seinfeld sitcom.)
Hiding a Phone along the Ropes.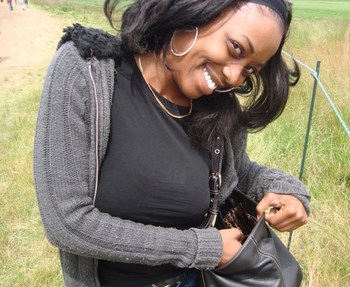 I snuck up behind this woman along the ropes on the 18th hole.
She was obviously concealing a cell phone in that horrendously large purse and actually texting while on the golf course. This is a federal offense at a U.S.G.A. event, more so than using your cell phone while driving a car in New York State.
Match.com a.k.a. The PGA TOUR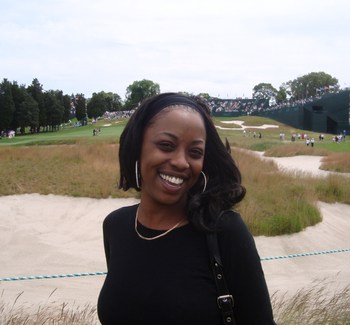 Evidently this beautiful woman is searching for a husband. I asked her why come to a U.S. Open to find one, and her reply was, "There are no slouches here."
Though not a golfer, she would not get mad if the guy was a golfer and went golfing often.
I told her that made sense, since most of the guys here at the U.S. Open likely are golfers.
"Single, ready to mingle and bilingual" is how she described her status.
She was at Bethpage in 2002, though married at the time.
Evidently the guy golfed too much.
She is from Panama and agreed to help me start my new business of matchmaking at PGA TOUR events.
This gal is major, no regular-season FedEx Cup babe here.
Her only criteria in a man is "tall, dark and handsome."
Gentlemen help me get my business off the ground.
She is Available... Call Now!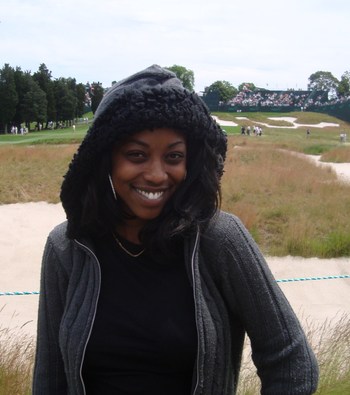 Ms. Yocana has a great smile even in colder climates.
Periscopes at the Open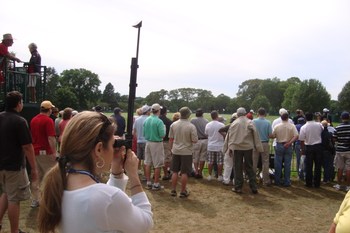 Periscopes are back for the U.S. Open.
Though outlawed at some events, they are perfectly acceptable here at the U.S. Open.
My only question is, why stand so far back?
Evidently the new models have adjustable zoom lenses.
Versatile Instrument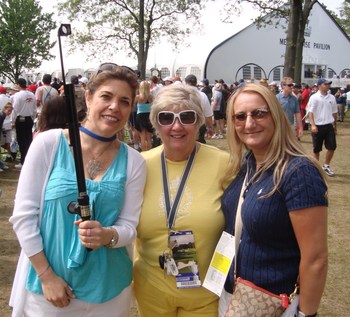 The two other ladies were impressed by her sales pitch, too.
This instrument is also useful if you have raccoons in the attic.
I get that it would allow you to peer up and see them, but do not understand how it helps get rid of them once you see them.
Scooter Man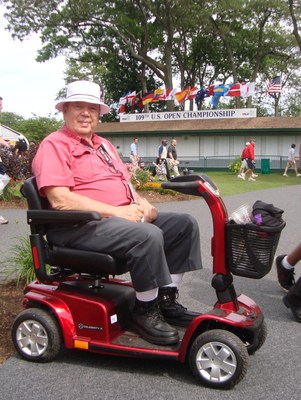 This is Dick Maebes and he had a great day at the U.S. Open.
He has a bad right ankle, which resulted from having flat feet.
Evidently it is simple to utilize these scooters at the U.S. Open. You don't need a handicapped sticker—just a driver's license.
It goes from turtle to rabbit speed really quickly, too.
Why Try to Hide the Golfers?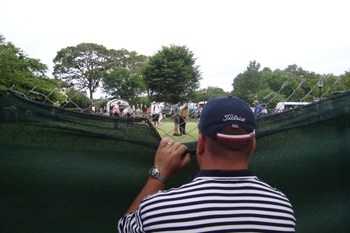 Here's a paid patron, I mean paid patron, here at the U.S. Open within the grounds.
My question is, what are they trying to hide with the covered fence?
The golfers?
Keep Reading