The 2014 Oxford vs. Cambridge Boat Race was the 160th installment of the four-mile-and-374-yard contest from Putney to Mortlake, and Oxford took the victory by 11 lengths.

Oxford came into the event as overwhelming favourites, having won five of the last seven. Oxford's two-time winner Constantine Louloudis told BBC Sport, via Simon Keegan of The Mirror, prior to the race that he was hoping to make it a hat-trick:
"I'm determined to leave without having lost a race. But you can't go in with too much confidence. In 2012, we saw how it could go wrong."
2012, of course, saw a protester swim in front of both boats. Once the race had resumed, Oxford's Hanno Wienhausen broke his oar in a clash with the Cambridge boat. It rendered him useless for the remainder of the contest, the light blues going on to triumph.
Would there be any such dramas this time around?
Prior to this race, Cambridge held the overall advantage, 81 wins to Oxford's 77, with one dead-heat way back in 1877, per TheBoatRace.org.
An overcast London and a calm River Thames greeted the crews as they made their way into the water to the cheers of the massed throng.
The power from both eights as they powered away was truly a sight to behold, and as they passed the Town Buoy, both crews were level.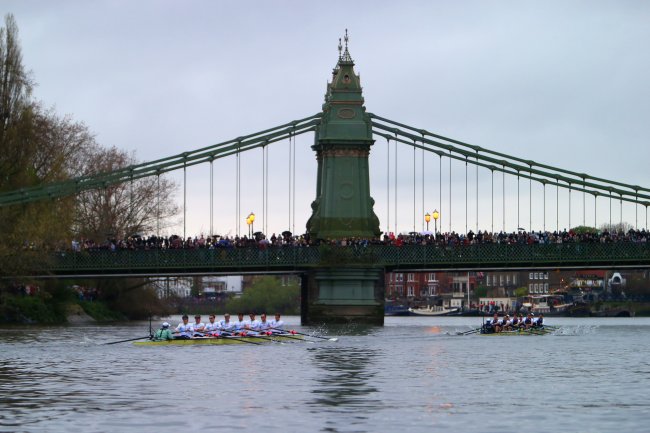 Clive Rose/Getty Images
As the two settled down, it was the dark blues of Oxford with the slightly higher stroke rate, 34 to Cambridge's 33.
The completion of the first mile came quickly at 3 minutes and 47 seconds, and although Oxford had the lead, both boats had then upped their stroke rate to 35 and they were motoring along.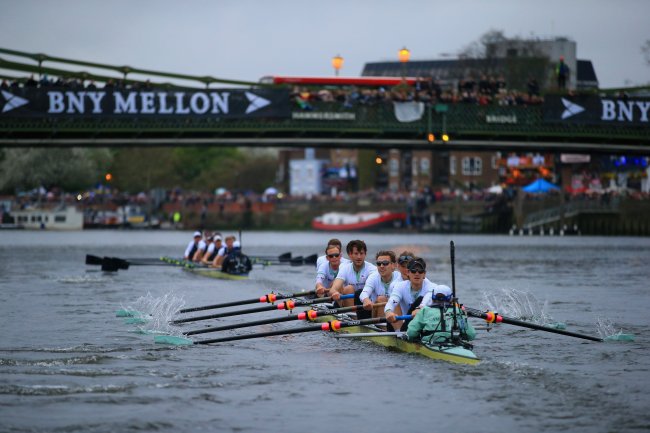 Richard Heathcote/Getty Images
If there was one moment that tipped the race in Oxford's favour, it came around the five-minute mark. Cambridge two-seat Luke Juckett slipped from his position, after hitting the seventh oar of the Oxford boat, which allowed the dark blues to pull clear.
Cambridge quickly tried to regain some momentum, but Oxford maintained the advantage and were three lengths clear by the time they reached Hammersmith Bridge, a landmark they reached in just under seven minutes.
Liberal Democrat MP Roger Crouch noted just how easy things were looking for the Oxford oarsmen:
At this rate Oxford will be able to get in a round for Cambridge when they reach Chiswick Bridge #boatrace

— Roger Crouch (@RogerCrouch1) April 6, 2014
As the rowers approached Chiswick Reach, the water became much choppier, making life difficult for both teams. But Oxford remained strong and were working at around the 14-mph mark to Cambridge's 13 mph.
London 2012 Olympic silver medallist Richard Chambers was none too happy with Cambridge's effort to this point:
Are Cambridge out for a 'nice' paddle. Show some fight. No aggression being shown from the light blues. #boatrace

— Richard Chambers (@rschambers10GB) April 6, 2014
Despite a valiant effort, Oxford were just too powerful for Cambridge in the latter stages, and the light blues were eventually well beaten by a magnificent 11 lengths, with Oxford's winning time at 18 minutes and 36 seconds.
However, directly after the race Cambridge lodged an appeal because of the earlier collision, per BBC Sport:
Oxford win the 160th Boat Race by a large margin as Cambridge protest an early clash in the race http://t.co/2U17DvPbcL #bbcboatrace

— BBC Sport (@BBCSport) April 6, 2014
Despite the appeal, the result was allowed to stand with Oxford the deserved 2014 Boat Race winners.
Following the race, Andrew Cotter said, via the BBC 1 broadcast: "It was a powerful victory from this Oxford crew. They were dominant."
Oxford stroke Constantine Louloudis was ecstatic after the race, via TheBoatRace.org: "We had a plan and we stuck to it. I think we showed that with the distance that we had control of the race."
Unlucky Luke Juckett remained philosophical despite his error contributing to his side's loss, per TheBoatRace.org:
We trained through it all year and that's a possibility in the Boat Race.

It caught me in the chest and it happens in a split second. That definitely didn't help we keep our head up high and move on.
Cambridge president Steve Dudek was frustrated but proud, per TheBoatRace.org:
After the collision I saw Luke's blade come into my field of vision.

It's a very frustrating way to lose but, as a group of men, I couldn't be happier with the way they handled today.

This is a phenomenal group of men and the only thing I would change is the result.
With six wins now out of the last eight races, Oxford continue to dominate. Even Cambridge University Boat Club coach Steve Trapmore noted before the race that it would be a "David v Goliath" contest, per TheBoatRace.org.
Where Cambridge therefore go from here is anyone's guess. Back to the drawing board might be a good start.