After a 2013 season that failed to meet rising expectations, Michigan's spring game in 2014 wasn't encouraging. The team's offense struggled to make headway throughout the afternoon while the defense reigned supreme.
Incumbent starting quarterback Devin Gardner, who is immersed in a fierce competition for the starting job this upcoming season with Shane Morris, couldn't have gotten off to a worse start. On the first play of scrimmage, Gardner tossed an interception to Jourdan Lewis, as shown by the Big Ten Network:
INSTANT HIGHLIGHT: Jordan Lewis picks off Devin Gardner in @umichfootball spring game. WATCH - http://t.co/ZBGF84wHtY

— Big Ten Network (@BTN_Michigan) April 5, 2014
As pointed out by Kyle Bogenschutz of Michigan.Scout.com, it highlighted Gardner's interception-ridden 2013 campaign in which he tossed 11 passes that ended up in the hands of the enemy:
The interceptions continue for Devin Gardner: first play of the spring game and Gardner is picked off by Jourdan Lewis. Yikes.

— Kyle Bogenschutz (@KyleBogie) April 5, 2014
Gardner continued to struggle early, showing excellent velocity on his passes but failing to hit the mark more often than not. And he wasn't the only recognizable offensive player to run into trouble, per Nick Baumgardner of MLive.com:
Devin Funchess has dropped a pair of passes, this last one his fault, first one more on Gardner -- so I guess not a drop.

— Nick Baumgardner (@nickbaumgardner) April 5, 2014
These early difficulties highlighted something head coach Brady Hoke said before the spring game in a sideline interview with Lisa Byington of the Big Ten Network: "We need a lot of work. We have a lot of youth on our team [...] as many reps as we can get..."
VIDEO: @lisabyington interviews @umichfootball coach Brady Hoke at today's spring game. WATCH - http://t.co/Jx3eJ0xiOz

— Big Ten Network (@BTN_Michigan) April 5, 2014
Gardner did show off his abilities after the initial surge of poor throws, however, with a 30-yard bomb to Freddy Canteen that displayed beautiful touch. Unfortunately, big plays on offense were rare throughout the afternoon.
By the time Morris got his first chance to run the offense, Gardner's stat line looked like this, according to BTN's Matt Shepard: 2-of-7 passing for 53 yards with one interception and zero touchdowns.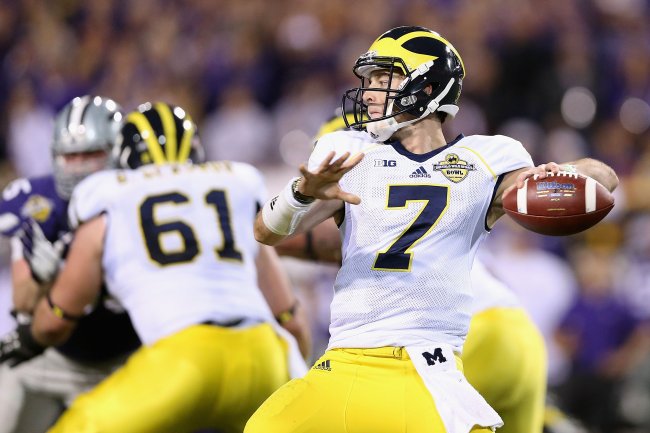 Christian Petersen/Getty Images
Morris didn't fare much better, and Lewis victimized him with his second interception of the day, just as he did Gardner earlier in the scrimmage.
In addition to the passing woes, Larry Lage of The Associated Press noted Michigan's running backs didn't find any running lanes against the team's defensive front:
#Michigan is struggling to run the ball much as it did last year. No room to run for running backs Smith, Hayes or Green

— Larry Lage (@LarryLage) April 5, 2014
Baumgardner added:
This first-team OL has not had a good day scrimmage-wise. No running chunks, given up a few sacks, lots of pressure

— Nick Baumgardner (@nickbaumgardner) April 5, 2014
The offensive line's struggles continued throughout the spring game, culminating with this big play by defensive lineman Willie Henry:
INSTANT HIGHLIGHT: @umichfootball DT Willie Henry nearly stole the handoff on this play. Impressive! WATCH - http://t.co/xwDuBBAnHk

— Big Ten Network (@BTN_Michigan) April 5, 2014
It's always easier for defenses to stand out early in the offseason, so it shouldn't surprise anyone that Michigan's defense showed up stronger than its offense on Saturday. However, given the real struggles this team had scoring the ball last year against top competition, it is a bit worrisome that the offense was so inept.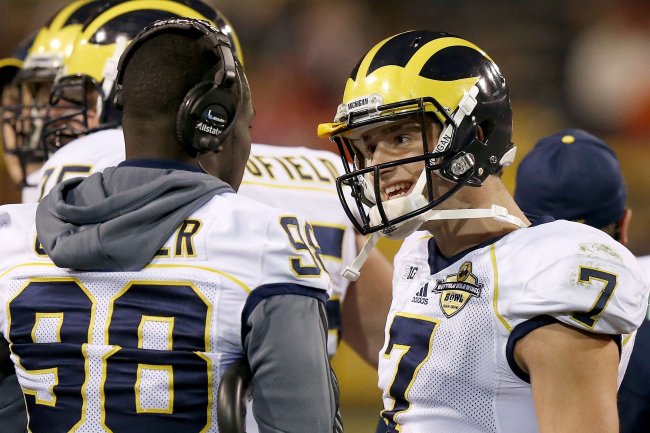 Ross D. Franklin
The fact that neither Gardner nor Morris was able to generate any positive buzz will likely be a deep well of contention for fans to draw from as summer approaches. The offensive line was atrocious from start to finish.
How worried are you about Michigan's offensive showing in the spring game?
There are still many positions up for grabs, and nobody has any idea what the final depth chart will look like when the Wolverines take on Appalachian State on August 30.
Thankfully, there is still plenty of time for Hoke and his capable staff to iron out the kinks. That said, given the incredible amount of youth and inexperience, fans should mentally prepare themselves for another frustrating season.
If the team overcomes the obvious offensive woes we saw on Saturday, however, then there's a chance for success—not only within the Big Ten, but nationally as well.