STAMFORD BRIDGE, LONDON — It was all about getting back to winning ways against Stoke City on Saturday, said Jose Mourinho.
"This evening, we have the chance to respond and to experience the winning feeling again," the Chelsea manager said in his programme notes.
"We have six games left this season and we will try to win them all, to finish in the best position we can. We will do everything in our power to achieve this."
Chelsea had suffered back-to-back defeats away to Crystal Palace and Paris Saint-Germain ahead of this game—results that left their Premier League and Champions League hopes in tatters.
Mourinho's team responded in the way their manager wanted against Stoke, though, strolling to a 3-0 victory.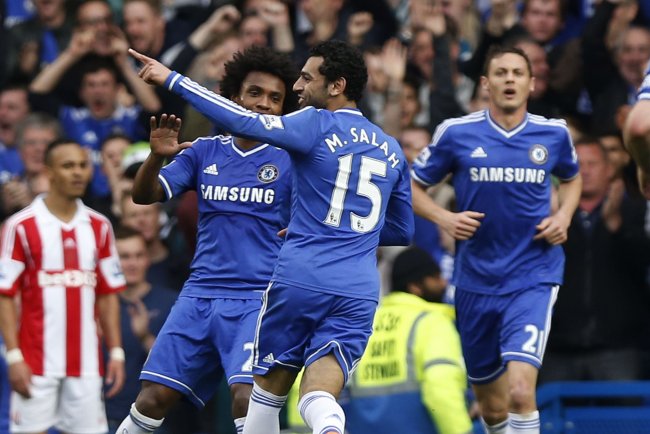 Sang Tan
With Oscar and Eden Hazard on the bench, the Blues had proved too much for the visitors, yet it was only with the latter's introduction that they made their dominance really count.
Chelsea had the lead at half-time thanks to a Mohamed Salah strike, but with Hazard on the pitch, they had added dynamism that turned possession into a more significant threat, which ensured any hope of a Stoke comeback was damaged significantly.
Indeed, it took just two minutes after Hazard's introduction on the hour for Chelsea to double their lead—Frank Lampard tucking home the rebound from his saved penalty—before Willian finished the contest with a sublime effort 10 minutes later.
Hazard didn't claim an assist in either goal, yet his influence was clear.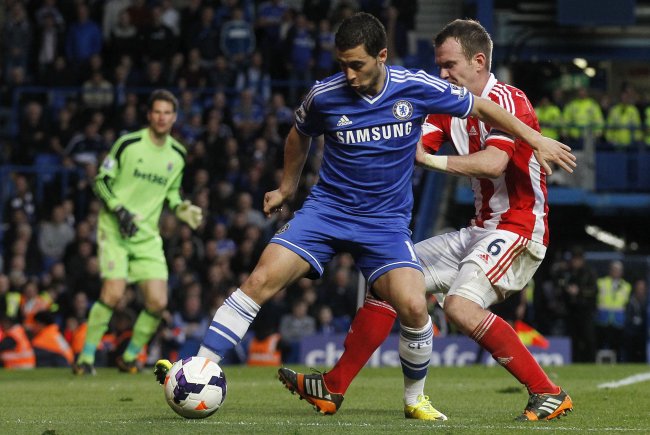 Sang Tan
Up to that point, Salah and Andre Schurrle had been a threat on the wings, but despite their endeavors before the interval, there was a hint of Stoke beginning to get to grips with them.
Chelsea needed a little more magic in the middle, someone to cause panic and prevent the opposition back line from sitting comfortably.
Had things remained the same, there was the risk Stoke would have grown in confidence that they could get something out of the game. We've seen it happen to Chelsea so many times before, with last week's defeat to Crystal Palace a recent reminder.
That day, Palace had started very much inferior to Chelsea's threat. As the game developed, however, they slowly grew in stature and eventually carved out openings of their own—one such opportunity resulting in a John Terry own goal that won them the game.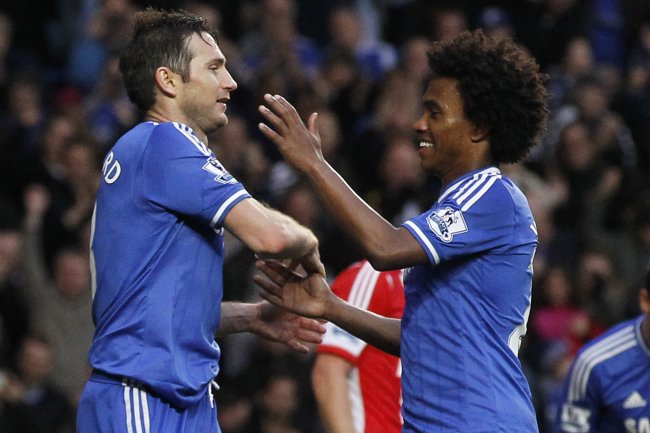 Sang Tan
Enter Hazard.
Against Stoke, he didn't let that happen. Hazard's presence alone was enough for the defence to sit uneasy, but it was the way he went about his business that impressed most.
Such is his seniority at Chelsea these days, Hazard wasn't just giving his teammates a different option in attack, he was demanding possession from them. And they often succumbed to his will.
At one point, he even left David Luiz red-faced when the Brazilian lined up a long-range effort from a free-kick, only for Hazard to nip in and pass to Willian, whom he deemed a better option in the middle.
Jose Mourinho says Chelsea 'recovered a bit of confidence, a bit of self esteem' after two defeats.

— Dan Levene (@BluesChronicle) April 5, 2014
It was the moment that summed up Hazard's performance. Simple yet effective, he kept the ball moving and didn't allow the opposition a moment's rest.
Holes appeared, gaps were there to exploit and had it not been for some poor decision-making, the scoreline could have been far more convincing.
In his post-match press conference, Mourinho called for his players to show more character in the coming weeks as Chelsea attempt to rescue their season.
On this evidence, Hazard is one who is ready to answer that call. If there are a few more, Chelsea just might have enough to overturn that two-goal deficit against PSG in the Champions League on Tuesday.
Garry Hayes is Bleacher Report's lead Chelsea correspondent and will be following the club from a London base throughout the 2013-14 season. Follow him on Twitter here @garryhayes