The Siena Saints have just won the 2014 College Basketball Invitational. The team obliterated the Fresno State Bulldogs, 81-68, in a lopsided rubber match that was never really in doubt.
Loudonville is Titletown, USA. Siena beats Fresno St. 81-68 to win the CBI finals. Saints' 1st D1 national postseason tourney championship.

— Mark Singelais (@MarkSingelais) April 5, 2014
Siena was the better team overall, winning the rebounding battle (46 to 34), dishing more assists (14 to eight) and simply dominating Fresno State on defense. The Saints held the Bulldogs to just 30 percent field-goal shooting and allowed them to hit a mere seven of their 23 three-point attempts.
Sophomore forward Brett Bisping and junior guard Rob Poole were the stars of the game for the Saints.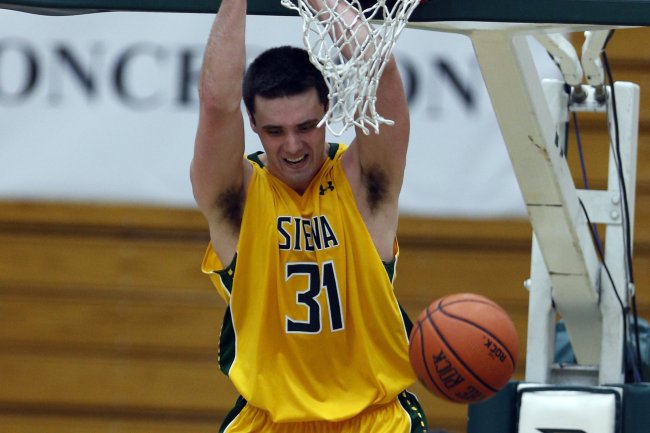 Mike Groll
Bisping chipped in 20 points on 7-of-15 field-goal shooting and two of three three-point attempts while also adding nine rebounds and one assist to guide his team to victory.
Poole was a fixture at the foul line in this game, scoring 12 of his 23 points from the charity stripe. The backcourt star also contributed six rebounds and three assists on the day.
The Saints avenged a 15-point loss to the Bulldogs on Wednesday, a game that Fresno State used to pull even in the best-of-three CBI championship.
As the final score indicates, this one was never really in doubt and was practically over after 20 minutes.
Siena shot 72.6 percent from the field, held Fresno State to just 18.2 percent shooting and opened up a 17-point lead before heading into the locker room and never looked back.
A fan pointed out that at one point, Fresno State only made two shots in the time it takes to play an entire half:
Fresno State has only made two FGs in the last 20 minutes of play. #Siena leads by 21. #cbi

— Kyle (@highsierra86) April 5, 2014
The CBI isn't exactly the most prestigious tournament and has only been in existence since 2007. However, that didn't stop Saints fans from turning out in droves to support their team for the last game of the 2013-14 campaign.
Mark Singelais of the Albany Times Union posted a photo of the crowd prior to tipoff:
The scene 15 minutes before tip-off of CBI Game 3 between Siena and Fresno State at the ARC: #sienasaints pic.twitter.com/eW1GIFb5R8

— Mark Singelais (@MarkSingelais) April 5, 2014
The crowd at Siena's Alumni Recreation Center played a bigger role in this contest than it did in Game 2.
Fresno State senior Tyler Johnson even mentioned that the fans weren't much of a factor in his team's victory on Wednesday, as per the Associated Press (via ESPN): "I don't think the crowd was a factor," Johnson said. "We played in hostile environments all year. We were ready to handle this one."
Laura Amato of The Record posted a video of the raucous environment:
Final seconds of the first half of CBI game three. It's even louder in real life. http://t.co/DoeMgzR00h

— Laura Amato (@LauraAmato) April 5, 2014
Give some credit to Siena's marketing department for this success, as it cooked up an intriguing offer for those who were willing to wake up early and attend the 11:30 a.m. contest.
Fans are still cheering louder than ever! Let's go @SienaSaints !

— Siena College (@SienaCollege) April 5, 2014
According to Pete Iorizzo of the Albany Times Union, free bacon was handed out to those who purchased the $8 tickets.
Singelais posted a photo of the crowd rushing the court after the game:
Siena fans celebrate the CBI title: #sienasaints pic.twitter.com/WxtHHC5UKn

— Mark Singelais (@MarkSingelais) April 5, 2014
Many fans also tuned in to this matchup as a means to get their college hoops fix ahead of Saturday night's marquee Final Four matchups between Florida and UConn, plus Kentucky and Wisconsin.
Tim Reynolds of the Associated Press was definitely excited about it:
The first game on Final Four Saturday is the Siena game, of course. Let's do this.

— Tim Reynolds (@ByTimReynolds) April 5, 2014
Let's take a look at what could be on the horizon for the two participants in the 2014 CBI.
What's Next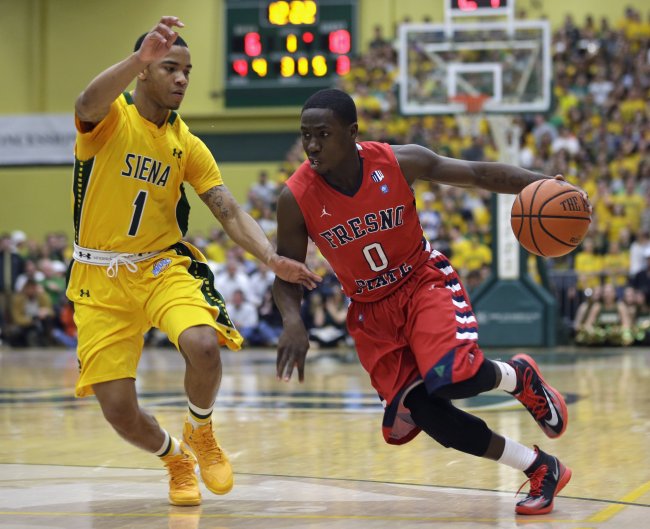 Mike Groll
This game marked the end of the road for both teams involved, and each will now start making preparations for the 2014-15 campaign.
Siena will be looking to follow in the footsteps of programs like VCU and Pittsburgh, two CBI champions that would go on to make the NCAA tournament the following year.
Reynolds pointed out what the Rams were able to do after winning this event:
VCU won the CBI in 2010. Went to Final Four in 2011. Sorry, MAAC. Siena is back.

— Tim Reynolds (@ByTimReynolds) April 5, 2014
While CBI success doesn't always indicate a team on the rise, the Saints appear to be inching back toward prominence and could make a return to the 68-team March Madness field for the first time since 2010.
Fresno State will have to lick its wounds and use this season-ending defeat as motivation going forward. The Bulldogs also need to overcome the impending loss of senior Tyler Johnson, arguably their player.
Which team will make the NCAA tournament next year?
Regardless, because of the presence of stud sophomores Marvelle Harris and Cezar Guerrero, there is a chance that Fresno State bounces back and lands in the Big Dance next season.
UTEP and Creighton both overcame CBI losses the previous year to crash the NCAA tournament, with the Bluejays even making some noise by winning a game.
It'll be interesting to follow the paths of both Siena and Fresno State and see how they build on this great three-game series that ended their campaigns.