Someone tell Warren Buffett I'd like to submit my 2014 NCAA tournament bracket now. Is it too late?
All Your Bracket Essentials
Not many foresaw these four teams making the NCAA Final Four, but in retrospect, the Connecticut Huskies, Florida Gators, Kentucky Wildcats and Wisconsin Badgers were all viable candidates before the Big Dance got underway.
They have the requisite talent, so they simply needed everything to go right for them.
Only hours remain before the national semifinals tip off. Given the volatility and high quality of play in this year's NCAA tournament, fans should be in for three more great games of college basketball.
That's kinda the equivalent of winning a billion dollars, right?
Final Four Schedule

| | | | |
| --- | --- | --- | --- |
| Matchup | Time (ET) | TV Info | Odds |
| No. 1 Florida vs. No. 7 Connecticut | 6:09 p.m. | TBS | Florida -6.5 |
| No. 2 Wisconsin vs. No. 8 Kentucky | 8:49 p.m. | TBS | Kentucky -1.5 |
Sports Media Watch
Note: Odds are courtesy of VegasInsider.com.
No. 1 Florida vs. No. 7 Connecticut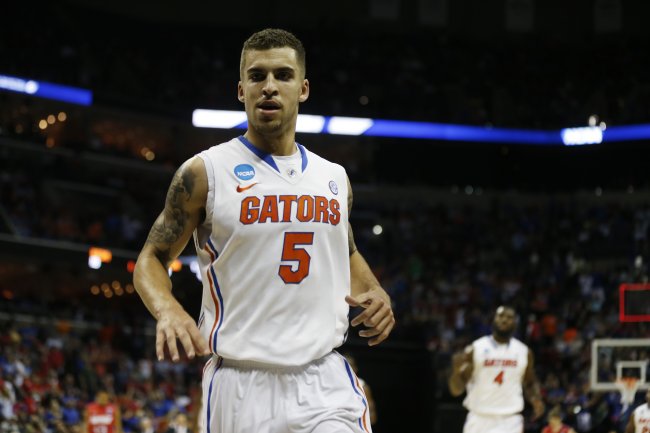 John Bazemore
There aren't enough superlatives to describe Shabazz Napier's performance in the 2014 NCAA tournament. Time and again, the UConn star has delivered for the Huskies. The Big Dance often comes down to which team has the hottest hand, and Napier might as well be J.P. Prewitt.
However, UConn couldn't have envisioned a worse matchup than the No. 1 overall seed, Florida. No team is more prepared to slow down the surging senior. The Gators have the defensive strength and balance to at least prevent Napier from having one of those games.
The Huskies did get the better of Florida in Storrs back on Dec. 2. Though two things need to be pointed out regarding that game and its aftermath.
The first point is that Scottie Wilbekin was out injured as Napier hit the buzzer-beater that won UConn the game. We'll never know whether having Wilbekin on the floor would've helped the Gators in that scenario, but we can all agree that it wouldn't have hurt.
The second thing is that since that loss, Florida has won 30 games in a row and turned into a well-oiled machine. No team in the country is more composed than the Gators. The players never lose their cool, and there isn't a situation in which they haven't been this season. The chances of them losing their cool after climbing into an early hole are slim to none.
It's no coincidence that since that December defeat, things have turned around for Billy Donovan's team. Wilbekin called it "the lowest point [all season] for us," per the Orlando Sentinel's Edgar Thompson.
The Gators will want to set the record straight on Saturday.
Expect a close game throughout, as Florida usually lets its opponents stay within striking distance early on and then slowly pulls away toward the end. Connecticut will remain within a few points on the scoreboard, but you'll never get the feeling the the Huskies are a real threat to topple the best team in the country.
Prediction: Florida 71, Connecticut 63
No. 2 Wisconsin vs. No. 8 Kentucky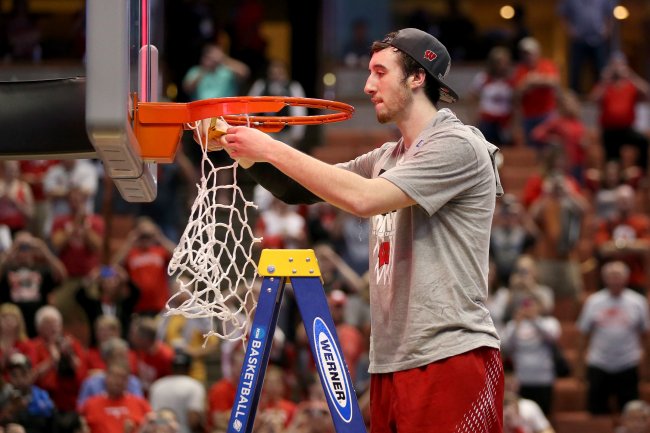 Jeff Gross/Getty Images
What's the status of Willie Cauley-Stein?
That's the biggest question heading into this matchup. The sophomore big man told CatsIllustrated.com that there's a chance he may be able to play on Saturday, per Matt Jones of KentuckySportsRadio.com:
Willie Cauley-Stein tells Cats Illustrated "Don't count me out" about playing this weekend

— Matt Jones (@KySportsRadio) April 4, 2014
Kentucky is obviously a worse team without Cauley-Stein, and that problem is only exacerbated by the fact that Frank Kaminsky will be inhabiting the paint for Wisconsin. The Badgers' junior star is averaging 14.1 points and 6.4 rebounds a game.
Kaminsky scored 28 points and grabbed 11 rebounds in Wisconsin's Elite Eight win over top-seeded Arizona. After the game, Wildcats head coach Sean Miller was full of praise for the 7-footer, calling him "one of the best offensive players who plays college basketball, for sure," per C.L. Brown of ESPN.com.
Miller added, "Frank Kaminsky is the reason Wisconsin's in the Final Four."
Even if Cauley-Stein is good to go, Kentucky will have a hard time handling Kaminsky in the post. The more the Wildcats double him, the more it will open up Ben Brust, Josh Gasser, Sam Dekker and Traevon Jackson on the perimeter.
Maybe it's because they're coached by Bo Ryan, but the Badgers haven't gotten enough credit for how good they've been offensively this season. When they find a rhythm, they're nearly unstoppable.
I hate to turn this into a morality play about the virtues of a team ethos versus a star-based attack, but Wisconsin's balance will overcome the talent gap.
Prediction: Wisconsin 75, Kentucky 70
Note: All stats are courtesy of Sports-Reference.com unless otherwise noted.