A rough season for Larry Sanders just keeps getting worse.
Already out for the year after needing surgery to repair orbital bone fractures in February, the Milwaukee Bucks center will now be suspended five games next season for violating the league's anti-drug program.
From Adrian Wojnarowski of Yahoo! Sports:
Milwaukee's Larry Sanders suspended for five games for violating the NBA's Anti-Drug program, league says.

— Adrian Wojnarowski (@WojYahooNBA) April 4, 2014
Sanders was suspended for marijuana use, according to Charles F. Gardner of the Milwaukee-Wisconsin Journal Sentinel:
Sanders said in a statement released by the Bucks he was suspended for using marijuana.

— cfgardner (@cf_gardner) April 4, 2014
The team tweeted out the following:
Larry Sanders has a responsibility to every person in our organization and our fans. We are all disappointed by the news of his suspension.

— Milwaukee Bucks (@Bucks) April 4, 2014
Sanders: I apologize to the entire Bucks organization & our fans for being suspended five games…I take full responsibility for my actions.

— Milwaukee Bucks (@Bucks) April 4, 2014
After a breakout 2012-13 season in which he averaged 9.8 points, 9.5 rebounds and 2.8 blocks per game (second in the NBA), Sanders posted more modest numbers this year, putting up 7.7 points, 7.2 rebounds and 1.7 blocks per contest.
Of course, he managed to play in just 23 games this season, as he missed nearly two months after tearing a ligament in his thumb in early November after a fight in a club.
Compounding the fight, the season-ending injury, the marijuana suspension and the decrease in production is the fact Sanders was signed to a four-year, $44 million contract extension in August.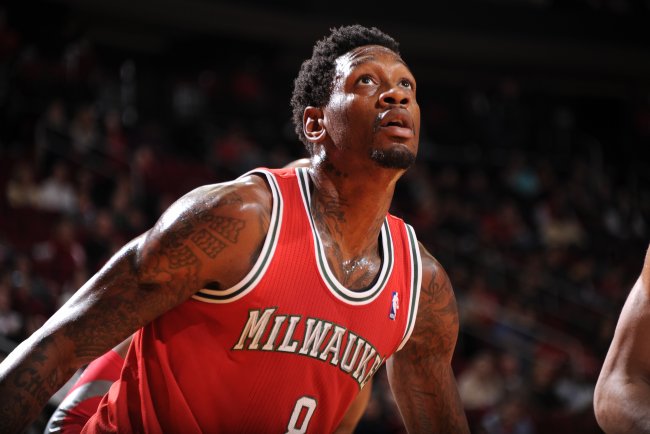 Bill Baptist/Getty Images
Sanders' disappointing year has coincided with a miserable season for the Bucks. The team is currently 14-61, worst in the NBA, and basically has been looking forward to the NBA draft lottery for most of the season.
The question for the Bucks now is whether Sanders is the type of individual they want to build around in the future. The fight and suspension for marijuana use will certainly raise questions about his off-court behavior, and the team might choose to build solely around Brandon Knight, Giannis Antetokounmpo and whichever player they draft this summer, be it Andrew Wiggins, Jabari Parker or Joel Embiid.
On the other hand, Sanders' ability to protect the rim and pull down rebounds is valuable. The Bucks will have some big questions to answer this offseason.