The first legs of the 2013-14 UEFA Europa League quarter-finals saw three teams take decisive leads in their bid to reach the semi-finals, but none of the ties are truly in the books as we get set for another round of exciting action on Thursday, April 10.
FC Basel shocked everyone with a 3-0 demolition of Valencia while Juventus needed a late goal from Leonardo Bonucci to set themselves up for the return game. Benfica scored once on the field of AZ Alkmaar and will be looking to finish the job at home while FC Porto will need to be at their best to hold off Sevilla.
All fixtures will start at 8.05 p.m. BST/3:05 p.m. ET. At the time of publishing, no schedule had yet been determined for UK broadcasts, with the rights to all games in the hands of BT Sport, ITV and Setanta Sports.
Benfica vs. AZ Alkmaar (1-0)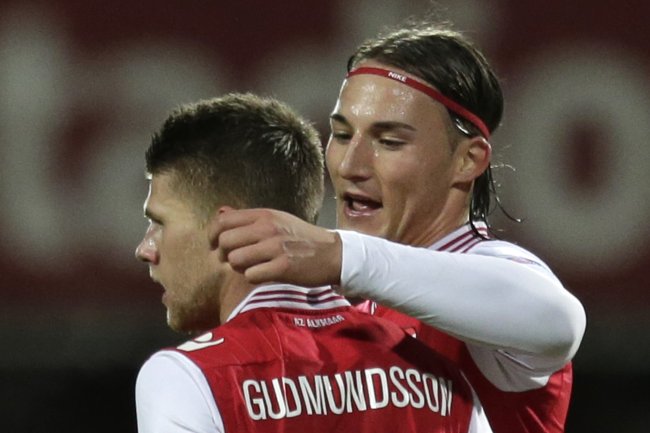 Peter Dejong
TV info and Live stream: Fox Sports 2/Fox Sports Mobile
Eduardo Salvio scored the only goal early in the second half as Benfica left the Netherlands with a vital away goal, taking a strong option on the semi-finals.
AZ have struggled during the 2013-14 campaign and were never expected to be in the same class as the Portuguese Liga leaders, but the hosts deserved credit for their no-nonsense approach, making for a most entertaining match.
Benfica were obviously the better team, though, and the result was a logical one. With the Portuguese title race nearly over, the team can fully focus on the return fixture and the remainder of the Europa League.
As shared by Infostrada Sports, Benfica have a solid track record in the competition:
AZ 0-1 BEN: Benfica score their 64th EL goal, joining Dutch side PSV as the team with most goals in Europa League history. #EL #Benfica

— Infostrada Sports (@InfostradaLive) April 3, 2014
Given the team hardly have to worry about the domestic league anymore, it seems unlikely coach Jorge Jesus will rest some of his star players like Oscar Cardozo and Ezequiel Garay.
Jan Hagen has learned Ruben Amorim will not be available for the Portuguese side:
Jorge Jesus has confirmed that Amorim has injured his Achilles Tendon. Probably out for the rest of the season, which means no World Cup.

— Jan Hagen (@PortuBall) April 3, 2014
While the one-goal deficit shouldn't mean the end of the world, it would seem unlikely AZ will be able to go into the Estadio da Luz and upset the highly favoured Portuguese side.
Juventus vs. Lyon (1-0)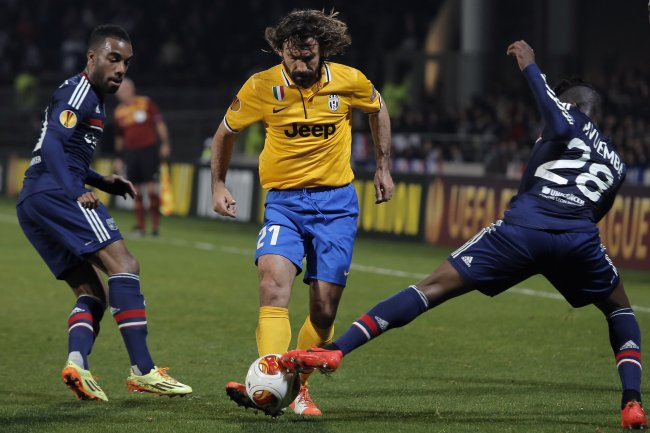 Laurent Cipriani
TV info and live stream: Fox Sports 1/Fox Sports Mobile
Like Benfica, Juventus were able to score a vital away goal that gave the Bianconeri a very good chance of qualifying for the semi-finals. Unlike Benfica, the team did not put together a solid performance, and with the exception of an excellent 20 minutes to close out the games, the hosts would have been far more deserving of a goal.
Lyon did an excellent job of eliminating the impact of Andrea Pirlo, taking full advantage of the absence of the suspended Arturo Vidal. The Chilean will be available again for the return fixture and once again underlined his importance to the team when Paul Pogba and Claudio Marchisio failed to deal with the constant pressure of Steed Malbranque.
But the Bianconeri showed their superiority when the club shifted gear late in the tie, and Bonucci's goal didn't come as a big surprise. Juventus clearly have the stronger team, but the question is whether they will feel like playing when the French side travel to the Juventus Stadium.
Down by a goal, Simon Harrison agrees Lyon could have done much more and outlined the importance of Carlos Tevez to his team:
Garde can take some positives, but they should have taken their chances against a Juve who just can't fire on all cylinders without Tevez.

— Simon Harrison (@simonhfootball) April 3, 2014
Tevez left the pitch with what appeared to be a groin injury, and it would appear the timing of Mirko Vucinic's return couldn't have been any better. Tevez will most likely be rested against Livorno this weekend, but his availability for the return fixture against Lyon is still very much up in the air.
Valencia vs. FC Basel (0-3)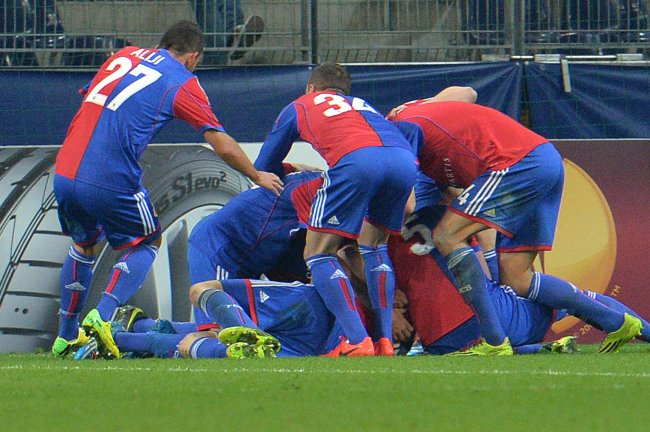 Kerstin Joensson
TV info and live stream: Fox Soccer 2Go
Swiss champions Basel have a great reputation when it comes to international competition, but no one was expecting such an easy win over Valencia. A brace from Matias Delgado and a late goal from Valentin Stocker all but wrapped up this tie, as it would seem impossible for the visitors to return from such a large deficit.
TNC Europe quoted Valencia boss Juan Antonio Pizzi saying the final result shamed him, and understandably so:
Juan Antonio Pizzi has said he is ashamed of Valencia's first-half performance in the 3-0 Europa League defeat to Basel.

— TNC Europe (@TNC_Europe) April 4, 2014
As shared by 102 Great Goals, the Basel fans were not allowed in the stadium as a result of their behaviour during the tie with Salzburg, making for some truly spectacular photos taken outside the arena:
Great pic! Basel fans outside their stadium (banned from sitting inside) during 3-0 win over Valencia pic.twitter.com/xj4bcSlE38

— 102greatgoals (@102greatgoals) April 4, 2014
Realistically speaking, Valencia have little chance of progressing to the semi-finals, but stranger things have happened in football. If the Swiss club can score one away goal, this tie will be well and truly over.
Sevilla vs. FC Porto (0-1)
Paulo Duarte
TV info and live stream: ITV 4/ITV player app and Fox Soccer 2Go
Sevilla find themselves in a familiar situation, as the team were forced to make an epic comeback after losing their first match against Real Betis in the previous round of the Europa League.
The difference between both clubs is a single Eliaquim Mangala goal, and Porto will be without midfield playmaker Fernando and star striker Jackson Martinez, as both will be suspended following several bizarre bookings in the first leg.
Porto dominated much of the teams' first meeting, but without their two top players, it looks unlikely the Portuguese club will be able to repeat such a performance, opening the door for Sevilla to battle to a come-from-behind win yet again.
The Spanish side will need to improve dramatically on the performance they put together in the Estadio do Dragao, but if there's any club that can turn things around in a hurry, it's Sevilla, as they showed against their city rivals in the previous round.
Of all four ties, this is the one match that has the most potential to go down to the wire, with extra time and even penalties a very realistic option.