Chelsea will be looking to avoid suffering three consecutive defeats when they welcome Stoke City to Stamford Bridge on Saturday. The Potters beat the Blues when the sides met at the Britannia Stadium earlier in the season, and their solid defensive style could extinguish any lingering hopes that Chelsea have of capturing the Premier League title.
Jose Mourinho was damning in his assessment of his players' performances in their 1-0 defeat at Crystal Palace, telling reporters:
The opponent beat us clearly in their mentality. They had a strong mentality, aggressive, committed. Every one of them played I think to the top of their potential…

Clearly we have some players who, because of their profile, find it difficult to perform in some matches. They are fantastic in some matches but they disappear in other matches. You can find easily in these matches something in common.
The back four were the only players to escape Mourinho's scathing criticism, and even after their error-prone display in the midweek Champions League tie, they will likely remain unchanged.
Nemanja Matic should return to the starting XI, having been cup-tied for the trip to Paris. With Ramires serving the final match of his domestic suspension and John Obi Mikel injured, Mourinho will have a tough choice as to who to start next to the Serbian.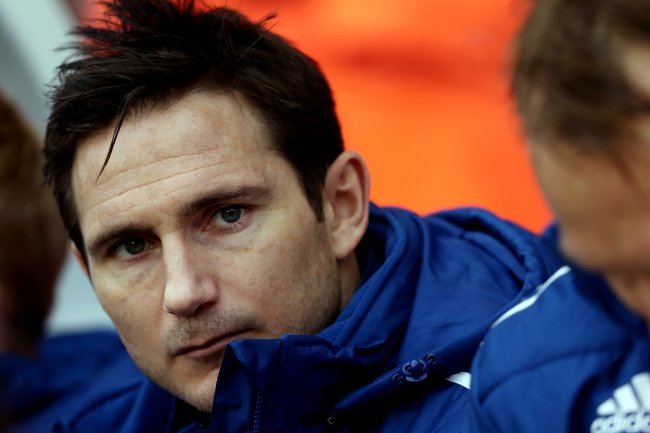 Scott Heavey/Getty Images
Frank Lampard's name will be sung at Stamford Bridge for decades to come, but at 35 years old, he is nearing the end of his stellar career. However, David Luiz is one of the players who tends to disappear against the smaller teams, and although this match will be played at Stamford Bridge, where Luiz can excel, Mourinho is unlikely to risk another lacklustre performance from the Brazilian.
Eden Hazard has been one of the most reliable players for Chelsea this season. He has maintained an above-average performance in every match played since September, and he has scored as many goals as the three strikers combined.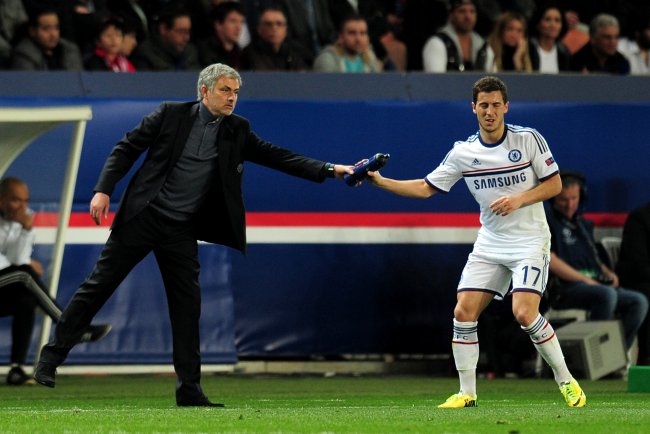 Shaun Botterill/Getty Images
Willian will most likely start on the right, with his strength and pace providing the key to unlock Stoke's solid defence.
Although Oscar was the player whom Mourinho wanted to build a team around, per Massimo Marioni of Metro, the dip in form that he has suffered until recently may have made him change his mind.
Andre Schurrle started up front for the second time this season as The Special One's patience with his strikers suddenly snapped.
As much as Mourinho praised Schurrle for his performance at Fulham and his qualities as a clinical finisher, per Glenn Moore of The Independent, the pressure of playing as a lone striker has not led to the required results.
With Samuel Eto'o still injured, it will fall to Fernando Torres or Demba Ba to lead the line. Mourinho told the media on Friday that Torres has a future at Stamford Bridge while stressing the need for the striker to score more.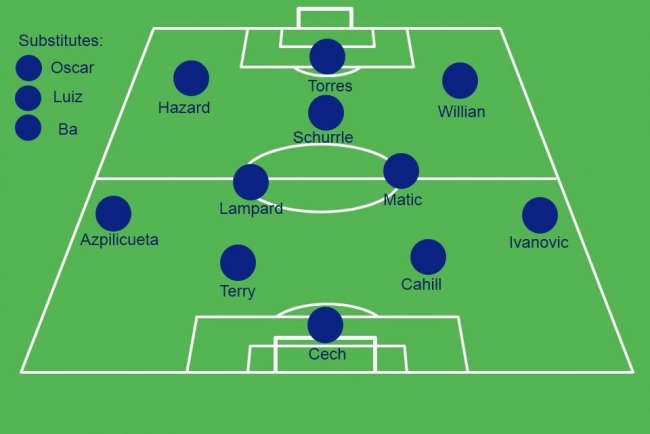 Created using Microsoft PowerPoint
Although the temptation to focus on the Champions League will be strong, avoiding a third consecutive defeat will be equally important to Mourinho, and this XI gives him the best chance of dodging that banana skin.
Reports from the official Chelsea website unless otherwise noted.